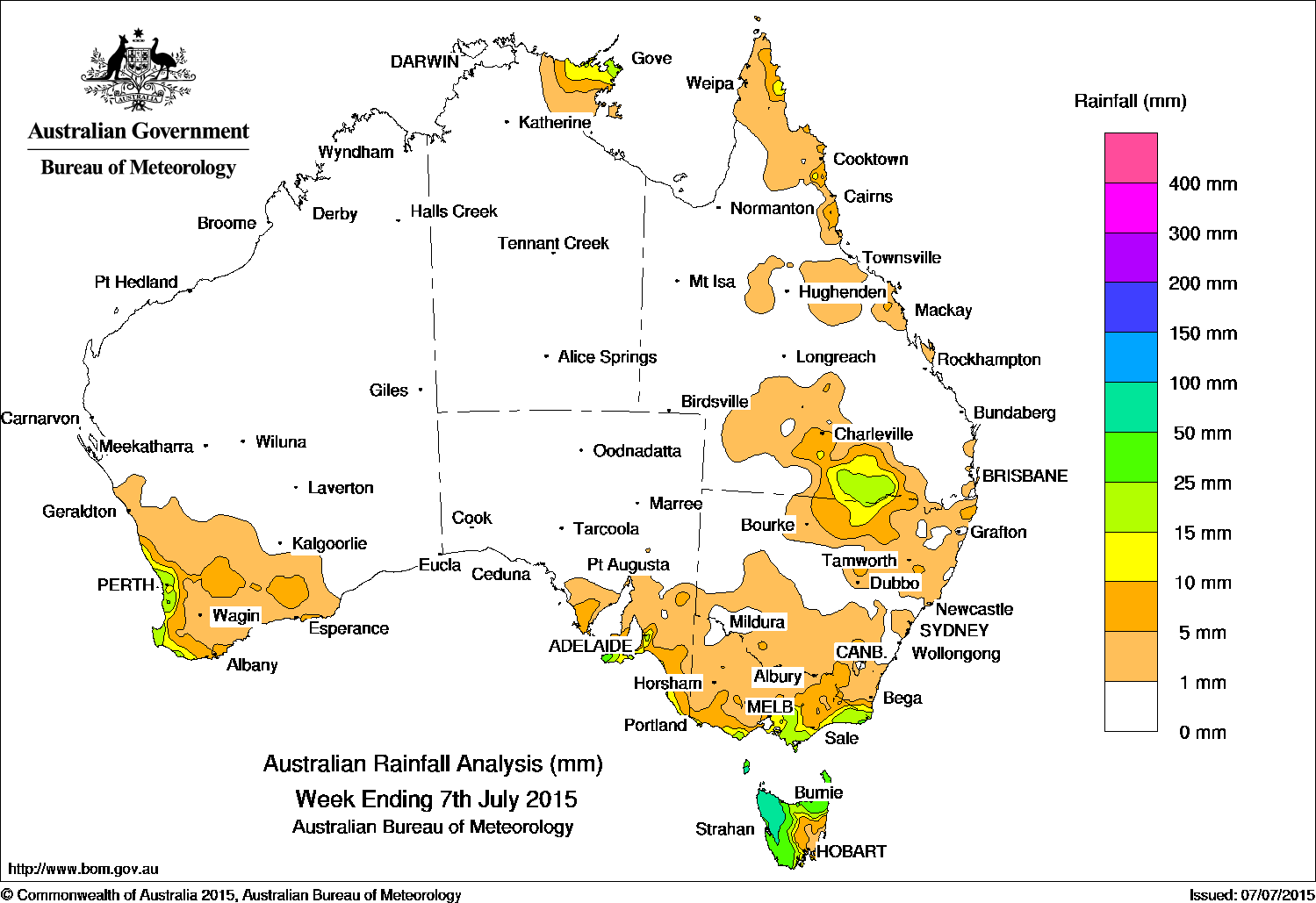 It was a largely dry week across most of Australia.
The best falls of between 50-100mm were limited to north western Tasmania, while totals of 10-25mm were recorded in parts of southwest WA, Kangaroo Island, the southeastern cost of South Australia, central southern Victoria, East Gippsland, northern NSW, southern Queensland, the north eastern Cape York Peninsula Coast and Arnhem Land in the Northern Territory.
All of Western Australia away from the southwest coast, most of South Australia, the Northern Territory, Queensland and New South Wales, northern and western Victoria and southeastern Tasmania received little or no rainfall this week.
At the beginning of the week a surface trough stretching from the Gulf of Carpentaria to the New South Wales coast generated moderate falls across southern Queensland and northern New South Wales. A cold front tracked across southeastern Australia, bringing moderate falls to western Tasmania and light rainfall to southern Victoria. A moist easterly flow in northern Australia resulted in light falls in the eastern Top End and the tip of the Cape York Peninsula.
During the week, a surface trough and an associated weak low pressure system off the west coast brought light to moderate rainfall to western parts of the South West Land Division in Western Australia. As the system tracked eastwards, light rain continued and extended into the eastern South West Land Division.
A cold front crossed Tasmania and brought light to moderate rainfall to western and northern parts in the middle of the week.
At the end of the week, a series of surface troughs ahead of a cold front over the Great Australia Bight brought light to moderate rainfall to parts of the Mount Lofty Ranges and Kangaroo Island in South Australia and moderate falls in northern Tasmania.
New South Wales and Australian Capital Territory
20 mm Yass (Rural Fire Service)
19 mm Green Cape
18 mm Ewing Bridge Corndale
More inland totals:
22mm Mogil Mogil (nth of Collarenebri)
14mm Mungindi
11mm Angledool
10mm Garah
10mm Walgett
10mm Lightning Ridge
Victoria
56 mm Walhalla
40 mm Wilsons Promontory Lighthouse
38 mm Haines Junction (Mount Sabine)
More inland totals:
22mm Marysville
Queensland
36 mm Lockhart River Airport
21 mm Nindigully
20 mm Qld Cotton (St George)
More inland totals:
17mm Bollon
7mm Goondiwindi
7mm Charleville
Western Australia
39 mm Rottnest Island
38 mm Swanbourne
36 mm Karnet
More inland totals:
9mm Hyden
South Australia
35 mm Crafers West
35 mm Cape Borda
32 mm Mount Lofty
More inland totals:
10mm Geranium
Tasmania
114 mm Mount Read
79 mm Luncheon Hill (Forestry)
76 mm Marrawah
Northern Territory
26 mm Gove Airport
22 mm Alcan Minesite
13 mm Milingimbi Airport
Source: Bureau of Meteorology