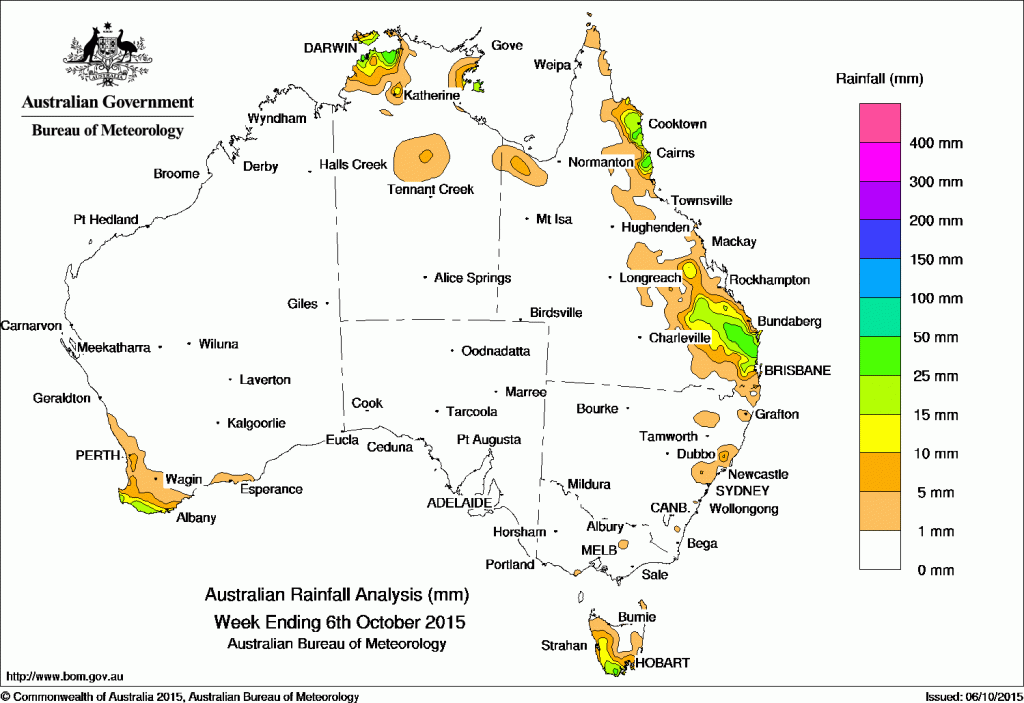 Most of Western Australia, the Northern Territory, South Australia, Victoria, New South Wales, and all of Queensland away from the southeast and north tropical coast recorded little or no rainfall this week.
Rainfall totals in excess of 50mm were recorded in parts of the western Top End around Darwin. The highest weekly total was 64 mm at Pinelands in the Northern Territory.
Rainfall totals between 10mm and 50mm were recorded in the far southwest of Western Australia; southwestern Tasmania; in the southeast of Queensland including southern parts of the Central Highlands and the Wide Bay and Burnett districts; the north tropical Queensland coast; the western Top End of the Northern Territory around the Darwin area; and isolated locations in coastal New South Wales.
At the beginning of the week, a complex low pressure system over Tasmania weakened as it tracked eastwards, generating moderate rainfall totals across southwestern parts of the State.
Meanwhile, a near-stationary inland surface trough extending over Queensland from the Gulf Country through the central west to the southeast interior, and a series of eastward tracking upper-level troughs produced moderate falls in Queensland's southeast. Thunderstorms formed to the east of the trough, bringing showers and rain to areas of the Southeast Coast, including the Wide Bay and Burnett districts in Queensland.
At the end of the week moist, onshore airflow brought mid-level cloud and isolated thunderstorms in the western Top End, with light to moderate falls around the Darwin area.
Several cold fronts tracked across Tasmania during the middle of the week, generating light falls in western Tasmania.
A moist, onshore airflow onto the north tropical coast in the last half of the week produced light to moderate falls between Cooktown and Innisfail. A pair of cold fronts and a pre-frontal trough crossed southwest Western Australia at the end of the week, with moderate falls recorded across the South West Land Division.
New South Wales and Australian Capital Territory
21 mm Gloucester Post Office
17 mm Branxton (Dalwood Vineyard)
13 mm Putty Tea Rooms
Victoria
11 mm Bald Hill
3 mm Haines Junction (Mount Sabine)
1.8 mm Beech Forest
Queensland
54 mm Imbil Post Office
39 mm Greenhaven
39 mm Gayndah Airport
Western Australia
29 mm Witchcliffe
22 mm Northcliffe
19 mm Karri Valley Resort
19 mm North Walpole
South Australia
4 mm Greenock
0.2 mm At multiple locations
Tasmania
19 mm Lunawanna
18 mm Warra
17 mm Dover
17 mm Hartz Mountain (Keoghs Pimple)
Northern Territory
64 mm Pinelands
63 mm Leanyer
61 mm Fort Hill Wharf
More weekly rainfall totals:
NSW/ACT totals click here
Vic totals click here
Qld totals click here
WA totals click here
SA totals click here
Tas totals click here
NT totals click here
Source: BOM