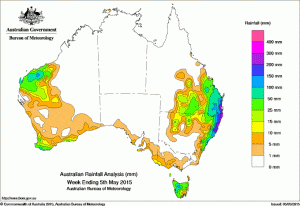 A much-anticipated rainfall event delivered some excellent falls for some producers South Eastern Queensland and Northern New South Wales, but the footprint cut out without reaching western areas in desperate need of rain.
Rainfall intensified across southeastern Queensland and northeastern New South Wales as a low developed and moved slowly along the coast of Queensland and New South Wales. Very heavy rainfall was recorded, with totals of 200 mm to 300 mm and flash flooding reported in southeastern Queensland and the north coast of New South Wales.
A tropical low, located off the northwest coast of Western Australia, deepened to form tropical cyclone Quang at the start of the week. The system rapidly weakened while moving south and had decayed to a tropical low before crossing the western Pilbara coast. Quang brought moderate to heavy rainfall to the Pilbara and eastern Gascoyne districts during the middle of the week.
During the second half of the week, a cold front associated with a deep low pressure system south of the Great Australian Bight crossed southern Australia, bringing light to moderate rainfall to southeastern South Australia, southern Victoria and Tasmania. A second cold front tracking across southern Australia produced light to moderate rainfall along the south coast of Western Australia, coastal South Australia, southern Victoria, and much of Tasmania.
Rainfall totals between 100 mm and 200 mm were recorded along the coast of southeastern Queensland and the northern half of New South Wales, with some locations receiving weekly totals in excess of 300 mm. Several sites not operated by the Bureau of Meteorology recorded totals in excess of 400 mm. The highest weekly total recorded by the Bureau was 376 mm at Morayfield in southeast Queensland.
Rainfall totals between 50 mm and 100 mm surrounded higher falls along the eastern seaboard and were also recorded in small areas of northwestern Tasmania and northwestern Western Australia.
Rainfall totals between 10 mm and 50 mm were recorded in the Pilbara and northern Gascoyne districts, in the coastal southwest and Eucla District of Western Australia, in much of southern Queensland and northern New South Wales surrounding higher falls, and across the remainder of Tasmania.
The Northern Territory, nearly all of South Australia and Victoria, New South Wales away from the east and north, western and northern Queensland, and much of Western Australia received little or no rainfall this week.
Table of highest weekly totals
State
Highest
2nd Highest
3rd Highest
WA
Exmouth Town
(84 mm)
(Fortescue)
Coolawanyah
(76 mm)
(Fortescue)
Mount Florance
(70 mm)
(Fortescue)
NT
Cape Don
(3 mm)
(Darwin-Daly)
Mccluer Island
(2 mm)
(Darwin-Daly)
Murganella Airstrip
(1 mm)
(Darwin-Daly)
SA
Meadows
(23 mm)
(East Central)
Echunga
(20 mm)
(East Central)
Macclesfield
(19 mm)
(East Central)
Qld
Morayfield Alert
(376 mm)
(Moreton)
Deception Bay Alert
(353 mm)
(Moreton)
Peachester
(318 mm)
(Moreton)
NSW/ACT
Bowra Sugarloaf
(329 mm)
(Lower North Coast)
Coffs Harbour Mo
(323 mm)
(Lower North Coast)
Cooks Ck (Kalang)
(321 mm)
(Lower North Coast)
Vic
Beech Forest
(40 mm)
(West Coast)
Haines Junction
(20 mm)
(West Coast)
Wyelangta
(18 mm)
(West Coast)
Tas
Erriba (Jubb Road)
(86 mm)
(Northern)
Mount Read
(69 mm)
(West Coast)
Lorinna
(69 mm)
(Northern)
Source: BOM