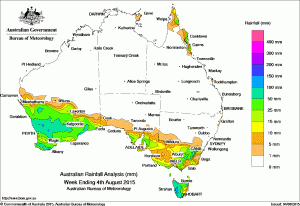 Rainfall over the past week was recorded across the southern States, and along the far northeastern coast of Queensland.
At the start of the week, a low pressure system off the west of Western Australia and associated surface trough extended a thick cloudband over southern Western Australia. Light to moderate rain was received in parts of the central South West Land Division and southern Gascoyne.
A cold front associated with this trough passed over the southeast early in the week, bringing moderate falls to western and northern Tasmania and light rain in southeastern South Australia and western Victoria.
Moderate to heavy rain fell over broad areas of Western Australia between the southwest, southern Gascoyne, and Eucla districts as the trough system tracked eastwards ahead of a second cold front. Thunderstorms produced heavy rainfall in the Central Wheat Belt and Central West districts, with numerous locations recording daily rainfall totals in excess of 50 mm.
The frontal system continued eastward and tracked across southern South Australia, Victoria and Tasmania, producing light falls over a large area, moderate falls around the Eyre and Yorke peninsulas in South Australia, and further rain in Tasmania. Moderate falls were also observed over the Alpine region as the trough and front cleared eastern Australia by the latter part of the week.
At the end of the week, a strengthening cold front associated with a deep low in the Southern Ocean crossed Tasmania, with the tip of the front tracking across Victoria. Widespread light rain fell across southeastern South Australia, Victoria, and southeastern New South Wales, with moderate totals in parts of southern and alpine Victoria and western Tasmania.
Early in the week, onshore flow north of a high pressure ridge resulted in showers over northeastern Queensland, with moderate falls recorded along the north tropical coast of Queensland.
Rainfall totals between 50 mm and 100 mm were recorded in parts of Western Australia south of a line between Geraldton and the Nullarbor, parts of the Victorian Alps and bordering Snowy Mountains, and nearly the entire western half of Tasmania. Isolated totals exceeding 100 mm were recorded in the South Coast district in Western Australia and in western Tasmania. The highest weekly total was 132 mm at Queenstown in Tasmania.
Rainfall totals between 10 mm and 50 mm were recorded along coastal far northeast Queensland, southeastern New South Wales, large parts of Victoria, most of Tasmania, much of southeastern and agricultural South Australia, and most of the southern third of Western Australia.
The Northern Territory, the northern two thirds of Western Australia, South Australia away from the south coast, parts of western and eastern Victoria, much of New South Wales excluding the southeast, and nearly all of Queensland recorded little or no rainfall.
Highest weekly totals in each State:
New South Wales and Australian Capital Territory
97 mm Perisher Valley
75 mm Thredbo Village
73 mm Cabramurra
Victoria
100 mm Falls Creek (Rocky Valley)
68 mm Mount Buller
66 mm Haines Junction (Mount Sabine)
Queensland
50 mm Tree House Creek
38 mm Babinda Post Office
38 mm Happy Valley
38 mm Russell River
Western Australia
122 mm Capel North
120 mm Wongan Hills
116 mm Fort Hill
South Australia
55 mm Uraidla
53 mm Ashton
48 mm Piccadilly (Woodhouse)
Tasmania
132 mm Queenstown
106 mm Zeehan
92 mm Scotts Peak Dam
Northern Territory
8 mm Nhulunbuy
4 mm Gove Airport
2 mm Alcan Minesite
Source: BOM