For the week ending 29 April 2014, rainfall was recorded in all states and territories.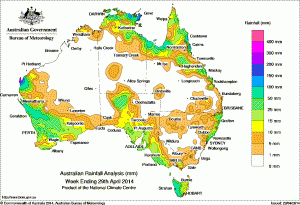 Scattered thunderstorms and showers associated with a broad area of low pressure and a mid-level trough formed over the Gulf of Carpentaria and in northern Queensland, generating isolated moderate to heavy falls at the beginning of the week. A cloudband with embedded showers and thunderstorms over the Tasman Sea from a cold front moving through the area also brought some locally heavy falls. Thunderstorm activity continued over the Gulf of Carpentaria later in the week, associated with a tropical low and active low pressure trough over the Arafura Sea. The passage of a surface trough over Western Australia extended a cloudband from central Western Australian into the Great Australian Bight, and a frontal cloud band crossed Tasmania and Victoria bringing cold, unstable air and thunderstorms in its wake. At the week's end, a line of thunderstorms moved across the Pilbara coast of Western Australia, with some isolated moderate falls. Light onshore airflow over the New South Wales coast generated light to moderate falls near the northern New South Wales coast, and a small area of middle-level cloud with embedded thunderstorms over southeast Queensland was due to an upper-level low pressure system moving into the area.
Rainfall totals over 100 mm were recorded in northeast Arnhem Land and locations around the Gulf of Carpentaria, the tropical north coast of Queensland and along parts of the Pilbara coast of Western Australia. The highest weekly fall was 258 mm recorded at Centre Island in the Northern Territory. Falls between 25 to 100 mm were recorded in western Tasmania, southwest Victoria, the southern coast and the North West Pastoral district of South Australia, along the west coast and southwest of Western Australia, across the north of Queensland and the Northern Territory, and along the east coast of Queensland and New South Wales. Falls between 10 mm and 15 mm were recorded in areas surrounding higher falls in the northeastern quarter of Queensland and the north of the Northern Territory, northern New South Wales, southern and western Victoria, remaining parts of Tasmania, most of central and southern South Australia, and much of southwest Western Australia.
Large areas of the Western Australian, North Territory, Queensland and southern New South Wales interior received little or no rainfall.
Highest weekly totals for each state
State
Highest
2nd Highest
3rd Highest
WA
Exmouth Town
(251 mm)
(Fortesque)
Leamonth Airport
(196 mm)
(Fortesque)
Amrista Park
(100 mm)
(South Central)
NT
Centre Island
(258 mm)
(Roper-McArthur)
Yirrkala Tropical Gardens
(220 mm)
(Arnhem)
Nhulunbuy
(196 mm)
(Arnhem)
SA
Heathfield Works Depot
(55 mm)
(East Central)
Belair
(53 mm)
(East Central)
Coffin Bay
(51 mm)
(Western Agriculture)
Qld
Mornington Island
(219 mm)
(North Peninsula)
Tree House Creek
(218 mm)
(Barron)
Hazelmere
(193 mm)
(Barron)
NSW / ACT
Wyong (Mount Elliot)
(126 mm)
(Hunter)
Dora Creek
(113 mm)
(Hunter)
Minnie
(92 mm)
(Upper North Coast)
Vic
Cape Nelson
(42 mm)
(West Coast)
Portland
(35 mm)
(West Coast)
Merino
(33 mm)
(West Coast)
Tas
Mount Read
(94 mm)
(West Coast)
Strathgordon
(88 mm)
(West Coast)
Lake St Clair
(75 mm)
(Central Plateau)
 Source: Bureau of Meteorology