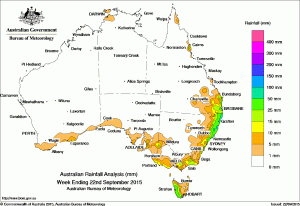 Rainfall for the past week was recorded in southeastern and in the north tropical coast of Queensland, eastern New South Wales, parts of eastern and southern Victoria, Tasmania, small parts of southeastern South Australia and the south coast of Western Australia.
At the beginning of the week, a surface trough extended from the western Kimberley through the interior, into southern Queensland, producing thunderstorms and showers for the southeast coast of Queensland and northeastern New south Wales.
Thunderstorms over the Top End produced isolated, heavy rainfall totals around Darwin; while an onshore easterly flow produced moderate falls along the north tropical Queensland coast. Thunderstorms formed over southeastern South Australia along a broad surface trough stretching from western Victoria to northeastern New South Wales. Light to moderate falls were recorded around Loxton and the Mount Lofty ranges in South Australia.
The surface trough gradually moved eastwards, with centres of low pressure deepening along the trough. Moderate rainfall was recorded along the east coast from southeastern Queensland to the central New South Wales coast. Light rain continued until mid-week as the trough gradually shifted offshore.
Further showers were generated over southeastern Queensland and northeastern New South Wales during the last part of the week as another surface trough and a moist onshore flow brought light to moderate falls to the coastal area between Fraser Island and the central coast of New South Wales.
At the end of the week, a cold front and pre-frontal trough tracked across southeastern Australia, producing moderate rainfall in western Tasmania. Widespread, light rain also fell across southern and eastern Victoria, parts of southeastern South Australia, and southeastern New South Wales.
Rainfall totals in excess of 50 mm were recorded in parts of the northern and central coasts of New South Wales. The highest weekly total of 103 mm was at Yarras (Mount Seaview) in New South Wales.
Rainfall totals between 10 mm and 50 mm were recorded in western Tasmania; in a small area between Loxton and the Mount Lofty Ranges in South Australia; parts of East and West Gippsland, central, and southwest coastal Victoria; the northern, central and southeast coasts of New South Wales, southeastern and far northeastern Queensland.
Highest weekly totals in each state
New South Wales and Australian Capital Territory
103 mm Yarras (Mount Seaview)
81 mm Bangalow (Fowlers Lane)
80 mm Minnie Water (Pump Shed)
For more NSW/ACT totals click here
Victoria
86 mm Benwerrin
36 mm Mount Baw Baw
31 mm Haines Junction (Mount Sabine)
For more Vic totals click here
Queensland
49 mm Noosaville
44 mm Coolangatta
43 mm Tewantin RSL Park
For more Qld totals click here
Western Australia
8 mm Erinair
8 mm Denmark
8 mm The Duke
For more WA totals click here
South Australia
35 mm Mount Lofty
32 mm Burnside
32 mm Piccadilly (Woodhouse)
For more SA totals click here
Tasmania
62 mm Mount Read
43 mm Zeehan
36 mm Lake Margaret Power Station
For more Tas totals click here
Northern Territory
54 mm Charles Point
9 mm Shoal Bay
8 mm Marrara
8 mm Wagait Beach
8 mm Middle Point
For more NT totals click here