National rainfall for the week to 9am yesterday was recorded in the tropical north, most of eastern Queensland, coastal southeastern Australia, Tasmania and southwest Western Australia.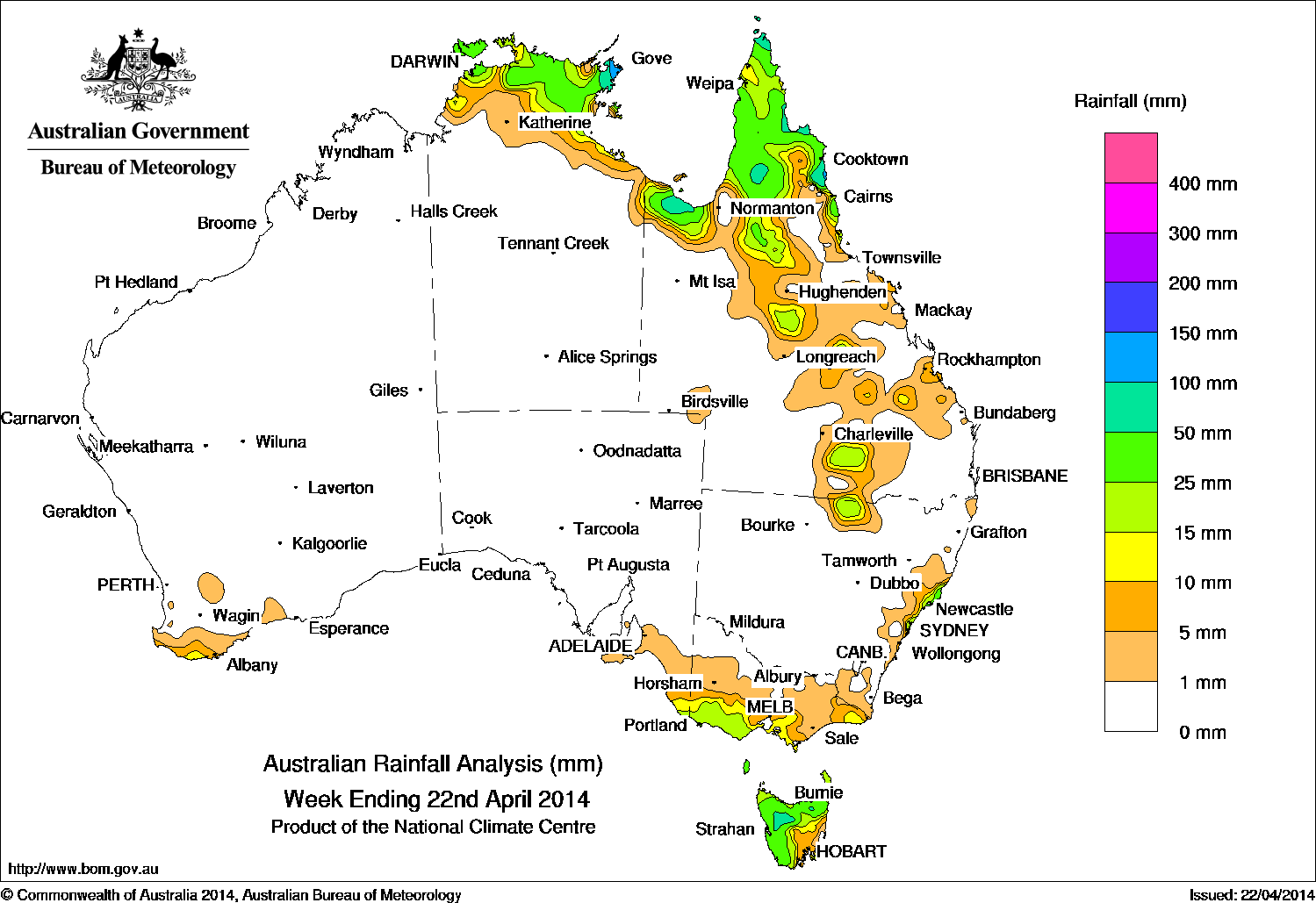 A series of cold fronts swept through the southern states during the week, along with thunderstorm activity in the northern tropics.
Ex-tropical cyclone Ita was located in the southern Coral Sea and transitioned into a vigorous low pressure system as it moved into the Tasman Sea. Isolated showers and thunderstorms over Cape York Peninsula generated some locally heavy falls. A pair of cold fronts moved through the Great Australian Bight and passed over the southeast, bringing mostly light falls to the exposed western coasts of Victoria and Tasmania. Near the end of the week, a surface trough north of the Top End extended through the central interior of Queensland, and caused an area of active thunderstorms and showers in the northeast coast of the Northern Territory, the Gulf Country and northern Cape York Peninsula.
Rainfall totals over 100 mm were recorded around Nhulunbuy in eastern Arnhem Land in the Northern Territory and other isolated areas of the tropical north, with the highest weekly total at Daintree Village in Queensland with 180 mm. Falls between 50 mm and 100 mm were recorded in western Tasmania, in the far northeast of Arnhem Land, and the Peninsula, Gulf Country and north tropical coast of Queensland. Falls between 10 mm and 50 mm were recorded in areas surrounding higher falls in northern tropical Australia, parts of the Queensland and New South Wales interior, central east coast of New South Wales, southwest Victorian coast, most of western Tasmania and a small area on the southwest coast of Western Australia.
Most of Western Australia, South Australia, Northern Territory, southwestern Queensland, New South Wales west of the Great Dividing Range and inland Victoria received little or no rainfall.
ENSO update: El Nino likely in 2014
Meanwhhile, the Bureau of Meteorology's latest two weekly ENSO update, issued yesterday, says the likelihood of an El Niño pattern forming in 2014 is now high.
All climate models surveyed by the Bureau now indicatie that El Niño is likely to occur this year, with six of the seven models suggest El Niño thresholds may be exceeded as early as July.
The Pacific Ocean has been warming along the equator over recent weeks, with continued warming in the central Pacific likely in coming months. Another burst of westerly winds is presently occurring in the western Pacific, and is likely to cause further warming of the sub-surface.
El Niño has an impact across much of the world, including below average rainfall in the western Pacific and Indonesian regions, and increased rainfall in the central and eastern Pacific. For Australia, El Niño is usually associated with below average rainfall, with about two thirds of El Niño events since 1900 resulting in major drought over large areas of Australia.
The Indian Ocean Dipole (IOD) is currently in a neutral state. Model outlooks currently suggest the IOD is likely to remain neutral through late autumn and early winter, with two of the five models surveyed suggesting a positive IOD may develop by early spring. Positive IOD events often coincide with El Niño and are typically associated with large parts of southern and central Australia experiencing lower rainfall than usual.
Highest weekly rainfall totals for each State:
State
Highest
2nd Highest
3rd Highest
WA
Cape Leeuwin
(14 mm)
(South Coast)
North Walpole
(10 mm)
(South Coast)
Windy Harbour
(10 mm)
(South Coast)
NT
Yirrkala Tropical Gardens
(142 mm)
(Arnhem)
Gove Airport
(139 mm)
(Arnhem)
Nhulunbuy
(102 mm)
(Arnhem)
SA
Mount Schank
(Jethia)(16 mm)
(Lower Southeast)
Mount Gambier
(15 mm)
(Lower Southeast)
Kalangadoo
(10 mm)
(Lower Southeast)
Qld
Daintree Village
(180 mm)
(Barron)
Horn Island
(156 mm)
(North Peninsula)
Aurukun
(108 mm)
(North Peninsula)
NSW / ACT
Forster
(82 mm)
(Manning)
Nelson Bay
(58 mm)
(Hunter)
Careys Peak
(45 mm)
(Hunter)
Vic
Wyelangta
(32 mm)
(West Coast)
Benwerrin
(31 mm)
(West Coast)
Haines Junction
(27 mm)
(West Coast)
Tas
Mount Victoria
(80 mm)
(Northern)
Mount Read
(73 mm)
(West Coast)
Mount Barrow
(69 mm)
(West Coast)