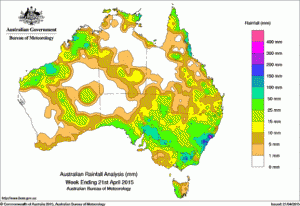 Rainfall totals in excess of 50mm were recorded in part of the Kimberley and Pilbara in Western Australia, the eastern tip of Arnhem Land, the north tropical coast of Queensland, an area in South Australia extending from the Flinders Ranges to about Mildura in Victoria, in northeastern Victoria, and in central eastern New South Wales.
Totals in excess of 150 mm were recorded in the Hunter, Illawarra and Sydney region. The highest weekly total of 315 mm was at Gostwyck Bridge in New South Wales.
Rainfall totals between 10 mm and 50 mm were recorded in the Kimberley and Pilbara, and parts of southern inland Western Australia, around Alice Springs and the northern Top End in the Northern Territory, along the eastern seaboard of Queensland and areas of the Gulf Country. This covered a broad area from southern Queensland through eastern and southern South Australia, the southeast mainland except western Victoria and far southeastern South Australia, and also in western Tasmania.
Parts of western Queensland, parts of the north and southwest of the Northern Territory, northwestern South Australia, eastern and southwest Western Australia, and eastern Tasmania received little or no rainfall this week.
At the start of the week, light to moderate falls were recorded in southwest and southeastern Western Australia, southwestern South Australia, central and eastern Victoria, and northern and western Tasmania as a cold front and associated surface trough tracked across the Great Australian Bight. A high pressure system in the Tasman Sea directed a moist onshore airflow onto the east coast of Australia, producing moderate falls along the north tropical and central coasts of Queensland and in isolated parts of the Gulf Country.
During the middle to latter part of the week, an established surface trough extended from northwest Western Australia, through central Australia to a low pressure system and cold front intensifying near the central New South Wales coast. Heavy falls were recorded in the Flinders and Mid North districts in South Australia with moderate falls extending into the southern parts of the North East Pastoral district. Moderate falls were recorded across southern South Australia and western New South Wales, with lighter rain in southern New South Wales and western Tasmania. Thunderstorm activity in the north generated isolated moderate rainfall in parts of the Kimberley and the Top End. Light rainfall was also recorded around Alice Springs.
In the last part of the week, a surface trough extending through western Queensland, western New South Wales and central Victoria brought moderate to heavy falls to northeastern Victoria, and moderate falls to southern New South Wales and eastern South Australia. A strengthening cold front crossing southeastern Australia combined with a surface trough that extended along the east coast of Queensland and northern New South Wales. Moderate falls were recorded on Queensland's north tropical coast and northeastern Peninsula, parts of southern and central Queensland, eastern and southern New South Wales, and parts of eastern Victoria and in western Tasmania.
At the end of the week, the complex system intensified into an east coast low off the New South Wales coast, producing very heavy rainfall in the central east coast of New South Wales, particularly the Hunter and Manning districts, with moderate falls extending into central and northeastern New South Wales and southeastern Queensland.Moderate falls were recorded along the Pilbara and west Kimberley coasts as thunderstorms formed along a surface trough located along the west coast of Western Australia.
Table of highest weekly totals
State
Highest
2nd Highest
3rd Highest
WA
Pardoo Station
(93 mm)
(De Grey)
Marble Bar
(79 mm)
(De Grey)
Yarrie
(64 mm)
(De Grey)
NT
Yirrkala Tropical Gardens
(74 mm)
(Arnhem)
Cape Don
(71 mm)
(Darwin-Daly)
Gove Airport
(70 mm)
(Arnhem)
SA
Quorn
(115 mm)
(Upper North)
Sturt Vale
(108 mm)
(Northeast)
Orroroo
(102 mm)
 (Upper North)
Qld
Tree House Creek
(167 mm)
(Barron)
Tully Sugar Mill
(150 mm)
(Herbert)
Greenhaven
(147 mm)
(Barron)
NSW/ACT
Gostwyck Bridge
(315 mm)
(Hunter)
Crawford River
(268 mm)
(Manning)
Paterson
(256 mm)
(Hunter)
Vic
Mount Hotham
(160 mm)
(Upper Northeast)
Falls Creek
(146 mm)
(Upper Northeast)
Howitt Plains
(108 mm)
(Upper Northeast)
Tas
Mount Read
(57 mm)
(West Coast)
Queenstown
(39 mm)
(West Coast)
Strahan
(35 mm)
(West Coast)
Source: BOM