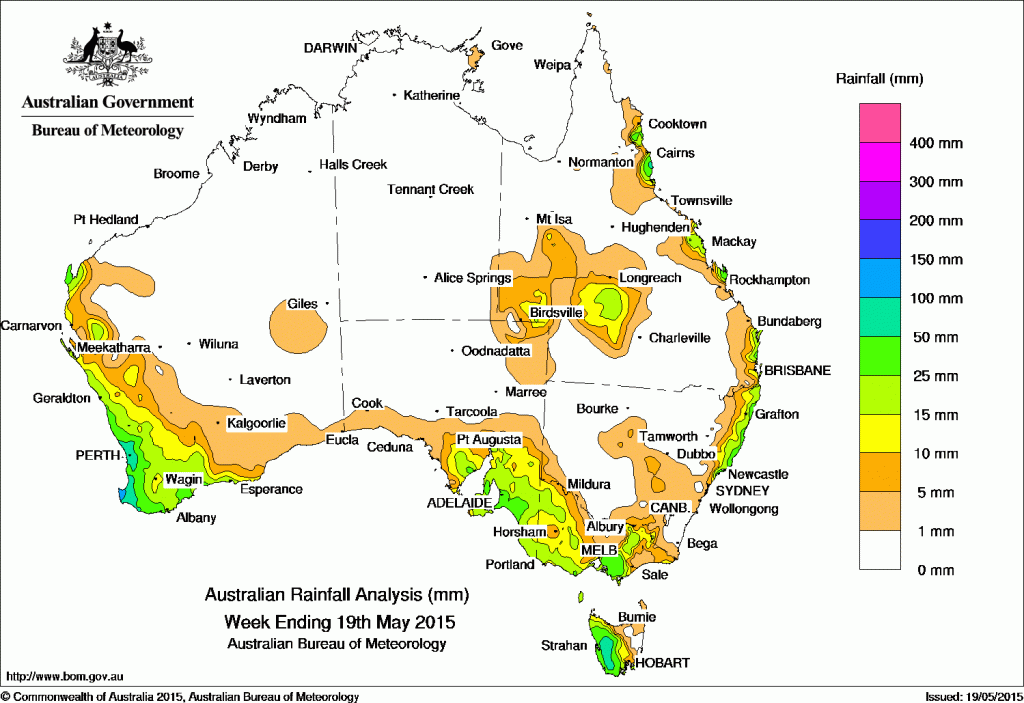 It was another dry week for much of Australia with the best falls recorded in south western Western Australia, southern South Australia and western Victoria.
At the beginning of the week, a vigorous cold front crossed Tasmania and produced moderate rainfall totals in western Tasmania, southern Victoria and parts of southeastern South Australia, with light falls continuing in a cold, southwesterly airstream behind the front as a strong high pressure centre became established in the Great Australian Bight.
In the middle of the week, a low pressure system with an embedded front tracked across the west coast and southwest Western Australia and generated moderate to heavy rainfall totals along the southwest coast, with light rainfall extending across most of the South West Land Division and as far north as the Pilbara coast.
This system also brought light to moderate falls to much of southern South Australia, extending into western Victoria.
An inland surface trough located through central Australia triggered thunderstorms and showers in western Queensland in the 24 hours to 9 am on 18 May while moist onshore flow throughout the week generated light to moderate rainfall totals along parts of the east coast of Queensland and New South Wales.
Rainfall totals exceeding 100 mm were recorded in the far southwest corner of Western Australia. The highest weekly total was 130 mm at Jindong, in Western Australia. Areas in western Tasmania and southwest Western Australia recorded rainfall totals between 50 mm and 100 mm.
Rainfall totals between 10 mm and 50 mm were recorded in a large area of the South West Land Division and in parts of the coastal Pilbara and Gascoyne; in southeastern South Australia including the Yorke and Eyre peninsulas and southern parts of the North East Pastoral district; in western, central and northeastern Victoria; the western half of Tasmania; elevated parts of the Snowy Mountains and northeastern New South Wales; parts of the east coast of Queensland and in far southwestern Queensland.
The Northern Territory, large parts of inland, northern and southern Queensland, most of New South Wales, northeastern Tasmania, remaining areas of South Australia away for the southeast corner, and most of Western Australia excluding the South West Land Division recorded little or no rainfall during the week.
Highest weekly totals in each State: