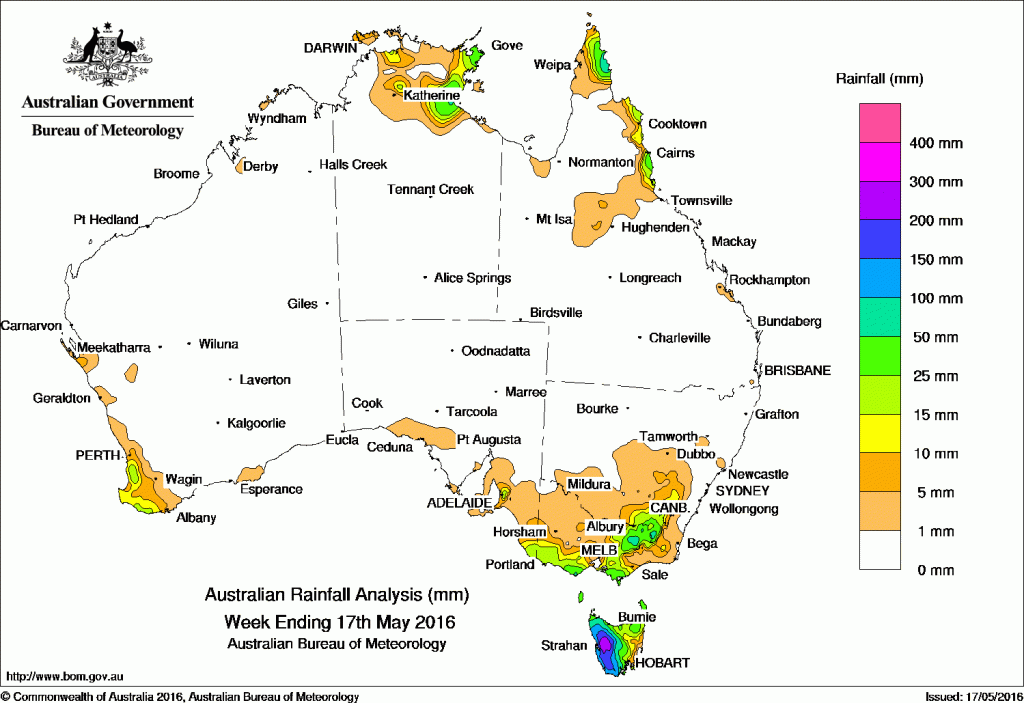 It was a largely dry week across Australia.
At the beginning of the week, a surface trough across northern Australia produced onshore showers and thunderstorms, generating moderate rainfall totals in the eastern Top End of the Northern Territory.
A deep low pressure system south of Tasmania and an associated low pressure trough tracked across southeastern Australia, generating moderate falls in the western parts of Tasmania and southern parts of Victoria.
Another cold front embedded in a vigorous westerly airstream rapidly crossed Bass Strait, bringing moderate to heavy falls to western Tasmania and elevated parts of the Victorian Alps. A series of cold fronts tracked across Tasmania during the remainder of the week, generating further moderate falls across western Tasmania.
At the end of the week, a cold front moved through southwest Western Australia, bringing light to moderate falls to western and southern parts of the South West Land Division. As the front tracked eastwards, light falls were recorded in southeast South Australia and southwestern Victoria. A moist onshore flow brought persistent shower activity to the northeast coast of Queensland in the second part of the week.
Rainfall totals in excess of 100 mm were recorded in the Victorian Alps and the western half of Tasmania. Falls in excess of 200 mm were recorded on the west coast and highland regions in Tasmania, including the highest weekly total of 378 mm at Mount Read.
Rainfall totals between 50 mm and 100 mm were recorded in the far eastern parts of the Cape York Peninsula, eastern parts of Arnhem Land in the Northern Territory, the Victorian Alps and the Snowy Mountains, and much of western Tasmania.
Rainfall totals between 10 mm and 50 mm were recorded in the northeastern Top End including parts of Arnhem Land, the northeast coast of Queensland, southeastern New South Wales, northeastern and southern Victoria, southwest Western Australia, and in most of Tasmania except along the central east coast.
Most of Western Australia, much of the Northern Territory away from the northeastern Top End, remaining parts of Queensland, New South Wales away from the southeast, most of South Australia and northwestern Victoria recorded little or no rainfall this week.
Highest weekly totals in each state and territory
New South Wales and Australian Capital Territory
93 mm Perisher Valley AWS
69 mm Thredbo AWS
61 mm Cabramurra AWS
Victoria
111 mm Mount Buller
105 mm Mount Hotham, Falls Creek (Rocky Valley)
Queensland
55 mm Tully Sugar Mill
50 mm Mt Sophia
38 mm Innisfail
Western Australia
33 mm Huntly
26 mm Mount William
22 mm Northcliffe
South Australia
40 mm Uraidla
39 mm Ashton
37 mm Piccadilly (Woodhouse)
Tasmania
378 mm Mount Read
285 mm Lake Margaret Power Station
250 mm Queenstown (South Queenstown)
Northern Territory
70 mm Cape Wilberforce
55 mm Alcan Minesite
52 mm Gove Airport
More weekly rainfall totals:
Source: BOM