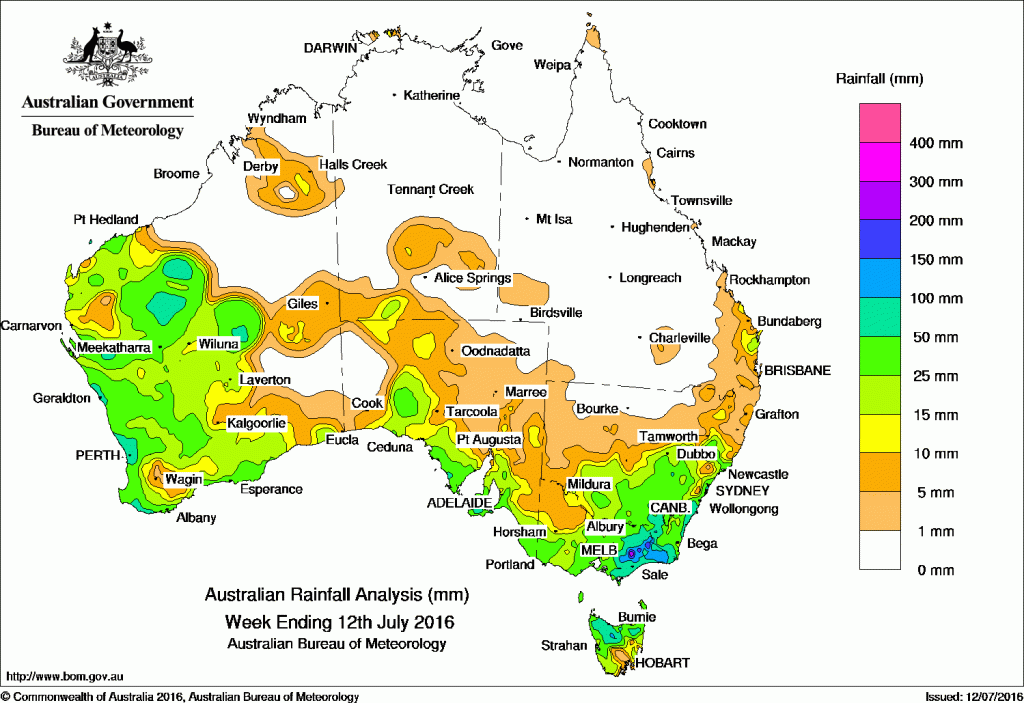 IS RAIN ON THE WAY? Scroll below article to view the latest 10 day precipitation outlook
At the start of the week, a deep low pressure system situated in the western Tasman Sea brought moderate to heavy falls to eastern Victoria and parts of southeastern New South Wales, with light falls reported through central New South Wales and southeastern Queensland. A low pressure system in the northwest of Western Australia and an associated cloud band produced moderate to heavy falls in the Pilbara and Gascoyne, and light to moderate falls across the State's central interior.
During the middle of the week, a series of cold fronts with a developing low tracked across southwest and central Western Australia, resulting in moderate rainfall across the South West Land Division, the Gascoyne, and central parts of Western Australia.  As a complex area of low pressure deepened and moved through the Great Australian Bight, the associated cold front and cloud band embedded in a gusty northerly stream produced moderate falls about western districts of South Australia. Moderate rainfall was also recorded in parts of northern Victoria and northern Tasmania tending more widespread across southern New South Wales as the system tracked eastwards.
In the last part of the week, another cold front swept across southern parts of the continent, bringing moderate falls to the southern coast of Western Australia, southeast South Australia and northern Tasmania.
Rainfall totals between 50 and 100 mm were recorded in central and southwest Western Australia, eastern Victoria, southeastern New South Wales, and a small area of northern Tasmania. Totals in excess of 100 mm were recorded in parts of the Victorian Alps and the Snowy Mountains in New South Wales. The highest weekly total was 219 mm at Reeves Knob in West Gippsland, Victoria.
Rainfall totals between 10 mm and 50 mm were recorded across most of the west and south coast of Western Australia, much of the agricultural districts the agricultural districts of South Australia, most of Victoria except the northwest, most of Tasmania except the southeast, large areas of southern New South Wales, and across a small area of southeastern Queensland.
Central and northern Western Australia, the Northern Territory, and all of Queensland away from the southeastern quarter recorded little or no rainfall this week.
Highest weekly totals in each state and territory
New South Wales and Australian Capital Territory
158 mm Sanctuary Point
153 mm Thredbo Village
136 mm Ulladulla AWS
Victoria
219 mm Reeves Knob
185 mm Bullumwaal
178 mm Mount Moornapa
Queensland
23 mm Moogerah Dam
22 mm Rainbow Beach
21 mm Maroon Dam
Western Australia
94 mm Swanbourne
90 mm Jandakot Aero
80 mm Karri Valley Resort, Roleystone
South Australia
77 mm Parawa (Sharon)
71 mm Parndana (Turkey Lane)
67 mm American River
Tasmania
126 mm Loongana (Serendipity)
102 mm Yolla (Sea View)
97 mm Mount Victoria (Una Plain)
Northern Territory
18 mm Black Point
17 mm Curtin Springs
14 mm Yulara Airport
More weekly rainfall totals:
Source: BOM