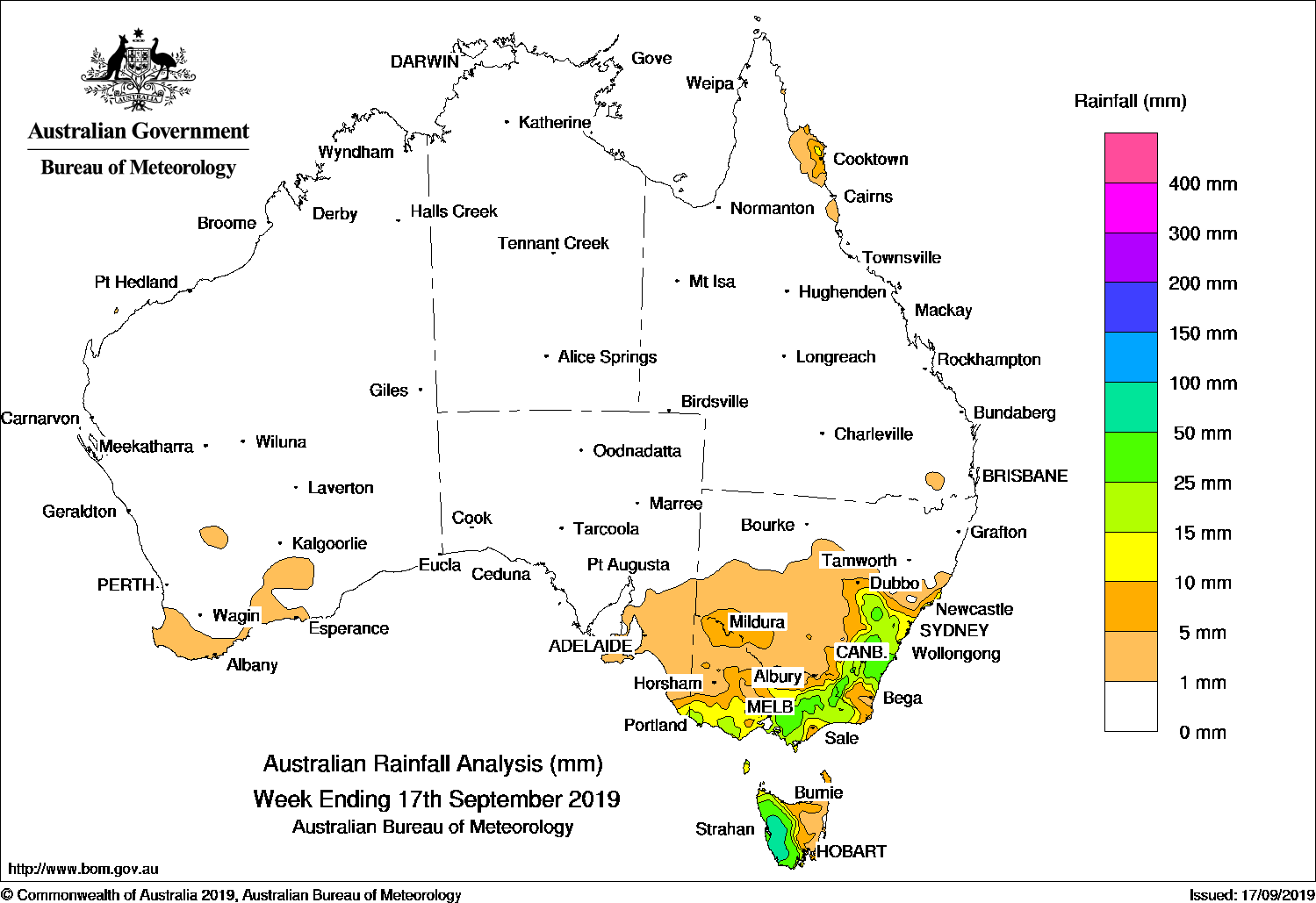 Cold fronts and surface troughs generated moderate rainfall in southeastern Australia, while a cold front produced moderate falls in southern, coastal New South Wales, and snow in Canberra at the end of the week.
Past seven days: There was very little rainfall recorded across Australia at the start of the week, then a cold front tracked across Tasmania, and brought moderate falls to western parts of that State and isolated light falls in parts of central Victoria. Light showers were reported along the north tropical coast of Queensland from onshore flow.
In the west, a weak cold front brushed southwest Western Australia, and produced light falls in the far southwest of the continent. In the middle of the week, the cold front moved across the Great Australian Bight, and tracked over southeastern Australia, producing moderate falls in Western Tasmania.
In the last part of the week, another cold front tracked across the far southwest of Western Australia, with light falls reported along the southwest coast of that State. As the system tracked eastwards, a large cloudband stretched over southeastern Australia due to the broad cold front and an associated trough that extended through Victoria and New South Wales. A low pressure system developed near the New South Wales northeast. Moderate falls were recorded in far southeastern South Australia, southern and eastern Victoria, southeastern New South Wales to the Hunter, and western Tasmania at the end of the week.
Rainfall totals in excess of 50 mm were recorded in parts of western Tasmania, with some isolated locations recording rainfall totals in excess of 100 mm, including the highest weekly total of 112 mm at Mount Read.
Rainfall totals between 10 mm and 50 mm were observed in parts of southern and eastern Victoria, areas along and east of the ranges in southeastern to central coast New South Wales, and in western Tasmania.
Falls of less than 10 mm were recorded along the coast in southwest Western Australia, southeastern South Australia, parts of the north tropical coast of Queensland, much of the southern two thirds of New South Wales, and in areas of northwest and northern country Victoria and eastern Tasmania.
Little or no rainfall was recorded in remaining parts of Western Australia, the Northern Territory, most of Queensland, South Australia except in the southeast of that State, northern New South Wales, and parts of northwestern Victoria.
Highest weekly totals
New South Wales and Australian Capital Territory
60 mm Braidwood
52 mm Bendalong STP
49 mm Jervis Bay NSW
Victoria
49 mm Mount Baw Baw
38 mm Warburton
37 mm Nilma North (Warragul)JindivickFalls Creek (Rocky Valley)
Queensland
12 mm Hazelmere
4 mm Innisfail, Daintree Village, Sandy Cape Lighthouse
Western Australia
9 mm Perivale, Orchard
6 mm Happy Valley,Pemberton
South Australia
18 mm Mount Schank (Jethia)
15 mm Nangwarry Forestry, SA Depot
7 mm Mount Gambier Aero
Tasmania
112 mm Mount Read
105 mm Lake Margaret Dam
73 mm Queenstown
Northern Territory
0.2 mm Victoria River Downs, Old Delamere, Port Keats Airport
Rainfall outlook: