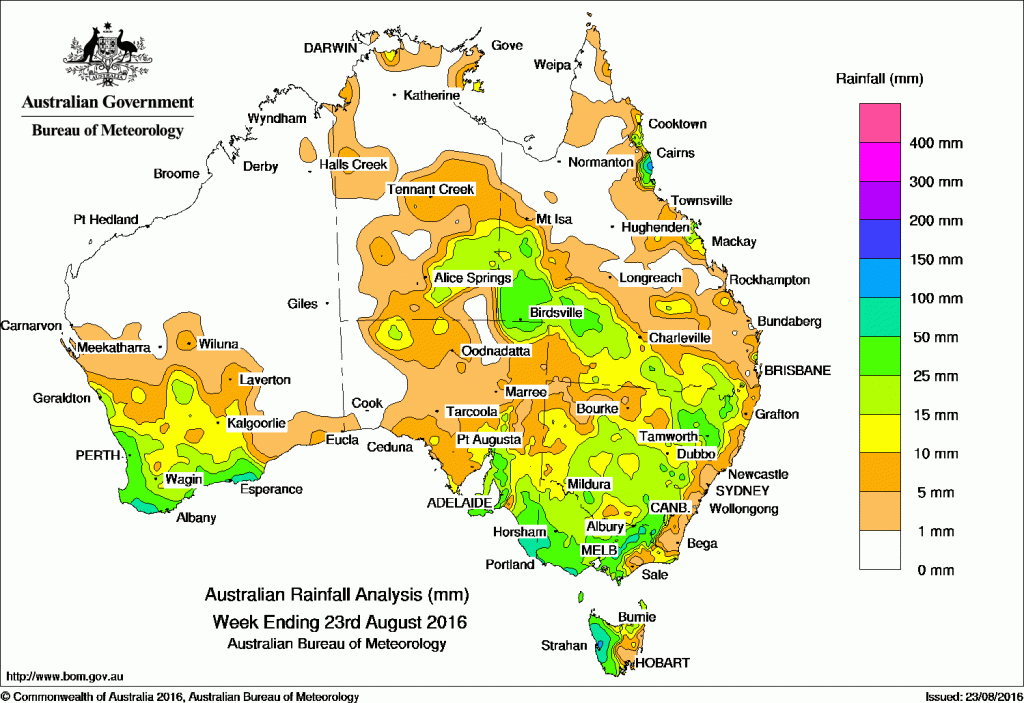 Today's 14-day rainfall outlook – scroll to bottom of article
Southeast South Australia, the Victorian Wimmera district, northeast Victoria, western Tasmania and the north tropical coast of Queensland received the highest totals in the last seven days.
Past seven days: At the start of the week, a surface and upper-level trough enhanced shower activity about the north tropical coast of Queensland, with moderate falls recorded between Cooktown and Ingham. A cold front extended a trough across southeastern Australia, bringing moderate rainfall totals to western Tasmania and light rainfall to southeast South Australia and southern Victoria. In the west, a strong cold front and low pressure system tracked across southwest Western Australia, generating thunderstorms and extensive middle level cloud, resulting in light to moderate rainfall for the South West Land Division.
As the front tracked into the Great Australian Bight, embedded thunderstorms produced moderate to locally heavy falls across the Yorke Peninsula, Mount Lofty Ranges and the southeast districts of South Australia. Moderate falls were also recorded in western Victoria.
By the middle of the week the vigorous cold front continued tracking east, bringing moderate rainfall to parts of central and northeastern Victoria, northern and western Tasmania and central and southern New South Wales, particularly for the elevated parts of the Snowy Mountains.
In the last part of the week, an inland trough extending over the Western Australia–Northern Territory border produced extensive middle level cloud from the Kimberley region through central and southern parts of the Northern Territory and into northern South Australia. A large area of embedded thunderstorms formed around the Alice Springs area and into southwest and southern Queensland. A strong westerly flow brought moderate falls to parts of southern and central Victoria. Another cold front swept across southern Western Australia and brought moderate falls to the southern parts of the South West Land Division.
100mm plus: North tropical coast of Queensland, including highest weekly total of 222 mm at Russell River in far north Queensland.
50mm-100mm: Pockets of south coast of Western Australia, across the Lower Southeast of South Australia, extending into the Victorian Wimmera district as well as the elevated areas of northeast Victoria, in western Tasmania and the north tropical coast of Queensland.
10mm and 50mm: Southwest Western Australia south of line between Geraldton and Israelite Bay; in the southeast of the Northern Territory; parts of northern, central and southeastern areas of South Australia, and across most of Victoria except an area of West Gippsland. Similar totals were recorded in northern and western Tasmania, much of New South Wales apart from the east coast and the northwest, and in southwestern, southern and pockets of Queensland's east coast.
Little to no rain: Parts of Western Australia, the north and west of the Northern Territory, western and central parts of South Australia, and much of northern and central Queensland..
Highest weekly totals
New South Wales and Australian Capital Territory
56 mm Perisher Valley AWS
48 mm Argalong (Sandy Creek), Thredbo Village
Victoria
133 mm Mount Buller
79 mm Jamieson Licola Rd, Beech Forest
Queensland
222 mm Russell River
181 mm South Johnstone Exp Stn
126 mm Innisfail
Western Australia
72 mm Pemberton
71 mm Karri Valley Resort
68 mm Shannon
South Australia
79 mm Lucindale Post Office
75 mm Robe Airfield
70 mm Robe
Tasmania
90 mm Strahan Aerodrome
89 mm Mount Read
86 mm Zeehan, Strahan (Andrew Street)
Northern Territory
24 mm Jervois
15 mm Arltunga
14 mm Point Stuart
 More weekly rainfall totals:
Source: BOM