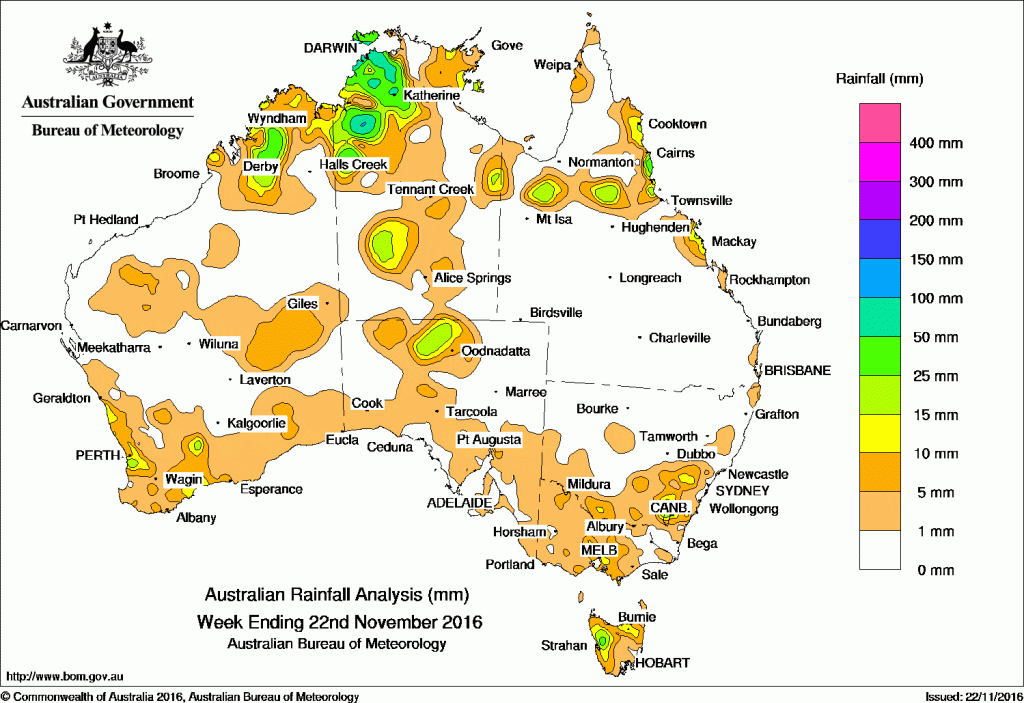 Today's 14-day rainfall outlook – scroll to bottom of article
The Kimberley and South West Land Division of Western Australia and the northwestern Top End received the heaviest falls across Australia in the past week.
Past seven days: At the start of the week, a broad surface trough extending from the Kimberley coast to central Western Australia triggered isolated showers and thunderstorms in the vicinity of the trough, while a cloudband developed from the northwest and extended to the south coast. The cloudband and associated trough moved through central and southern Western Australia, ahead of a cold front and associated low pressure system that tracked across the southwest coast. Moderate falls were recorded around Perth, and widespread light falls were reported across the southwest and southern parts of Western Australia.
In the middle of the week, the broad surface trough and the weakening cloudband moved into South Australia and Victoria. Isolated thunderstorms developed across parts of western South Australia and about the Top End of the Northern Territory, producing light to moderate falls.
During the latter part of the week, a surface trough extended across inland Kimberley to northern parts of the Northern Territory, producing isolated thunderstorms and showers. Moderate to heavy falls were recorded over the northern parts of Northern Territory and the Gulf Country, and in the eastern Kimberley.
Another surface trough and associated middle level cloudband with embedded thunderstorms moved through South Australia, southern parts of the Northern Territory, and the southeast of the continent, while a cold front moved through Tasmania. A moist, onshore flow produced showers with moderate falls about the north tropical coast of Queensland.
Widespread light falls were recorded in southeastern South Australia, western New South Wales and Victoria, and Tasmania. Showers and thunderstorms produced moderate falls in the central parts of the Northern Territory.
50mm-100mm: Parts of the northwestern Top End. The highest weekly total of 159 mm was recorded at Middle Point Rangers in the Darwin area of the Northern Territory.
10mm-50mm: Parts of the Kimberley and in small areas of the South West Land Division of Western Australia; the northwest Top End and in pockets of central and eastern Northern Territory; the northern pastoral district of South Australia and pockets of south central Victoria. Similar totals were recorded in southeastern New South Wales; western and northeastern Tasmania; and in parts of the northern interior, north tropical and central coasts of Queensland.
Little or no rainfall: Western Australia except the southwest and Kimberley; parts of western, southern and eastern Northern Territory; most of Queensland away from the northern interior and east coast; northern and western New South Wales; much of Victoria, particularly the east; along the southern coast, the northwest and northeast of South Australia, and in eastern Tasmania.
Highest weekly totals list
New South Wales and Australian Capital Territory
41 mm Hampton (Bindo), Tingha Post Office
37 mm Hillview (Shoalhaven River)
Victoria
17 mm Castlemaine Prison
16 mm Ferny Creek
14 mm Barwon Downs (Gerangamete)
Queensland
42 mm Innisfail Aerodrome
40 mm South Johnstone Exp Stn
35 mm Bingil Bay
Western Australia
79 mm Mount Barnett
36 mm Mount House Airstrip
34 mm Mount Elizabeth
South Australia
16 mm Todmorden
9 mm Wirrabara
8 mm Appila
Tasmania
45 mm Mount Read
34 mm Lake Margaret Power Station
23 mm Queenstown (South Queenstown)
Northern Territory
159 mm Middle Point Rangers
108 mm CSIRO Berrimah, Fort Hill Wharf
More weekly rainfall totals:
Source: BOM