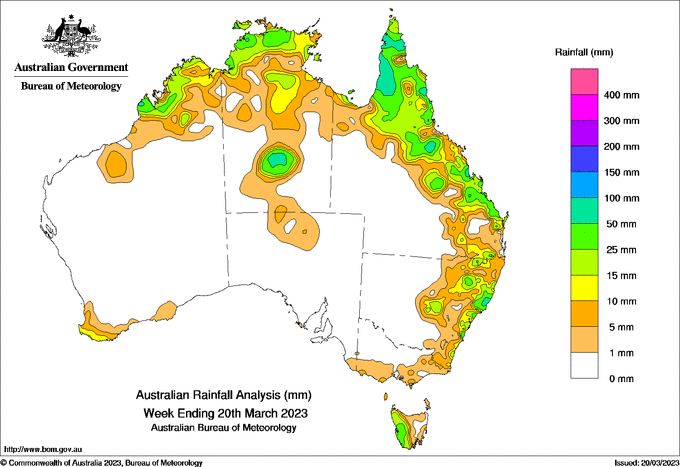 Showers and rain occurred across the north and the east throughout the week, mostly owing to areas of active cloud and thunderstorms present near and to the east of surface troughs.
One trough extended across northern Australia, with a second extending from central Queensland to north-west Victoria.
Areas of low cloud and rainfall were associated with onshore flow across western Tasmania and along the southern coastline of Victoria.
Weekly totals of 15–50 mm were reported across most of the coastal northern tropics, with similar totals in western Tasmania, and totals of 10–50 mm across large parts of the eastern mainland.
Higher totals were reported in some areas, including in excess of 50 mm in parts of Cape York Peninsula, the tropics in Queensland, and on the central and northern coast in New South Wales.
The highest weekly total (at a Bureau gauge) was 120.6 mm at Kowanyama Airport in the western Cape York Peninsula (Qld), while the highest daily total was 99.0 mm at Mooral Creek (The Den) (NSW Mid North Coast) during the 24 hours to 9am on 14 March.