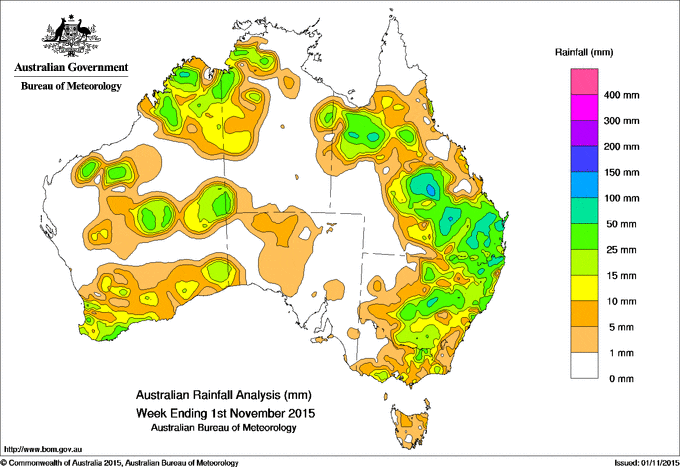 Some of the driest areas of Australia have received good storm rain totals in recent days, but one western Queensland stock agent says the falls are a long way from the drought breaking event desperately needed.
Central western Queensland is now in the fourth year of severe drought, but some landholders in the region received some timely spring relief over the weekend with reported falls including Barcaldine with 157mm, Alpha 107mm, Blackall airport 45mm and Longreach 20mm.
In western Queensland high totals were recorded at Mungalalla with 98mm, Injune 87mm, Mitchell 74mm, Bollon 43mm, Roma 30mm, Drillham 50, Miles 31, Meandarra 22.
Good falls were also received in NSW with some inland totals including Tenterfield with 77mm, Glen Innes 74mm, Inverell 30mm Armidale 26mm, Dubbo 49mm, Tamworth 36mm, Condobolin 57mm, Gundagai 54mm, Wagga 64mm, West Wyalong 39mm, and Brewarrina 45mm.
(For more totals in each state click on links below this story)
Longreach stock and station agent Richard Simpson, Simstock Rural Agencies, said that unfortunately most of the big falls were very isolated and the current rain event would make little overall difference to the drought conditions gripping Queensland's central west.
The biggest benefit was the water that had allow previously dry creeks to run again, and had come just in time to help the small township of Ilfracombe.
"They were on their last legs as a township and I hear that it might have nearly filled the dam," Mr Simpson said.
"There was no grass so any rain that did fall anywhere just ran."
While some landholders received some very large totals, a lot of properties received little to no rain at all, Mr Simpson said.
"I would say about one percent of an area got it, which is the townships of Ilfracombe and Barcaldine and from there to the east, and there were some isolated storms around Blackall."
After years of forced destocking, sheep and cattle numbers in the Longreach district now stand at about 10pc of usual numbers, Mr Simpson estimates.
Some properties are now totally destocked for the first time in more than 100 years, with vast areas of hundreds of thousands of hectares now completely devoid of sheep or cattle.
Mr Simpson said the difference between the current drought and previous droughts was the intense, widespread nature of this event.
"I honestly think there are a lot of senior people in the district, people that other people look up too, who are starting to mentally feel the strain.
"Like a good cricketer it is just one year too long.
"Back in the 60s and 80s it rained somewhere, but this has such a big area now.
"People in those days, if they owed $100,000 that was huge, people these days have borrowings in the millions, so it puts that additional sub-conscious pressure on them."
RELATED ARTICLE: Drought fundraiser for Rural Press Club dinner
To see weekly rain totals for each state click on the links below: