November 2019-January 2020 rainfall outlook: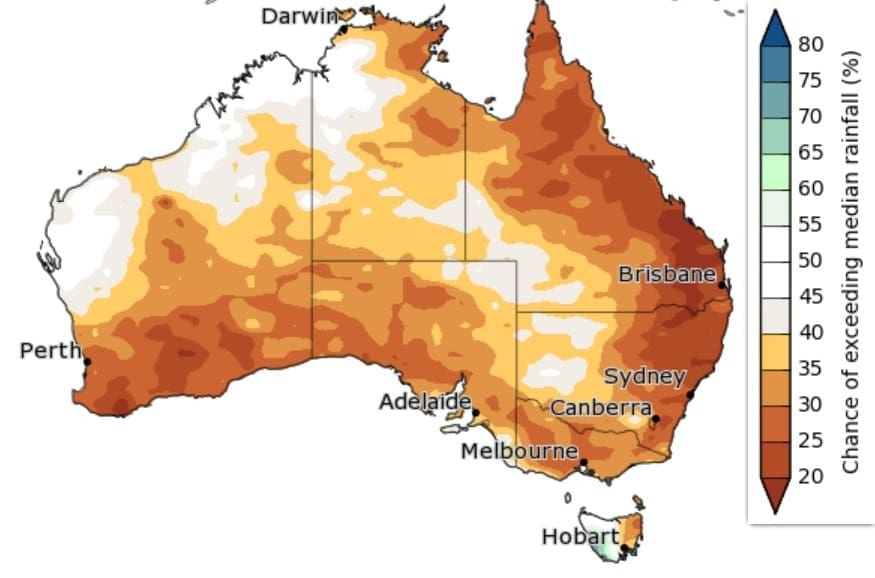 Drier than average likely, but may start to ease for some in early 2020
Rainfall is likely to be below average across most of the country for November, although western Tasmania is likely to be above average. This pattern of drier in NSW and wetter in western Tasmania is consistent with a negative SAM pattern persisting for most of November.
The drier outlook continues into December for most of Australia, although the chance of drier conditions is lower compared to November. The summer (December to February) outlook is far more neutral, although most of eastern Australia remains likely to be drier than average.
While outlooks for drier than average conditions may ease for some areas in the coming months, it should be noted that several months of above average rainfall would be needed to see a recovery from current long-term rainfall deficiencies.
Above average temperatures
Daytime temperatures are likely to be above average across Australia for the remainder of 2019 and into early 2020. However, November is likely to be cooler than average in southwest Victoria and most of Tasmania.
Nights are likely to be warmer than average for November in northwest and eastern Australia. Conversely, much of northeast and south to southeast Australia are likely to have cooler than average November nights. Cooler nights for the southeast and northeast continue for December in some areas, but December to February nights overall are likely to be warmer than average almost nation-wide.
The strong positive Indian Ocean Dipole (IOD) is continuing to influence Australian climate, while a negative Southern Annular Mode (SAM) is likely to influence Australia for the coming weeks.
Source: BOM