Above average rainfall likely in the north; below average in parts of the east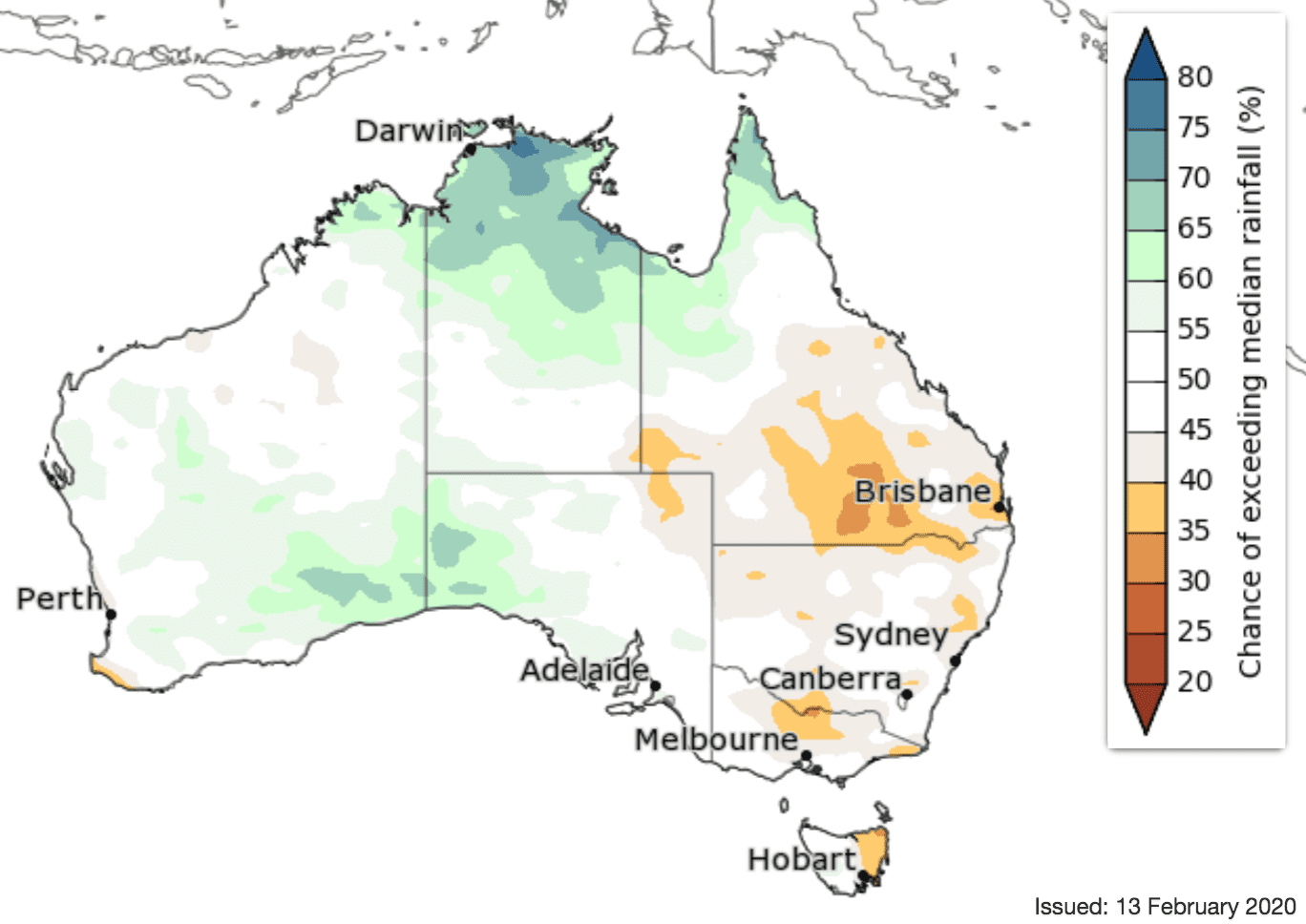 In the north, above average rainfall is likely in many areas in March, but central and southern Queensland is more likely to see below average rainfall from March to May.
Most of the southern half of Australia is unlikely to see significantly above or below average rainfall during autumn. However, below average rainfall is slightly more likely in the far east and above average rainfall is slightly more likely in parts of southern Western Australia.
Recent rainfall over parts of eastern Australia has not ended the drought for most areas. Several months of above average rainfall are required for this to occur. Major climate drivers like the El Niño–Southern Oscillation (ENSO), Indian Ocean Dipole (IOD) and the Southern Annular Mode (SAM) are neutral and forecast to remain neutral through autumn. When these major climate drivers are neutral, we're less likely to widespread, above or below average seasonal rainfall.
First look: Apr to Jun 2020 rainfall outlook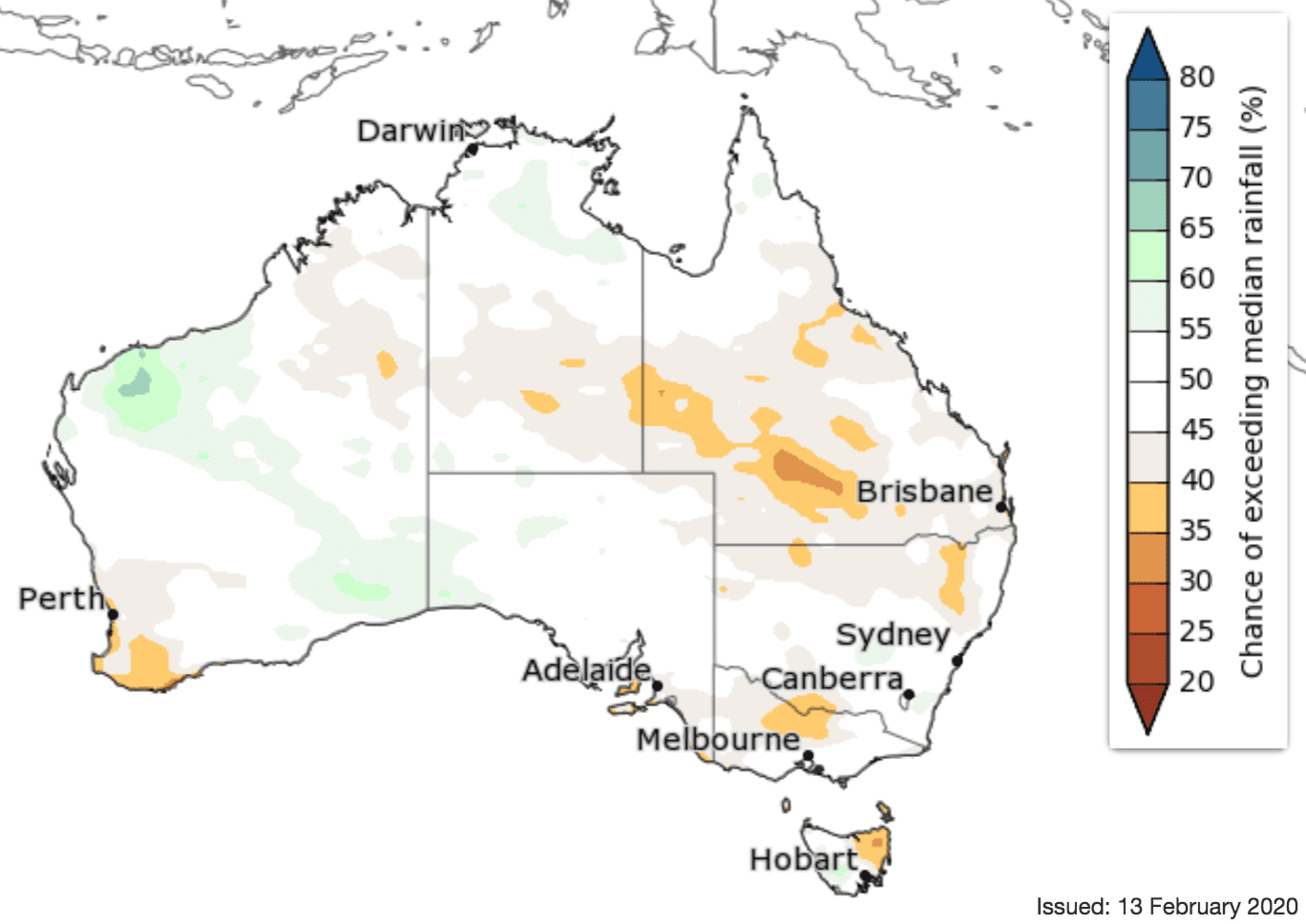 Warmer days and nights likely for early 2020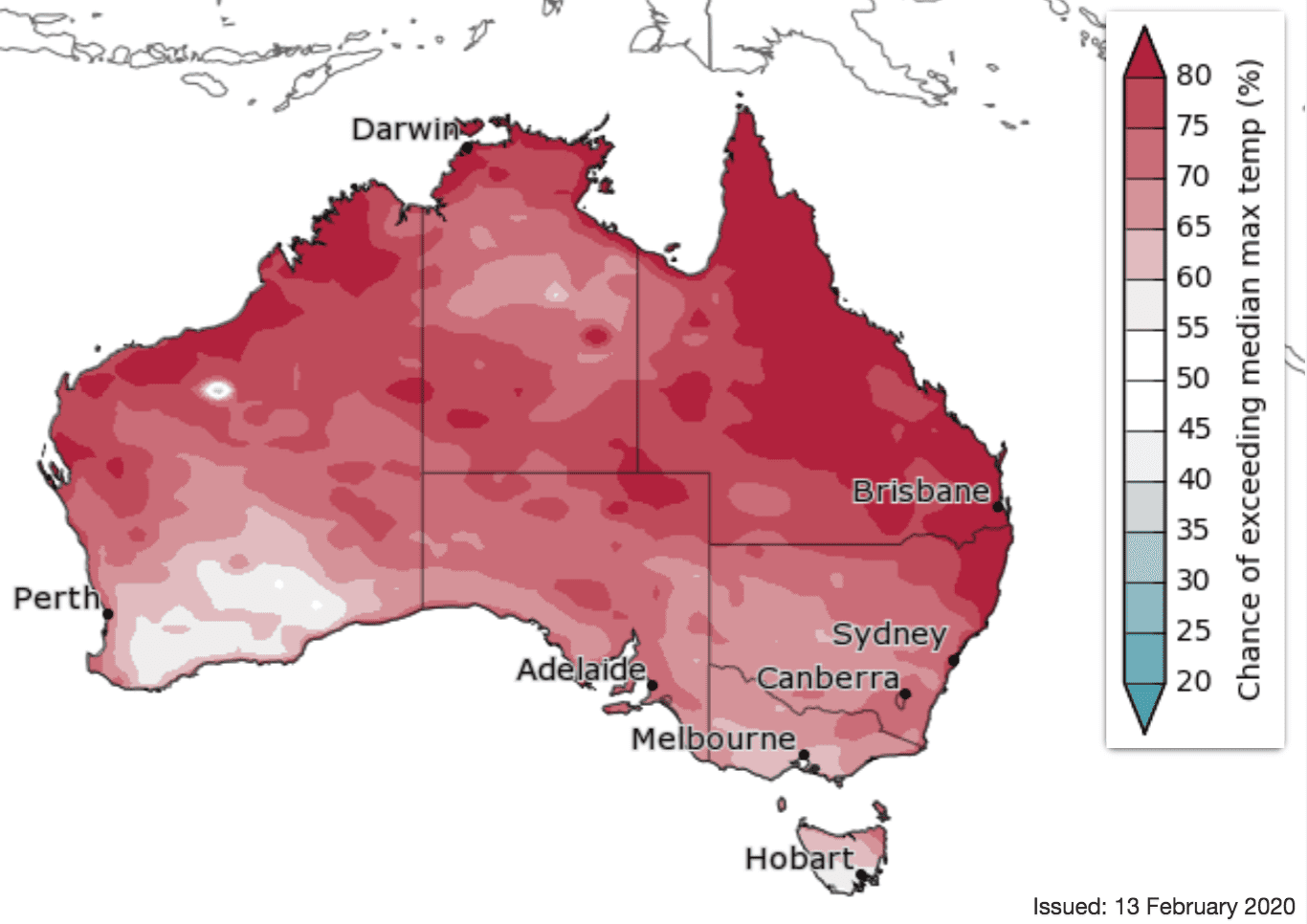 Chance of exceeding median maximum temperature
Days and nights are likely to be warmer than average from March to June, increasing the chance of heatwaves and elevating bushfire risk in the coming months.
A combination of drier than average soils, from a record warm and dry 2019, and long-term climate change are influencing this temperature outlooks. Australia's climate has warmed by around 1.4 °C since 1910, while southern Australia has seen a reduction of 10-20% in April–October rainfall.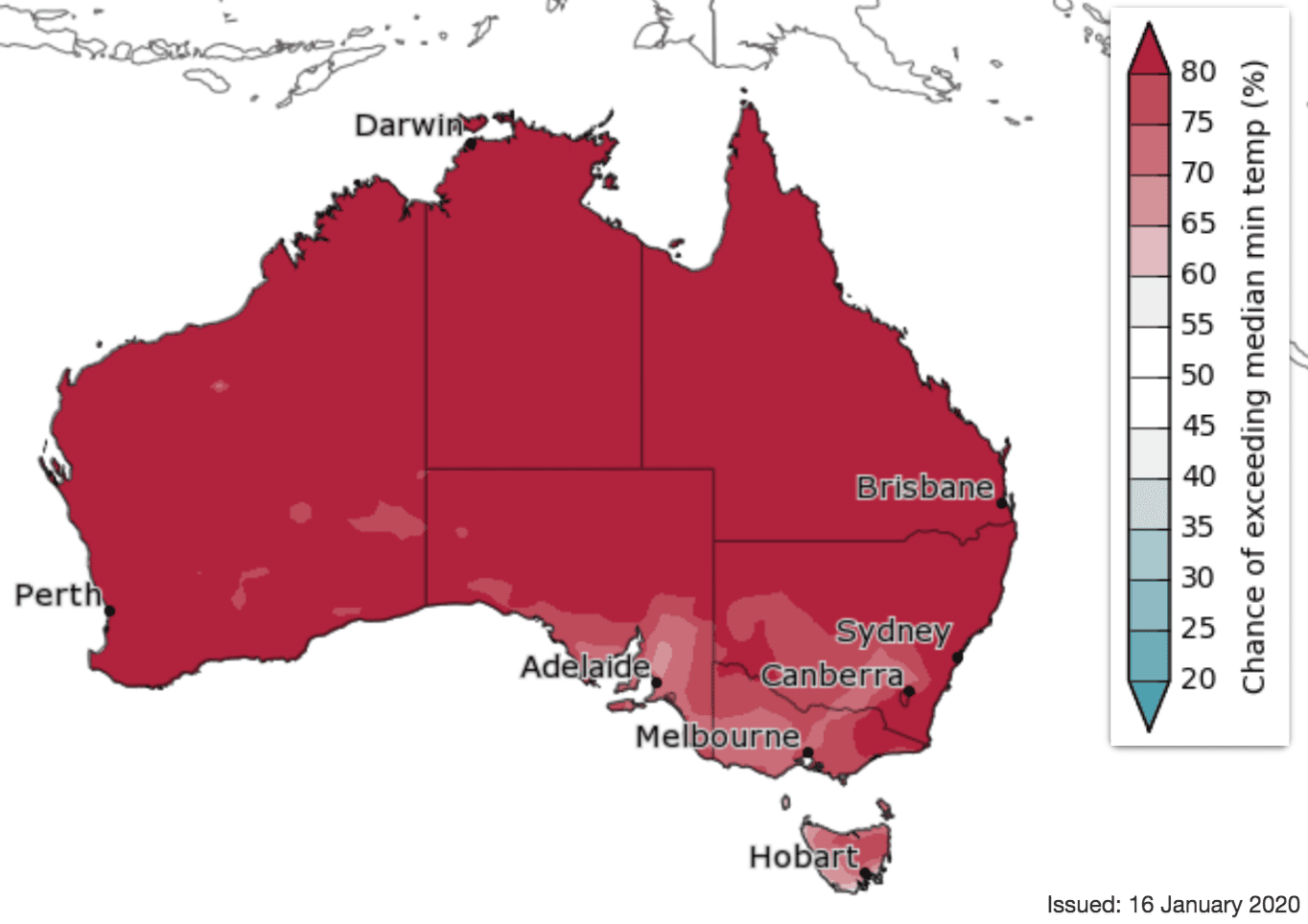 Chance of exceeding median minimum temperature
Source: Bureau of Meteorology. To view more outlook maps for coming weeks and months click here
Comparison – previous forecast versus actual rainfall
Maps below compare BOM's rainfall forecast for November 2019 to January 2020, issued 31 October 2019, with actual rainfall recorded over the November 2019 to January 2020 period.
FORECAST MEDIAN RAINFALL NOV 2019 to JAN 2020: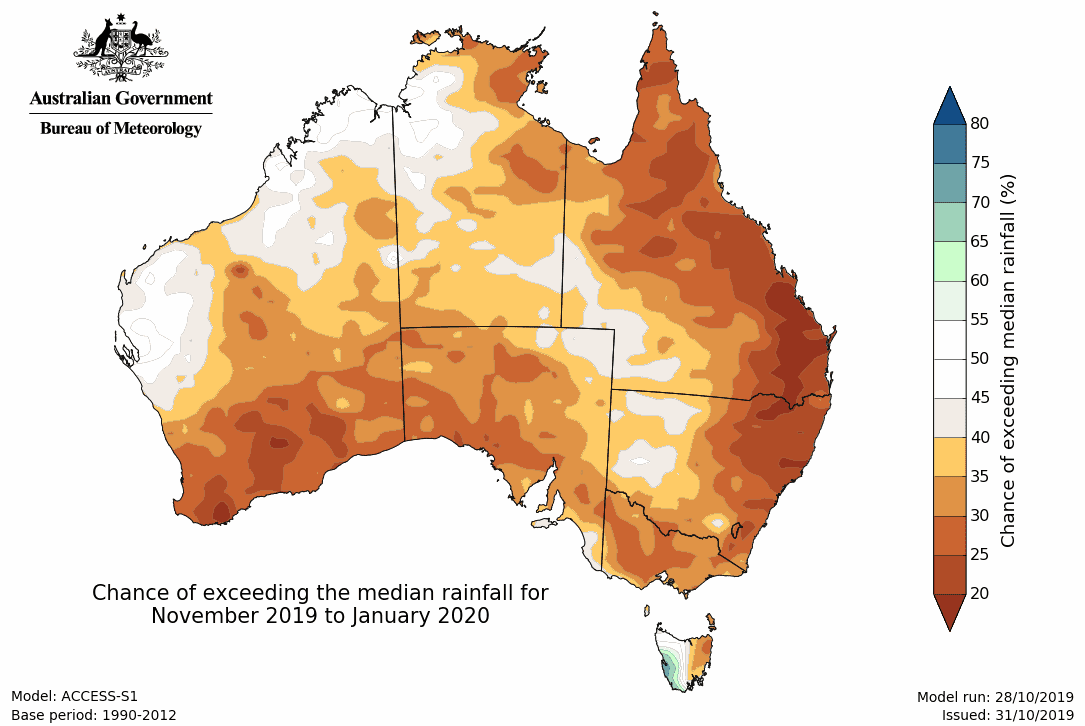 ACTUAL RAIN RECORDED NOV 2019 TO JAN 2020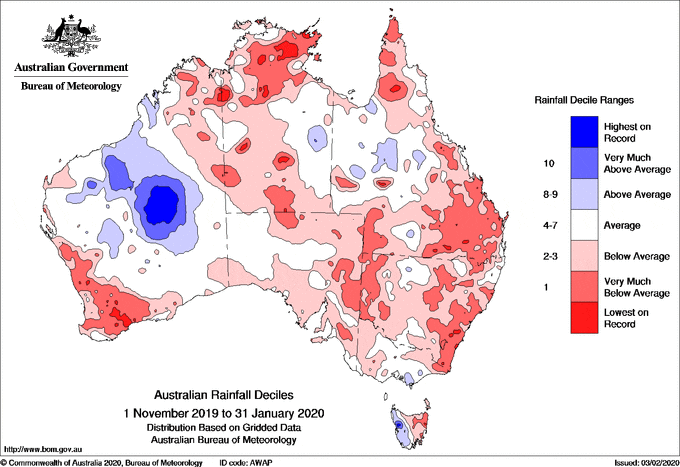 Source: Bureau of Meteorology