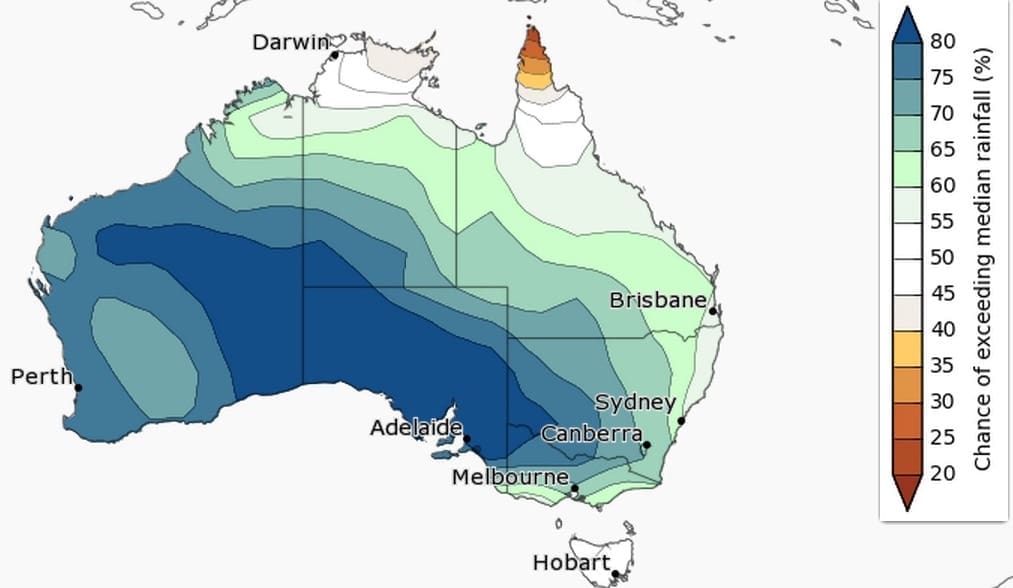 THERE's been a dramatic turnaround in the latest Bureau of Meteorology seasonal climate outlook for April to June 2015, which suggests wetter than normal conditions for most of Australia during this period.
After 18 months of neutral to dry forecasts, the outlook for the next three months indicates conditions are likely to be wetter than normal over most of Australia over the quarter, outside of the far northern tropics and Tasmania.
Warmer than average days are likely over the tropical north, parts of southeastern Australia, and the far southwest of Western Australia.
According to the BOM, April to June is likely to be wetter than normal over the majority of the Australian mainland. Most of WA has been assigned a 70-75pc chance of exceeding the median rainfall level, while inland regions and the majority of SA have an 80pc likelihood of above average falls.
The likelihood of exceeding median rainfall in both NSW and Victoria ranges from 60-80pc, with the best chances of above average falls further inland. While the chance of a wetter season is not quite as strong in Queensland, the forecast is nonetheless positive, with above average falls anticipated for southern and central parts of the state. Approaching the start of its dry season, the Top End has a roughly equal chance of receiving above median falls, although the tip of the Cape York Peninsula is expected to be drier than normal.
The wetter autumn is likely to bring with it cooler than normal average temperatures through WA and central SA. The chance of exceeding the median maximum temperature is relatively neutral through parts of western NSW and southern Queensland – welcome news to many following what the BOM described as "an exceptional autumn hot spell in northern and central Australia" during March – although temperatures in northern Australia will likely remain above average.
The major climate influence over the period is warmer than normal sea surface temperatures in the Indian Ocean and surrounding much of the Australian coastline.
Climate Outlooks indicate likely temperature and rainfall trends over monthly or seasonal timescales, and are driven by large-scale shifts in the climate such as El Niño or La Niña events. By contrast, weather forecasts are currently produced out to seven days, and are used in short-term planning.
To watch a BOM video on the April-June climate outlook click on the image below.