Rain and thunderstorms are expected to extend in a band from the Top End to Tasmania over the next few days as an 'atmospheric river' of tropical moisture flows across Australia.
Weatherzone's Ben Domensino said the interaction between cold air from the Southern Ocean and warm, moisture-laden air from the tropics is producing a text-book northwest cloudband over Australia this week.
Image: Visible satellite image showing the northwest cloudband over Australia on Tuesday. Source: CIRA/RAMMB – CSU
During the last couple of days, the thick cloudband had already caused the heaviest October rain in over 120 years of records in parts of South Australia, prompted a flood watch in central Australia, and produced the coldest day in four years at Alice Springs.
Looking ahead, he said a stagnant synoptic pattern will allow rain and thunderstorms to continue in parts of the NT, SA, NSW, the ACT, Victoria and Tasmania during the next several days.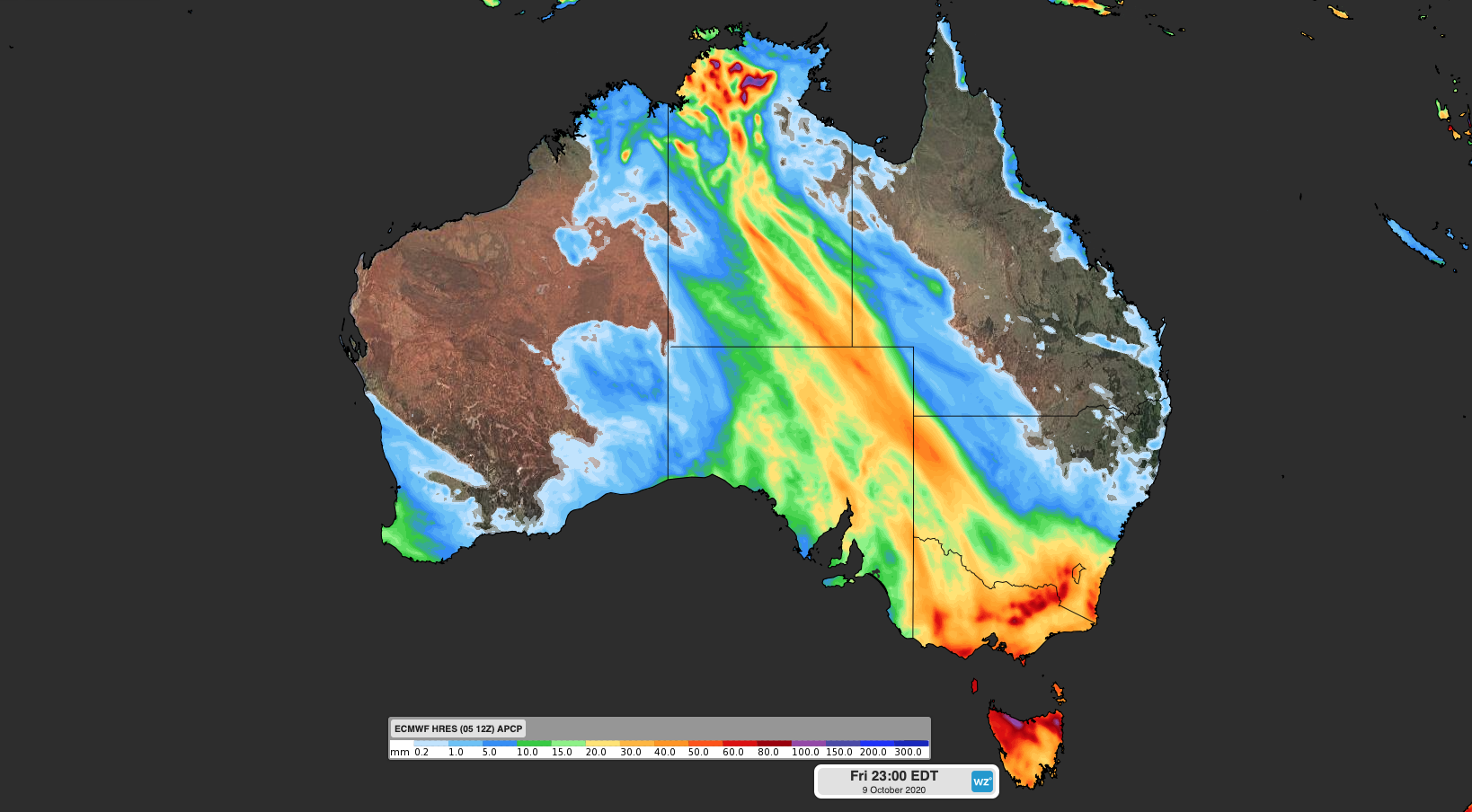 Image: Forecast accumulated rain between Tuesday and Friday, according to the ECMWF-HRES model.
Rain and storms will initially target a broad area of northern, central and southeastern Australia on Tuesday and Wednesday. However, a deepening cut-off low pressure system will cause the wet, stormy and increasingly windy weather to target the nation's southeastern states between Wednesday and Friday. This dynamic low could cause damaging winds and flooding in parts of SA, Victoria, Tasmania and southern NSW, so be sure to check the latest warnings later in the week.
Drier weather will return to most of Australia by the weekend as a broad area of high pressure develops over the continent.
Source: Weatherzone