Hot, windy and mostly dry conditions are leading to significant fire dangers in eastern and northern NSW from today through Wednesday, with a low to severe intensity Heatwave Warning current.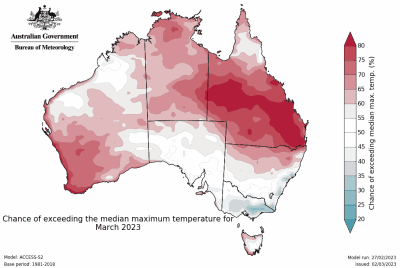 Fire dangers reach extreme on Monday and Tuesday, with Fire Weather Warnings current for the Greater Hunter, Central Ranges and Lower Central West Plains districts.
Maximum temperatures are forecast to spike 6 to 12°C above average across eastern parts of NSW. If Sydney reaches its forecast Monday maximum of 38°C, it will be its hottest March day since March 2020, and the hottest day in the city since 26 January 2021.
Dry thunderstorms are also possible across eastern NSW on Monday, with little if any rainfall, leading to conditions that could see lightning ignite new fires.
Thunderstorms, possibly severe, with damaging winds, may impact north-east NSW on Tuesday and Wednesday.
Severe heatwave conditions are likely to ease throughout NSW on Wednesday and Thursday.
These conditions are being driven by hot and dry continental west-north-westerly winds, bringing the high temperatures to eastern NSW including Sydney.
It is not unusual to experience heatwaves during early autumn as the weather transitions from the warmer months of summer to the cold of winter.
The Bureau's long-range forecast for Autumn indicates it is likely to be drier and warmer than usual for much of Australia.
More rain and flooding for NT and North Qld
The monsoon trough has returned to northern Australia, extending into a slow-moving tropical low lingering in the southern part of the Gulf of Carpentaria.
These systems are bringing widespread rain and thunderstorms and possible damaging wind gusts to parts of the Northern Territory, north-west Qld and around Qld's North Tropical Coast.
Daily rainfall totals of 50 to 100 mm are likely, with isolated rainfall totals of 100 to 200 mm possible. Soils are saturated, meaning further rainfall will quickly impact river levels.
Flood Watches are current for parts of the Top End, Central and Eastern Inland and Carpentaria coastal catchments, much of north-west Qld, and the North Tropical Coast of Qld.
A Major Flood Warning is current for the Flinders River downstream of Richmond in Qld, Moderate Flood Warnings are current for the Lower Daly River, and minor and generalised flood warnings are current for large parts of the NT and western Qld.
The Victoria River Crossing bridge went underwater over the weekend due to riverine flooding as a large body of water made its way downstream. The waters are expected to remain above the bridge until at least next weekend.
A Severe Weather Warning has been issued for abnormally high tides and large waves likely to develop around the Gulf of Carpentaria coast and through the Torres Strait over coming days. These conditions may lead to coastal erosion and inundation of low-lying areas.
In the 24 hours until 9am AEDT Monday, high rainfall totals were recorded around Cairns, with the highest totals including:
· 307mm at Saddle Mountain
· 223mm at Myola
· 205mm at Cairns Airport
Meanwhile, the Bureau has also released its latest monthly drought statement today.
It notes that February rainfall was below average in areas in all states and Territories.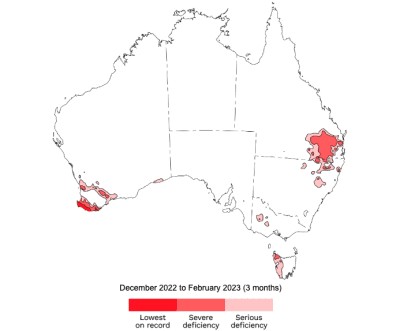 Over the last three months, since December 2022, serious rainfall deficiencies (totals in the lowest 10 percent of observations since 1900) have developed in south-east Queensland, north-east New South Wales, south-west Western Australia, parts of the Wimmera in Victoria, and western Tasmania.
Soil moisture remains below average in south-east Queensland, south-west Western Australia, western Tasmania, Victoria and north-east South Australia.
Low streamflows were recorded in south-west Western Australia, inland and south-eastern Queensland, and north-eastern New South Wales.
Low storage levels continue in some parts of central Queensland, central Tasmania, south-east New South Wales and some urban storages for Perth in Western Australia.
For autumn, below median rainfall and above average temperatures are likely for most of Australia away from the south-east coast.
Source: Bureau of Meteorology. Latest forecasts and warnings here