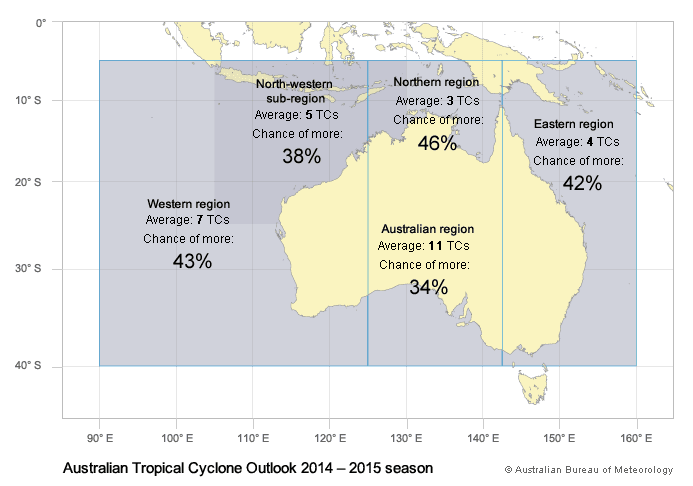 Australia is expected to experience fewer cyclones than usual this summer, according to the 2014-15 tropical cyclone season outlook released by the Bureau of Meteorology this morning.
The forecast says average to below-average tropical cyclone activity is most likely for the Australian region this season.
Factors influencing the outlook include current El Nino-like state in the tropical Pacific Ocean and climate models which suggest a late season El Niño remains possible for 2014.
The Australian tropical cyclone season runs from November 1 to April 30, during which time Australia usually expereinces about 11 tropical cyclones on average.
That includes an average of four tropical cyclones cross the coast (though coastal impacts can be felt when tropical cyclones remain well offshore).
Australia has always had at least one tropical cyclone cross the coast each year.
In El Niño years Australia typically sees fewer tropical cyclones than usual with fewer land crossings.
The first tropical cyclone of the season to make landfall typically occurs in mid-January, later in the season than normal; in a neutral year the first coastal crossing usually occurs in late December.
Chance of above average tropical cyclone activity
Region
Outlook summary
(near, below or above average)
Chance of
above average
Long-term average
number of tropical cyclones
Australian
below average
34%
11
Western
near average
43%
7
Northwestern sub-region
below average
38%
5
Eastern region
near average
42%
4
Northern region
near average
46%
3