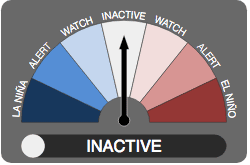 The potential for an El Nino event to develop later in 2017 has passed following a cooling of far eastern Pacific Ocean sea surface temperatures in May and June, according to the Bureau of Meteorology.
The Bureau reverted its El Niño watch to 'inactive' this week, after all eight international models it surveys now point to tropical Pacific Ocean temperatures remaining ENSO-neutral for the second half of 2017.
In April seven of the eight models had suggested a possible El Niño developing later in the year.
However, the Bureau says that while all models have steadily eased back the likelihood of El Niño, most still indicate an increased chance of warmer and drier than average conditions for Australia for the remainder of winter.
Trade winds and Southern Oscillation Index have returned to well within the neutral range.
The Indian Ocean Dipole (IOD) is neutral. Three out of six climate models suggest a positive IOD will develop by the end of winter, and three are neutral. A positive IOD is typically associated with a drier than average winter and spring for southern and central Australia.
What does this mean for Australia's weather in the months ahead?
Ben Domensino from Weatherzone said it was important to note that neutral conditions in the Pacific Ocean does not mean average weather in Australia.
In the absence of El Nino and La Nina, other climate drivers would come into play during the next few months, he said.
The Indian Ocean may influence rainfall in parts of Australia this winter and spring. Half of the international climate models surveyed by the Bureau of Meteorology indicate that a positive Indian Ocean Dipole (IOD) will develop this winter and last into early spring. A positive IOD can cause below average rainfall in southern and central Australia during this time of year. Even a weakly positive IOD can affect rainfall patterns in these parts of Australia.The Southern Annular Mode (SAM) influences how far north cold fronts progress during winter. A negative SAM causes westerly winds and cold fronts to progress further north, which can lead to more winter rainfall and snow in southern Australia. Conversely, a positive SAM causes cold fronts to be displaced towards the south and can reduce winter rain/snow in southern states. Given the recent warm and dry weather in southern Australia, it's no surprise that the SAM has been predominantly positive in recent weeks. Unfortunately, the SAM cannot be reliably predicted more than a week or so ahead, so it is not useful as a tool for long-term forecasting.Sea surface temperature anomalies immediately surrounding Australia can also influence rainfall distribution, as these waters provide moisture when rain-bearing systems pass across the country.Australia's weather in all seasons is also being influenced by a background rise in global air and ocean temperatures.
"Even though El Nino is unlikely this year, the remaining climate influences preserve the likelihood of below average rainfall and above average maximum temperatures across much of western, central and southern Australia during the rest of winter."
Source: Bureau of Meteorology, Weatherzone