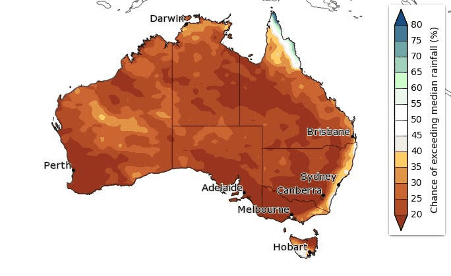 A rainfall outlook map for the next three months shaded in dark brown from coast to coast has contributed to a widespread sense that huge parts of Australia have already plunged back into serious drought.
But, while the chances of an El Nino developing later this year are indeed high, other maps show that seasonal conditions across many areas of the country are still in fair shape after three La Nina years.
The Bureau of Meteorology's  latest forecasts point to a 70 percent chance of an El Niño developing later this year.
An El Nino pattern is typically associated with reduced rainfall for eastern Australia, warmer day-time temperatures across the southern two-thirds of Australia, a later start to the northern wet season and reduced tropical cyclone numbers.
The Bureau's latest  three-monthly seasonal climate outlook rates the chance of below median rainfall as being "likely to very likely" (60pc to 80pc chance) for most of Australia from July to September (pictured above).
The dire dark brown shadings appearing in the current map and the increased media headlines of looming El Nino and dry conditions has prompted some producers to express frustration on social media that there is now a perception that Australia is already back in the grip of widespread drought, a mindset which can fuel market over-corrections as fear drives stock sell offs and exacerbates price declines.
In a post on Linkedin, Timothy Burvill, managing director of South Australia Cattle Co Pty Ltd, a butcher and restaurant owner and director of producer representative body Livestock SA, highlighted another Bureau of Meteorology map indicating current conditions across the country.
Documenting rainfall percentiles across Australia, the map shows that for the period from March to May 2023, only a few patches of inland NSW and WA are currently experiencing "serious to severe" rainfall deficiencies: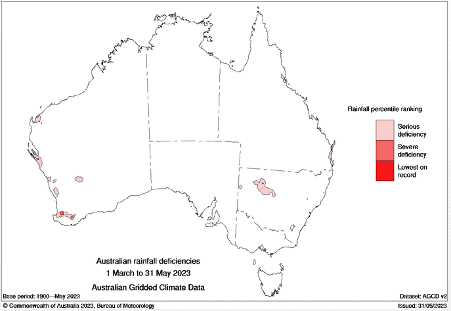 The Bureau's rainfall outlook for the month of June 2023 indicates a high likelihood of below average rainfall for most of the country…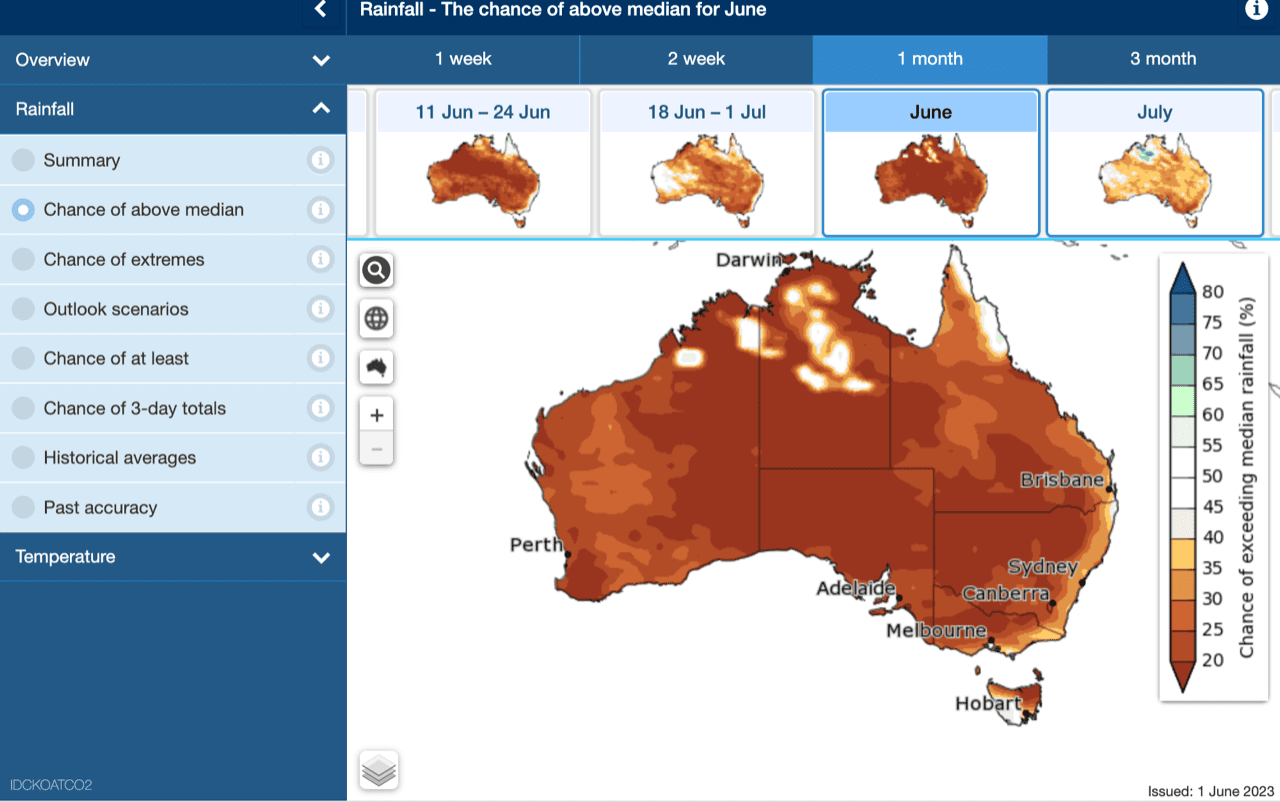 … but fortunately welcome high rainfall totals have been received in the first two weeks of June across the winter rainfall zones of southern Australia, including record totals for parts of Victoria: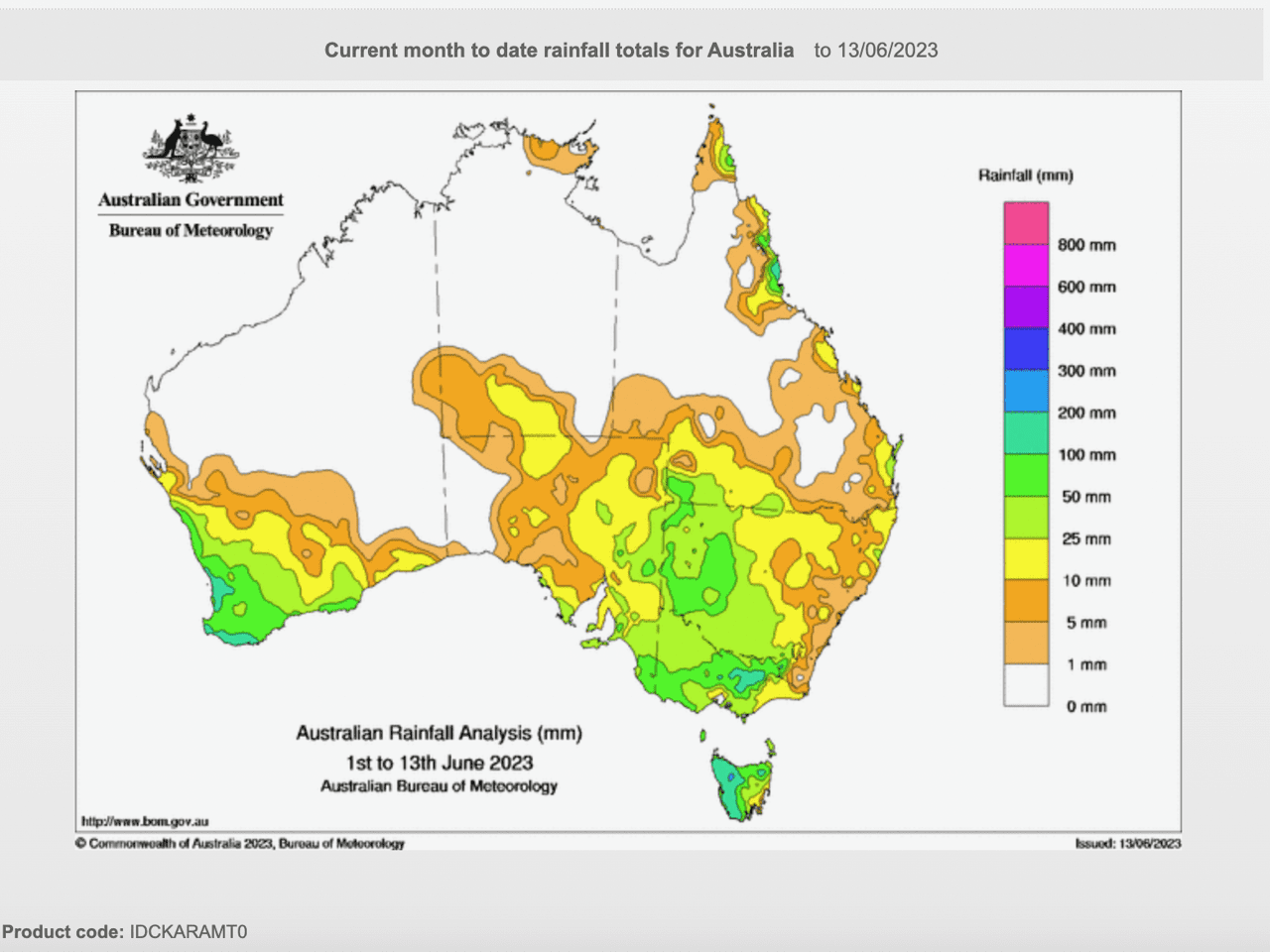 Further north, the most-recently updated drought map for Queensland, released this month, also indicates that less than 10pc of the state's area is currently classified as being drought-declared, for the first time since 2013: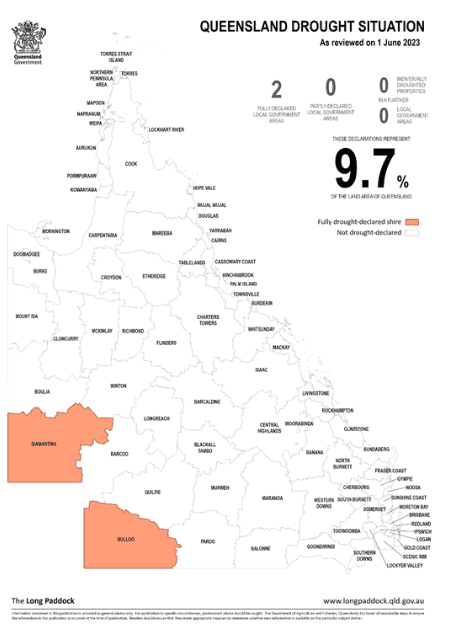 Satellite maps documenting total standing dry matter across the continent in late May 2023 compared to a year earlier also show pasture levels remain in a relatively normal range for many livestock producing areas, and particularly good across the top end of the continent :
24 May 2022: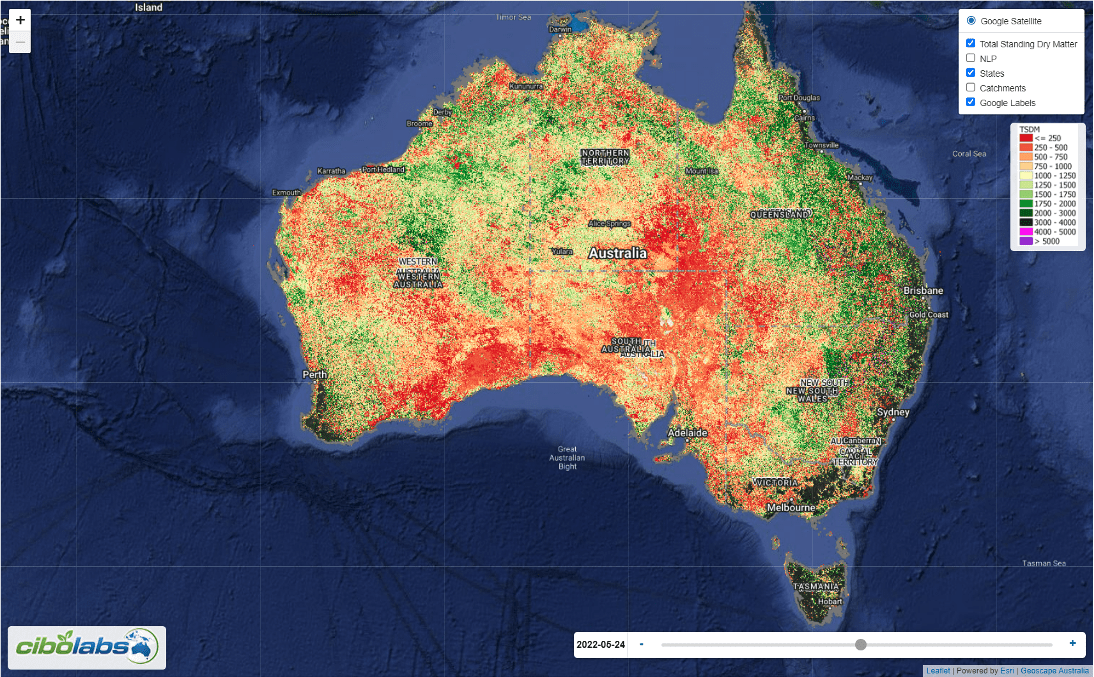 24 May 2023: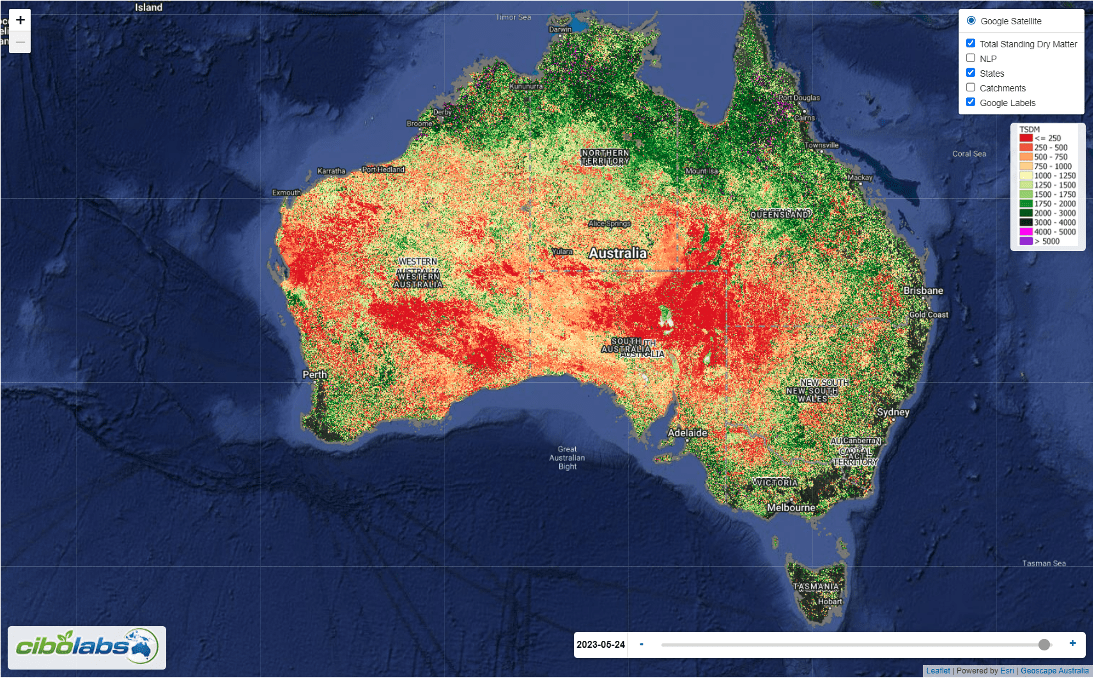 "You would swear reading the media that the whole of Australia is already in the grips of drought due to a 'Super' El Nino (which BTW is a made up term)," Tim Burvill wrote on Linkedin.
"Except if you look at the facts, which most of the mainstream media have little interest in."
In a conversation with Beef Central he added that farmers naturally watch weather forecasts very intently.
"I think the casual observer of weather whose livelihood and production decisions don't depend on the weather, I think they see these dramatic headlines and they just assume that is what happened or is going to happen.
"Using things like dramatic colours can over-dramatise the weather forecasts, it is no wonder to me that people who live in cities have a far different perspective on climate change and global warming and drought than people that actually rely on it for their livelihood."
The Bureau is forecasting poor winter rainfall for most of the country, but Meteorology Senior Climatologist Catherine Ganter adds that while climate models and indicators now meet the Bureau's El Niño ALERT criteria, even if an El Niño develops, its impact can vary depending on where you are, as well as from event to event.
Manage the grass in front of you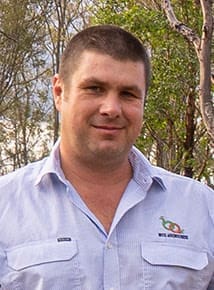 A poor winter rainfall period would significantly increase the areas affected by rainfall deficiencies in a few months' time.
But ultimately what matters is how people manage the grass they have in front of them, Farm business advisor Ian McLean (left) from Bush Agribusiness in Toowoomba told Beef Central.
"It is a matter of matching supply and demand through to the end of the year," he said.
"The talk of El Nino is a concern but the forecasts are inherently fickle, so it is just a matter of saying let's feed budget through to next summer and then at the end of next summer see where feed is at and then go again from there."