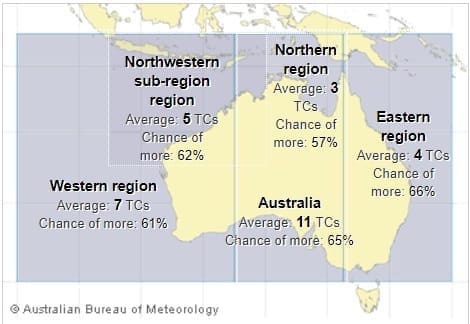 A SLIGHTLY above average cyclone season is forecast this summer, with the Bureau of Meteorology today releasing its severe weather outlook.
The outlook follows a prediction of a higher-than-average risk of spring fires along a large stretch of the east coast by the National Council for Fire and Emergency Services (AFAC).
But senior climatologist Greg Browning said cyclones and early rain in the north and east were on the BOM's radar with the country entering its peak high risk weather season.
"Warm waters to the north of the continent, and the sea surface temperature patterns across the tropical Pacific and Indian oceans, are driving our outlook towards more rainfall for eastern and northern Australia," Mr Browning said.
"It is also likely that the first rains of the northern wet season will arrive earlier than normal for much of northern Australia."
Mr Browning said an average of 11 cyclones formed in Australia in each year with about four crossing the coastline.
"With warmer than average seas around northern Australia this year, the number of tropical cyclones is likely to be close, or slightly above average," he said.
"This summer, with above average rain, more cloud and higher humidity, the number of individual extreme heat days are likely to be lower than we've seen in recent years."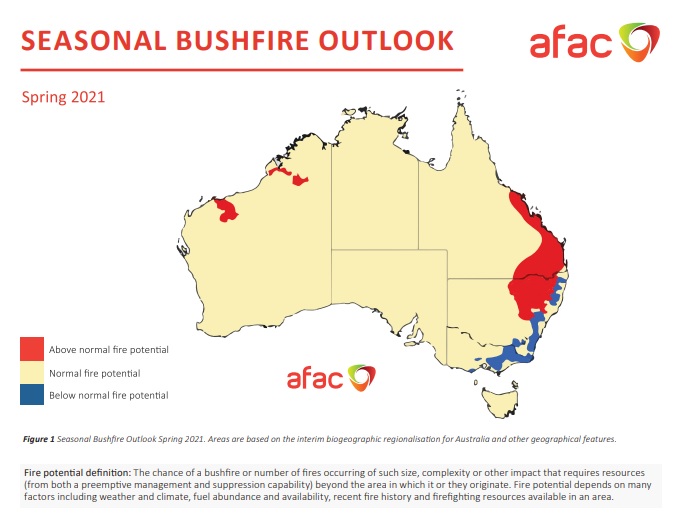 While average bushfire risk of spring bushfires is expected across most the country, a recent report from AFAC suggested an area from Northern NSW to Central QLD was looking at a higher risk.
The report said with plenty of rain in Northern NSW in recent years, a large fuel-load from grass and crops had the potential to dry out and become a risk.
"Particularly in the New England, Northern Tablelands and Liverpool Ranges," the report said.
"Although odds suggest slightly higher chances of above median rainfall for some of these areas, these odds are less favourable than areas further south."
For Queensland, the agency was watching the Burnett, Wide Bay and Bundaberg areas, which have had an extremely dry year.
"A dry and mild August period has generated higher than average median growth in the Wide Bay and Burnett regions and a higher-than-normal chance of ignition."