A Cyclone Watch has been declared for coastal communities from Groote Eylandt, including Alyangula, to the Queensland border.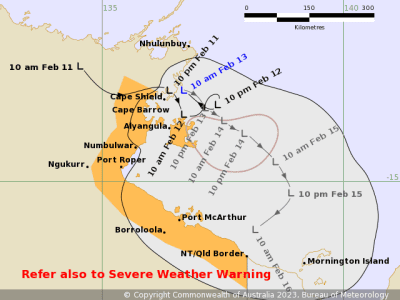 A Tropical Low is developing along a strengthening monsoon trough near Groote Eylandt in the Gulf of Carpentaria. The low is forecast to deepen further near the western Gulf of Carpentaria coast tonight and into tomorrow.
The most likely scenario for this tropical low is for it to remain below cyclone strength, with gales to the south. However, depending on how long the system is over the Gulf of Carpentaria waters, the tropical low may develop into a tropical cyclone early on Tuesday morning.
The impacts will be similar regardless of whether it develops or not, with heavy rain and strong and gusty winds possibly damaging at times around the Gulf coast.
Tides may approach or exceed the Highest Astronomical Tide level about the Gulf of Carpentaria over the coming days, with the inundation of low-lying areas possible.
A Flood Watch is current for parts of the Top End and across far northern Queensland.
Minor to moderate flooding continues in northern and western Queensland and may be exacerbated by the upcoming rainfall in the Gulf Country.
Flooding continues to cause disruption to transport networks and isolates communities including Birdsville, Doomadgee, Burketown and Gregory.
A low to severe intensity heatwave is ongoing across parts of Queensland and Western Australia. Heatwave warnings are current for inland areas of south-eastern and central Queensland and much of inland Western Australia.
Afternoon temperatures will be five to ten degrees above average today and are likely to reach the low 40s in southern inland Queensland and mid 40s in Western Australia.
Humidity is expected to be much lower than last week's conditions with cooler conditions forecast from Monday and Tuesday.
Extreme fire dangers are forecast for the Darling Downs and Granite Belt District today, with high fire dangers elsewhere in many southern and central Queensland districts.
Fire dangers will remain high for the Darling Downs and Granite Belt in the coming days.
Severe thunderstorms are possible across southeast Queensland on Tuesday and possible for the Wilde Bay and Burnett on Wednesday with heavy rainfall, damaging winds and large hail possible.
Know your weather, know your risk. Residents and communities should stay up to date with the latest forecasts and warnings via our website and BOM Weather app and follow the advice of emergency services.
Source: Bureau of Meteorology