While the US market has been a tough prospect for Australian exports over the past 12 months due to the elevated A$ and flat US demand, certain market segments such as quality chilled grassfed have gone against that trend.
Incoming Meat and Livestock Australia managing director Scott Hansen remains strongly upbeat about prospects for Australian grassfed, natural and Certified Organic exports to the US, despite the immediate currency challenges.
Mr Hansen, who has spent the past two years managing the producer-owned service delivery company's affairs in North America, said that currency had certainly played a big role in the overall competitiveness of Australian beef in the US market recently.
"When I first took up my US appointment in 2009, the A$ was worth US60c. When I left last month it was worthUS105c," he said. "Our livestock prices also moved considerably over that two year period as well."
However the emergence of the Global Financial Crisis and its effect on the US economy provided a number of opportunities for Australian exports, despite the erosion of value through currency movements.
"As the US stated coming out of the GFC, a number of large food service chains were keen to look at fast growth and expansion plans," Mr Hansen said.
"We were able to engage with those companies and point out that for them to be able to deliver on those growth targets, they also needed planned growth in beef supply. Given that the US cattle industry is not in expansion phase, we pointed out that we were in modest growth, and that there was value in supply out of Australia."
The two points stressed to participating food service players were:
Australia was a good, safe complementary source to supplement existing US supplies, and
Our MSA eating quality grading scheme could be used to ensure a consistent quality comparable with their existing US domestic supply, making the products interchangeable.
"While Australia was not cost-competitive in the US given where the A$ sits, that also helped in one aspect of our discussions with food service operators, in that there was no real threat or risk of displacing domestic supply," Mr Hansen said.
"They saw the advantage of bringing Australia on-board as a safety measure in the event of domestic US supply and price rising to the point where they needed to look elsewhere."
As a result, MLA was successful in getting some US commercial food service chains to build Australian beef into their buying programs, to supplement their existing supplies – and as a regular item, not just a special.
Some of the chains even removed USDA grading references off their menu, which obviously was an obstacle to the inclusion of Australian beef, without having to explain who the Australian cuts offered did not carry a USDA grading reference.
On the retail side, there remained only limited scope to sell chilled grainfed beef to the US, under current market circumstances, Mr Hansen said.
That had led to a two-pronged strategy over recent times by the Australian industry – basically, promoting quality grassfed at one end, and Wagyu at the other.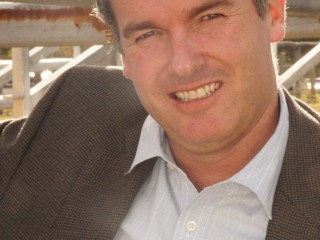 "Focussing on those speciality niches that we could do a good job on – bread-and-butter products for us, but not the US – meant we could tailor supply chains to suit their requirements," Mr Hansen said.
There were now some excellent chilled grassfed brand programs in existence in Australia, with all three major export processor stakeholders (JBS, Teys, Nippon) supporting quality grassfed/natural brands offering high levels of consistency and brand integrity through the MSA program. (See Monday's story "New brand extension program for JBS"). All three were now finding a presence in the US market.
Other Australian grassfed/natural brand programs picking up business in the US included Australian Agricultural Co's Brunette Downs, and Greenham Tasmania's Cape Grim and Pure South.
"Everyone sees that there is a value proposition to take to retailers about a consistent 365-day-a-year grassfed program that can deliver eating quality, plus the attributes that a proportion of US consumers are looking for – grassfed, high omega 3 and 6," Mr Hansen said.
Some of the labels carried Natural claims, including no-HGP, depending on what package of brand attributes they wanted to put together. Others went down the 'never, ever' path, covering no antibiotics, no added hormones and no intensive feeding.
Australia also had a strong and growing Certified Organic presence in the US, through Organic Beef Exports, the Organic Meat Company (Sanger) and others, Mr Hansen said.
This broader trend had largely occurred against the tide of currency-driven price competitiveness that Australia had faced in the US for some time.
"At the point when the A$ was breaking through parity with the US$ earlier this year, Australia's grassfed chilled beef sales to the US (including Organic) were climbing 24-25pc per month, year on year," Mr Hansen said.
"The grassfed/natural/organic segments are obviously not as price-sensitive as the broader commodity market, and represents a very exciting opportunity for Australian brands to really make an impression in the US."
The chilled grassfed product was by-and-large being seen in US food service, where it could be effectively sold and promoted; while the Organic and Wagyu offer was going into both retail settings and food service.
Grassfed's natural fit in food service
To some extent, it was harder to 'sell' grassfed at retail in the US, because it's raw appearance differed somewhat from traditional US grainfed fat and meat colour. That was not an issue of food service, where the consumer/customer did not see the product in its raw state.
Asked a theoretical question about what prospect would exist for greater Australian grassfed trade in the US, given a dollar closer to US80c then US100c, Mr Hansen said it would be substantial. "But it would really come down to what buying strength was evident in other markets, as well," he said.
"The key drivers to volume in the US are demand, which in part comes off the US$ performance and domestic production, and secondly, what strength of demand is evident in other market destinations."
The very strong Australian domestic demand seen in the past couple of years had certainly removed some of the loin cuts from potential export to markets like the US. Russia had also taken a lot of cuts that would normally be ground, or used in manufacturing, so there had been a re-distribution of cuts.
So is Australia's current decline in overall beef trade into the US (160,000t for the fiscal year just completed, down from 282,000t just two years earlier) cyclical, or does it represent a more permanent change in trade relationship?
"It's a good question," Mr Hansen said. "I'd like to think that with decreased purchasing capacity out of some of the alternative markets, the US would be able to step back up and absorb a greater share," he said.
"The US appears to be still a couple of years away from starting to stabilise its beef herd and rebuilding cattle numbers. But 300,000t in trade into the US may never be seen again. There are too many other competing markets around the world now to see that volume of trade go to one single customer," he said.
"But that has to be a good thing for Australia. One of many lessons out of recent global economic events is the need for diversity for all Australian product. Being reliant on a small number of export customers is not desirable, at all."