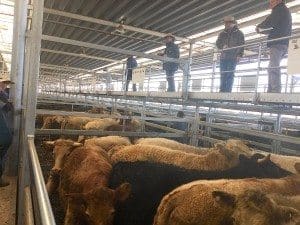 Prices slumped at NVLX Wodonga yesterday, with export steers and heifers the most affected. Agents penned a similar sized yarding of 1850 cattle yesterday and quality was generally mixed throughout each agents run.
After some remarkable weeks the heavy steer and bullock market lost momentum with prices falling 23c for heavy steers 500-600kg. The better finished younger steers made from 310-334.6c/kg. The trend was more severe for bullocks, with prices back 30c/kg. Bullock numbers were limited and prices ranged from 292-315c/kg. Crossbred steers and bullocks sold down to a low of 245c to average 263.6c/kg. Heavy grown heifers failed to attract all buyers and prices were up to 30c cheaper with the better shaped younger heifers making from 282-312c/kg.
Bidding for young trade cattle was more stable although most sales were cheaper. Medium weight trade steers 400-500kg fetched from 326-356c a cheaper trend of 14c/kg. The lighter weight supplementary fed portion ignited the bidding selling from 330-354c/kg, with several sales hitting above 350c/kg. The heifer market lacked the quality of the previous sale and processor demand, with prices slipping 21c/kg. Heifers 400-500kg ranged from 308-338ckg.
It was a similar story in the vealer run with a major domestic processors demand fading, which aided the price correction. European vealers and their crosses sold up to 21c cheaper selling from 335-360.2c/kg.
Despite the cheaper trend restocker and feedlot competition remained strong with well-bred secondary cattle unchanged. There was a few store orders in place and well-bred steers returning to the paddock 330-400kg made from 322-332c to average 329c or the equivalent of $1280. The leading pens of Angus secondary steers over 400kg sold to spirited bidding from several feedlots. Landmark Narrandera purchased the best pens setting a top price of 347.2c/kg or $1642.
Secondary Angus heifers were equally highly sought after by Thomas Food International. The better quality Angus heifers contributed to a dearer trend of 7c to average 307c/kg.
Cows also suffered a price correction with prices buckling 12-15c/kg. Heavy cows sold too much weaker demand, with not all processors operating in this category. Heavy cows topped at 288c to average 266.5c/kg. Prices fluctuated over leaner grades with the better types making from 235-266c/kg. Plainer cows made from 180-228c/kg. Good quality bulls sold 21c cheaper ranging from 242-273c/kg.