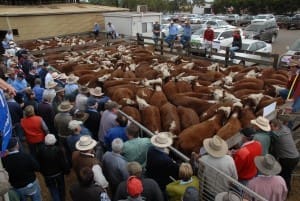 The Eastern Young Cattle Indicator (EYCI) traditionally has two peaks and two troughs each year, the highs in March and August, and lows in May and November – each the result of fluctuations in cattle entering the market and seasonal changes to feed conditions.
However, while spring has arrived and the young cattle market is about to enter what is on average a downward phase, there has been significant variance from year to year, depending not only on seasonal conditions, but producer re-stocking and/or herd rebuilding incentives.
The five-year average EYCI decline from the end of winter to the end of spring is 3.3pc, coinciding with an 11pc increase in offerings.
When the dry year of 2012 is examined, the price decline was much more dramatic, falling 11pc, while the very dry 2013 was only slightly greater than average, at 4pc – albeit coming from a lower base. Similarly, 2009 saw the EYCI finish spring 9pc below where it closed out winter, exacerbated by drought conditions.
However, the two very wet years of 2010 and 2011 bucked the price trend, with an increase through spring of 1.5pc and 5pc, respectively, despite an above average increase in offerings. Largely underpinning the reversal was much better pasture availability, providing more comfort to many producers in bidding higher prices.
While feed conditions assist the capacity for producers to bid, and for many the current situation is below par, good follow-up falls over the coming month to really ignite good spring pasture growth will go a long way towards 2014 bucking the traditional young cattle spring price decline – especially given the below average base the market is coming from, and the increasingly smaller Australian cattle herd.
Source: Meat & Livestock Australia