Data from satellites and automated weighing equipment is alerting producers to changes in pasture growth and cattle liveweight on extensive northern properties well before they can detect the same trends with their own eyes.
The information is helping them to respond sooner and make decisions to enhance production or minimise losses before it is too late, such as whether to move or sell cattle or introduce supplementation.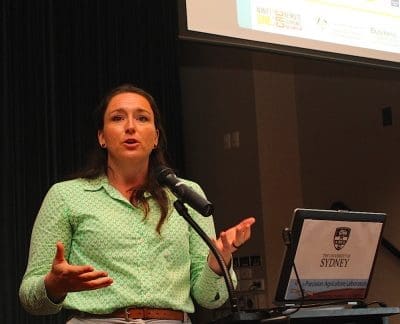 Sally Leigo from the Northern Territory Department of Primary Industry and Resources explained to the Precision Agriculture Symposium in Toowoomba this week how the Precision Pastoral Management System is giving producers unprecedented levels of knowledge about what is happening in their paddocks.
The PPMS has been researched and developed by the Cooperative Research Centre for Remote Economic Participation, and has been tested in five commercial cattle properties across northern Australia over the past four years.
It gives producers access to continuously updated data on pasture growth trends across their entire property, captured by satellites, as well as liveweight changes recorded by automatic walk over scales every time cattle enter a water yard.
The information allows producers to understand changes in their properties they would otherwise not see, and to respond to those trends quickly and take faster actions to either enhance liveweight gain or minimise liveweight loss.
What was the problem the research is designed to solve?
Studies by Meat & Livestock Australia show that only 24 percent of northern producers are undertaking written forage budgets to precisely estimate how much feed they have on hand and how long they can carry cattle for. Most are making decisions by eye and from their experience.
The vast areas involved means they may only see about two percent of their total land mass on bore runs, the researchers estimate, meaning changes in large areas can go undetected for long periods.
Many only handle their cattle once or twice a year due to the extensive size of their operations, meaning they only find out liveweight information after their cattle are sold, when they can no longer influence liveweight gain.
For these reasons, objective data can play a transformative role in helping producers to increase production and prioritise areas for improvement, Sally Leigo explained.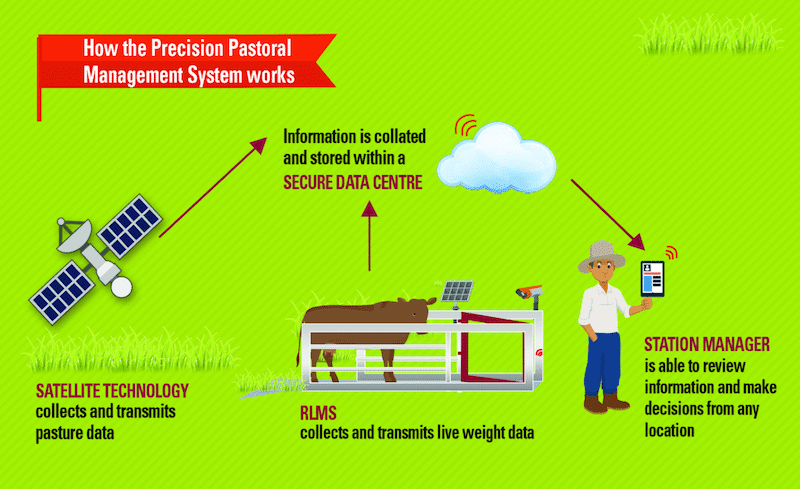 On one research site, Glenflorrie Station in the WA Pilbara, the computer data from the PPMS software was telling owner Murray Grey that pasture greenness and cattle liveweight was starting to decline.
But this didn't correlate with what he was seeing with his own eyes as he drove around.
As with many stations, the roads around Glenflorrie typically follow the harder country so each paddock can be accessed even when it is raining.
In one particular paddock cattle graze along a creek line out of sight from the track which runs near the boundary fence.
The PPMS data was telling Murray that the liveweight of the cattle in the paddock was declining, even though he was seeing no detectable changes as drove along the harder spinifex country along the track.
"So it wasn't until he got on a motorbike because he saw the data was continuing to decline that he realised he had a problem," Sally Leigo explained.
"The area (near the creek line) was over utilised and he had run out of pasture there.
"And as such he realised this was why his cattle were losing weight, and why the pasture decline was starting to show up.
"He had to make a management decision around that, and in this case it was to provide supplement so cattle could get out into these harder areas and access more dry feed.
"But in the time it took to work this out, he had lost close to $15,000 worth of liveweight off those cattle.
"This is the power of using objective data in extensive systems.
"We can't see this by eye, it is not until we actually measure it that we can see where the problems are."
At Newcastle Waters in the Northern Territory, the PPMS software identified benefits in supplementing bulls earlier.
Young stud bulls bred at Newcastle Waters are sent to other CPC stations at 400kg, and to make sure they reach this target weight they are provided feed supplements.
Last year bulls were introduced to supplementation in July.
The PPMS software showed that the supplement helped the bulls to gain weight and prevented the liveweight loss that would have occurred as pasture declined.
But it also showed was that there would have been even greater benefits from introducing bulls to supplementation two months earlier
"Those cattle lost about 5pc of their body weight on average and that could have actually helped them meet the 400kg bodyweight they had targeted."
"Essentially this technology is going to help beef producers maximise the kilos of beef they are selling, help them with decreasing the costs, especially for supplementation that we are seeing in Northern Australia, and for our producers it is also going to help with forecasting for their budgeting and their logistical management challenges that they face."
Queensland and Northern Territory beef producers will have a final opportunity to see the technology in action at the following two field days; 13 October, Dalgonally Station via Julia Creek and 3 November, Undoolya Station via Alice Springs
More information on the project can be found at this link A short video on the PPMS can also be viewed below