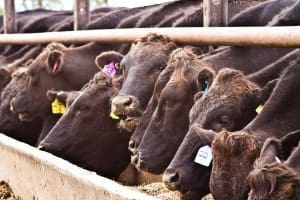 For once, there's little change in variables to report in Beef Central's regular 100 day grainfed trading budget from our last report on July 2. So instead, we'll explore some 'what ifs?' that might shed some light on where things might go in coming months.
Using our standard set of variables (see full list at base of page) we've come up with a trading loss of $43 a head in this morning's calculation, based on a flatback feeder steer entering a Darling Downs feedlot today, and closing out after 105 days in late October.
That's the same as our corresponding budget a fortnight ago, but a $15 deterioration on our previous calculation from June, week one.
For today's budget, we've kept our flatback feeder steer price ex Darling Downs to 195c/kg, the same as last time.
Depending on who's bidding, higher Indicus content cattle are trading from a 180c upwards this week, while better cattle are trading in a band from 195c to north of 200c, while rates for higher-quality British-base cattle in NSW are +200c.
Certainly there is good demand out in front for grainfed cattle, but equally, with the season as it's been, there isn't an oversupply of heavy feeder-ready cattle, +380kg.
Feeder buyers had hoped that recent frosts might have flushed a few more heavy feeders onto the market, but there's been little evidence of it so far. The oats situation, in many areas, is also on a knife-edge, and will be determine by the arrival of an inch or more of rain in the next few weeks, otherwise alternate arrangements may have to be made. Already there are half-stocked oats crops in southern Queensland, and there's been little evidence of operators going into the market to stock oats paddocks.
This time a year ago as drought was taking hold, feeder price was still around 160c/kg, representing a $157 variation on today's price.
Pricing today's feeder steer at 195c values him at $877, up $22 on five weeks ago.
Ration price steady, despite softening grain trend
There's been further softening in feedgrain price since our last trading budget, but it's not yet being widely reflected in ration price in Downs custom feedlots – partly because they've gone long on earlier grain, and partly because of continued very high demand from custom-feeders for pen space, which reduces the need to shift ration price too promptly.
We've kept ration price in today's budget at $375/t, same as last time, but down $5/t on early June.
Luke Walker from Robinson Grain Trading in Toowoomba, who writes Beef Central's popular feedgrain column (see today's instalment here), has Darling Downs wheat this morning at $330/t, back another $15/t on a fortnight ago, and perhaps $30/t below where it sat in early June.
Inquiries show ration prices being charged this week in southern Queensland could be anywhere from $360/t to +$400/t, depending on grain processing systems used, the introduction of sorghum in some rations, and other variables. For those feedlots with access to flakers, the prospect now exists for the introduction of a sub-$300/t sorghum grain component for the first time in a long while.
As feedlot grain stocks clear, though, it's reasonable to expect to see some easing in ration price. Rain though, will continue to play a role in future trends.
The current finished ration pricing variance suggests that some custom feeders are happy with their current margins, and are prepared to lower their feed charges, while others are motivated to extract a higher margin because of high feedyard space demand. It perhaps also reflects the fact that some will have different grain positions than others, based on earlier purchases.
Given all that, we still think $375/t is representative 'middle-ground' on current ration pricing.
That price is still high, by historical standards, being just $10/t shy of our all-time record high of $385/t recorded in May, based on data collected by beef Central back to May 2011.
Today's ration price represents a total feeding cost over a 105-day program of $587, the same as our previous calculation, and $55/head more than mid-December's rates.
All that delivers a total production cost (steer price plus custom feeding price, freight, interest, contingency, levy and induction costs) of $1560, up $27 on early June.
Cost of gain, using our chosen variables (2kg/day ADG, for 210kg gain over 105 days) now sits at 280c/kg.
Breakeven hits record high
The shift in variables as outlined above means the breakeven on today's trading budget sits at 442c/kg, equalling last fortnight's record for Beef Central's reports tracing back more than three years. It's 4c/kg above our previous mid-June budget and 2c higher than the previous record, set in late May.
That's no surprise, as it's been pushed by the higher feeder price, while ration prices remain historically high. The last cycle when the breakeven got remotely close to current figures was back in early 2012, when it got to 412c during a period when feeders shot up to 215c/kg.
Forward pricing unchanged at 430c/kg
If there is an area for conjecture in this week's trading budget, it is in settling on a forward price for finished grainfed cattle.
While the indications are that forward price offers for 100-day cattle have backed-off, perhaps 5c/kg, the market fundamentals, if anything, have improved. Therefore it could be suggested that heading into the back-half of the year, not accepting a forward price and rolling the dice on the spot market might be worth considering – especially based on historical market cycles heading into October.
Based on Southeast Queensland direct consignment processor quotes provided yesterday, our forward price for 100-day flatbacks going on feed now and closing-out on October 15, remains unchanged at 430c/kg. That's equal to the record high set a month ago for grainfed ox, the highest seen since Beef Central started this analysis series back in May, 2011.
Given that the spot market for slaughter today is anywhere for 420c to 430c/kg, grainfed steers are attracting a very limited premium in the forward market, which is highly unusual for this time of year.
The difference between today's breakeven figure and the forward 100-day price delivers a trading budget result in today's calculation of minus $43 on a 100-day feeding program starting today, and closing out mid-October.
Lower ration price scenario
But, given the prospect of some cheaper ration prices ahead in the next couple of months, with new season grain coming, let's do a few sums.
In a scenario where ration price declines by 10 percent, to a $340/t ration, that produces a $55/head improvement on the trading budget, based on our standard variables (see list at base of page) including a consumption level of 15kg/day.
All other things being equal, that would push our trading steer profit well past breakeven, and even a little into the black.
Even of the forward slaughter price was to decline by 5c/kg, which would blow out the trading budget loss out to $61, a $55 adjustment due to a 10pc decline in ration price would largely rub that out of the equation.
Beef Central's regular 100-day grainfed breakeven scenario is based on a standard set of representative production variables, ex Darling Downs. They include a 450kg liveweight feeder steer fed 105 days; 356kg dressed weight at slaughter; ADG of 2kg; consumption 15kg/day and a NFE ratio of 7.5:1 (as fed); $25 freight; typical implant program. Bank interest is included. It is important to note that variations exist across production models (feed conversion, daily gain, mortality, morbidity, carcase specification); from feedlot to feedlot; and between mobs of cattle. For a more specific performance forecast on a given mob of cattle, consult with your preferred custom feeder.