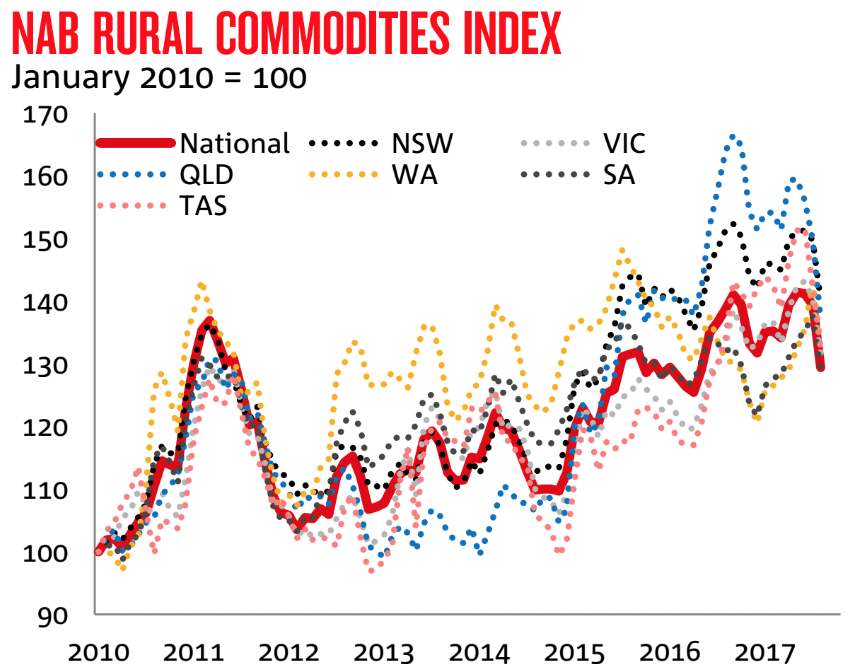 The NAB Rural Commodities Index fell to a 15 month low in September, on the back of a high Australian dollar, retreating grain prices, and weakness in cattle prices.
The latest Rural Commodities Wrap from NAB Agribusiness highlights the impact of seasonal conditions, with only four of the 28 commodities that make up the Index rising during the month.
NAB Agribusiness Economist, Phin Ziebell, says it's the biggest monthly fall since the expanded index began in 2010, down 7.6%.
"The outlook for prices in the coming year is highly dependent on the course of the Australian dollar," Mr Ziebell said.
"NAB sees the AUD at USD0.75 at the end of 2017, and 73 cents for much of next year. As a result, we've revised down our forecasts for most agricultural commodities."
Production forecasts are highly dependent on seasonal conditions.
"Southern producers had a boost with rain in August, but frost activity has been above average, and parts of New South Wales and Queensland have had abnormally hot weather.
"Our latest estimate for national wheat production is 20.1 million tonnes, although a poor finish could see that drop further.
"Spring rain is probably too late for NSW and Queensland, and a wet finish could even be a hindrance. However, it could also allow some opportunities for summer crops."
Mr Ziebell said better seasonal conditions could also stem some of the recent falls in cattle prices.
"Dry conditions have already seen an up-tick in cattle slaughter, and the Eastern Young Cattle Indicator (EYCI) is now below its level at the same time in 2015, although still above pre-boom levels.
"Lamb is one of the few commodities to improve in August, with the National Trade Lamb Indicator up 1.6%.
"The severe drop in pork prices appears to have stalled, although competition from cheap imports remains a challenge, especially with a strong Australian dollar."
NAB does not envisage any hikes in the official cash rate until 2019, and believes there's little possibility of the Reserve Bank cutting official interest rates in the near term either.
Source: NAB. To view NAB's full September 2017 Rural Commodities Wrap, click here