McDonald's tests "McVegan" burger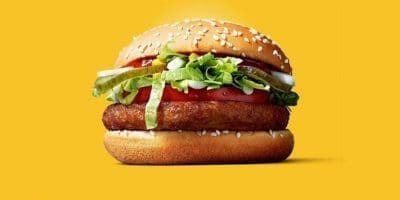 McDonald's is reportedly testing a vegan burger at a restaurant in Finland. Called the "McVegan" (what else?), it is on sale for a limited time from October 4 to November 21. The meatless burger includes a soy patty and can be served with vegan fries. Julia Braun, a registered dietitian nutritionist at McDonald's, said in a blog post earlier this week that the McVegan burger reflects McDonald's ever evolving menu. "No matter where in the world our customers are located, we want them to have the information they need to make the choices that are right for them when they visit McDonald's."
San Francisco now requires retailers to disclose animal antibiotic use
San Francisco has become the first city in the United States to pass a law requiring grocery retailers to report the antibiotic use practices for all meat and poultry sold at their locations. The law was passed unanimously by the city's board of supervisors. Provided it receives mayoral approval, the law will apply to any meat sold by companies with 25 or more stores — such as Safeway and Costco — regardless of where it is actually produced. The practices must be reported on an annual basis. National Resources Defense Council attorney Avinash Kar said the ordinance goes beyond current federal laws, which allow livestock producers to use antibiotics to raise food animals without reporting or disclosure. "California has a new law that would require reporting, but that law only applies to livestock raised in the Golden State, and much of the meat eaten by San Franciscans is imported from elsewhere." Some retailers have expressed concern about the additional burdensome paperwork the ordinance will require. Condemning the law as an "ill-conceived document", the Food Marketing Institute (FMI) said the information information is already predominantly provided and federally regulated on the fresh meat label for those consumers who seek products from animals raised without antibiotics.
Canada's beef cattle herd falls to 23 year low
Canada's cattle herd is poised to reach its smallest in 28 years, due to the reluctance of a new generation of ranchers to enter the industry. In its first forecasts for 2018, the USDA's Ottawa bureau said that while a return to expansion in the Canadian cattle herd had been "highly anticipated for several years", it was "unlikely to occur" before 2019 at the earliest. Agrimoney.com reports that the trend reflects the spike in fed cattle prices earlier this year, which fuelled 12pc growth in Canadian heifer slaughter in the first half of this year and a 16pc surge in cow slaughter. While a drop of 17pc in cattle farms since 2010, and 35pc since 2005, was down in part to consolidation, "the loss of farms continues to outpace the rate of growth in cattle per farm, dragging down the size of the total cattle herd." The herd will, by the end of next year, have shrunk by 22pc from its 2005 high of nearly 15 million head.
Concern over shortage of reefer containers
Australia's export meat sector is dependent on the availability of export grade refrigerated containers (reefers) to carry its product to over 100 countries around the world in perfect condition – over 90,000, 20 foot equivalent containers a year. A shortfall in refrigerated container production (reefers) has sparked concerns that there could be a serious shortage of reefers looming, speakers at the JOC Container Trade Europe Conference in Hamburg said last week. Frank Ganse, Global Director of Reefer logistics at Kuenhe + Nagel said that reefer production levels in 2016 and 2017 were down 50% on previous levels and had created a shortage that will worsen in the final quarter of 2017 and the first quarter of 2018 when seasonal fruit demand for reefers hit the market. Mr Ganse said that he had seen only 3 companies invest seriously in reefer containers over recent times namely Maersk, CMA CGM and Hapag-Lloyd. An additional issue is that most of that new investment has been in 40ft containers while the Australian and New Zealand trade was still a strong user of 20ft containers. Most other speakers at the conference agreed with the   forecast suggesting that one reason for the reefer shortage was a focus on investing in mega ships which had led to a depleted investment in reefer containers. Other reasons included sensitive goods such as chocolate and pharmaceuticals were starting to use reefer containers more frequently further eating in to available supplies.
NZ fears EU quota split post-Brexit
Reports that the EU and UK are planning to split beef and lamb import quotas following Brexit are concerning the New Zealand livestock industry. Beef + Lamb NZ chair James Parsons said existing tariff rate quotas form part of the EU's WTO commitments and are legally binding rights and obligations. "The New Zealand sheep and beef industry is not seeking windfall gains from the Brexit process," said Parsons.  "However, we cannot contemplate a situation where the quality or quantity of New Zealand's existing WTO market access rights with the European Union or the United Kingdom are eroded." Splitting the quotes would erode NZ's quality of access, as it would lose the flexibility to respond to changes in demand for sheepmeat and beef across the EU28, aiding market stability, which is in the interests of both producers and consumers. The EU currently takes about half of NZ's total global sheepmeat exports and all of these exports currently enter the EU duty-free.  Without this duty-free access no exports would take place as the out of quota tariff rate is a prohibitive 50 percent.
Cost of production increases with strong cattle prices
On the back on historically high cattle prices, ABARES estimates that the cost of Australian beef production for the three year period ending 2015-16 has risen as more producers utilise the increased cash flow on inputs. Northern and southern Australian cost of production estimates were relatively similar, equating to 193c and 199c/kg of beef produced, respectively. The three year period encompassed the rise of the Australian cattle market to record highs, driven by reduced beef production in the US which lifted global demand. Average cattle prices received by producers increased from 146¢ in 2013-14 to 249¢ in 2015-16 in southern Australia, while northern Australia was reported to increase from 153¢ to 253¢/kg lwt. Total costs increased particularly in 2015-16, with southern expenditure averaging 221¢/kg of beef produced while northern production systems reached 210¢/kg. Unpaid labour remains the largest cost incurred by producers, particularly in southern regions where it accounts for almost 40¢/kg of costs. Finance costs eased over the reporting period, primarily as a result of decreased interest rates but also due to some reduction in average farm debt per farm, particularly in northern Australia. – Meat & Livestock Australia
BGA Agriservices/Yugilbar donation to Lifeline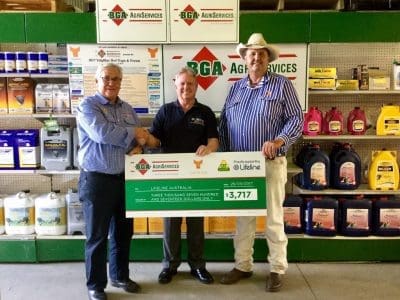 BGA AgriServices and Yulgilbar Station have presented a cheque to Lifeline Australia for $3717, representing money raised through cash donations and a charity auction at the 2017 Yulgilbar Beef Expo and Forum. Pictured is, from left to right, BGA AgriServices Gatton branch manager Wal Green, Lifeline North Coast CEO Allister Donald and Yulgilbar Station general manager Rob Sinnamon.