US meat groups fear China beef tariff hike
China announced yesterday that imported US beef, among other US goods, could incur a 25 percent import tariff by the end of May if Washington proceeds with its threat to apply similar tariff rates to Chinese goods. US beef regained access to China in June 2017 after a 13-year absence following a 2003 BSE detection. US beef exports face a 12 pc import duty in China, compared to Australian beef at 7.2pc. In the final six months of 2017 China imported 3020 tonnes of US beef worth $31 million. US Meat Export Federation President and CEO Dan Halstrom said US beef had been steadily growing momentum in China and was hopeful the trade dispute could be solved without China introducing a new tariff. "If an additional import tariff is imposed on US beef, these constructive business relationships, and opportunities for further growth, will be put at risk." National Cattlemen's Beef Association spokesman Kent Bacus said it was "unsettling" but not surprising to see US beef targeted for retaliation. "This is a battle between two governments, and the unfortunate casualties will be America's cattlemen and women and our consumers in China."
Britain to launch electronic ID livestock traceability in 2019
The British Government has announced it will launch a new livestock traceability system in 2019 to identify and track cattle, sheep, pig and goat movements using electronic identification. Environmental Secretary Michael Gove said the initiative will give farmers and processors accurate information about animals and their movements, provide guarantees to consumers about the origin of their food, and enable improved sharing of data. He said the system will form the foundation for some of the "best farm to fork traceability in the world", and will mean industry and government will be better-placed to respond in the event of a disease outbreak. The president of Britain's National Farmers Union Minette Batters has described the move, which follows extensive collaboration with livestock industry groups over the past four years, as "transformational". The new traceability system would help the UK to demonstrate its credentials as a world leader in food production when it leaves the EU, Mr Gove said. More details here
UK farmers react to reports Australia wants hormone‑treated beef ban overturned
British farming representatives reacted angrily to claims in a British media suggesting Australia is preparing to demand that Britain accepts hormone-treated beef. The Times newspaper reported on April 2 that Australia will ask Britain to scrap a European Union ban on the sale of meat from cattle treated with growth hormones as part of a new post-Brexit trade deal between the two countries. National Farmers Union chief livestock adviser John Royle told Britain's Farmers Guardian newspaper the British public would not want British farmers to be put at a competitive disadvantage by allowing the import of food produced to different standards and using methods which are not allowed in Britain. Farmers Union of Wales' (FUW) president Glyn Roberts said it would be 'an outrage' if British supermarket shelves were flooded with produce which does not meet the UK's high standards.
Indonesia to import 22kt of beef and offal for Ramadan
Indonesian media reports indicate Indonesia's Ministry of Agriculture has recommended the import of 22,221 tonnes of beef and offal from Australia, New Zealand, Mexico, Spain and Brazil to meet demand for Ramadan in May/June. I Ketut Diarmita, Director General of Livestock and Animal Health, told media the recommendation for beef is 20,957 tonnes while offal is 1264 tonnes. The imports are planned to be realised from March to May with volumes of 6302 tonnes, 7792 tonnes and 8127 tonnes, respectively. "The import recommendation is given only to importers who have met our administrative and technical requirements. Now they are waiting for a permit from the Ministry of Trade to realise the imports," Mr Diarmita said.
Will Qld Govt study social, economic impacts of veg laws? AgForce
Queensland farm group AgForce says the State's Labor Government should order an independent study into the social and economic impacts of its new vegetation management laws. It follows statements by State Government officials to a Parliamentary committee that no economic modelling had been prepared to consider the impact on agricultural production, and none was planned. AgForce General President Grant Maudsley said the laws were harsh and unnecessary and would flow right through the food supply chain and mean higher food prices at the check-out.he said the Qld Govt recommended a social and economic impact study in response to Federal Government plans to expand military training areas near Rockhampton last year, which it said at the time "could wreck lives and agricultural industries without bothering with independent expert advice".' "Yet are now (they are) doing exactly the same thing," Mr Maudsley said. "No economic modelling has been done, and the scientific reports used to justify their flawed laws only examine how much vegetation has been cleared, not how much vegetation has grown. You can't make good decisions when you are only looking at a small part of the picture."
Beef still Australia's largest meat protein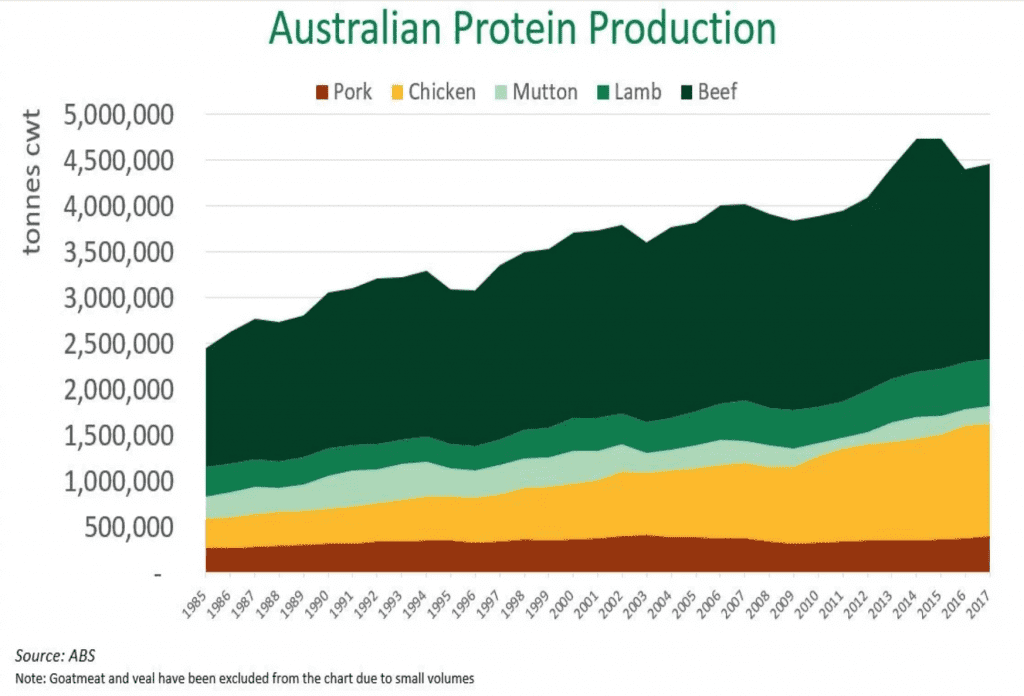 Beef remains the largest form of meat protein produced in Australia, with annual production increasing by 29,000t carcase weight to 2.13 million tonnes in 2017, according to Meat & Livestock Australia data. Poultry production decreased last year for the first time in the last 10 years, to 1.22 million tonnes. Pork production increased 22,000 tonnes cwt to total 408,000 tonnes cwt, lamb production was back 1.3pc, at 509,000, mutton increased 10.9pc to, 188,000t and goatmeat production increased 3.8pc, to 31,000. More details on MLA website here