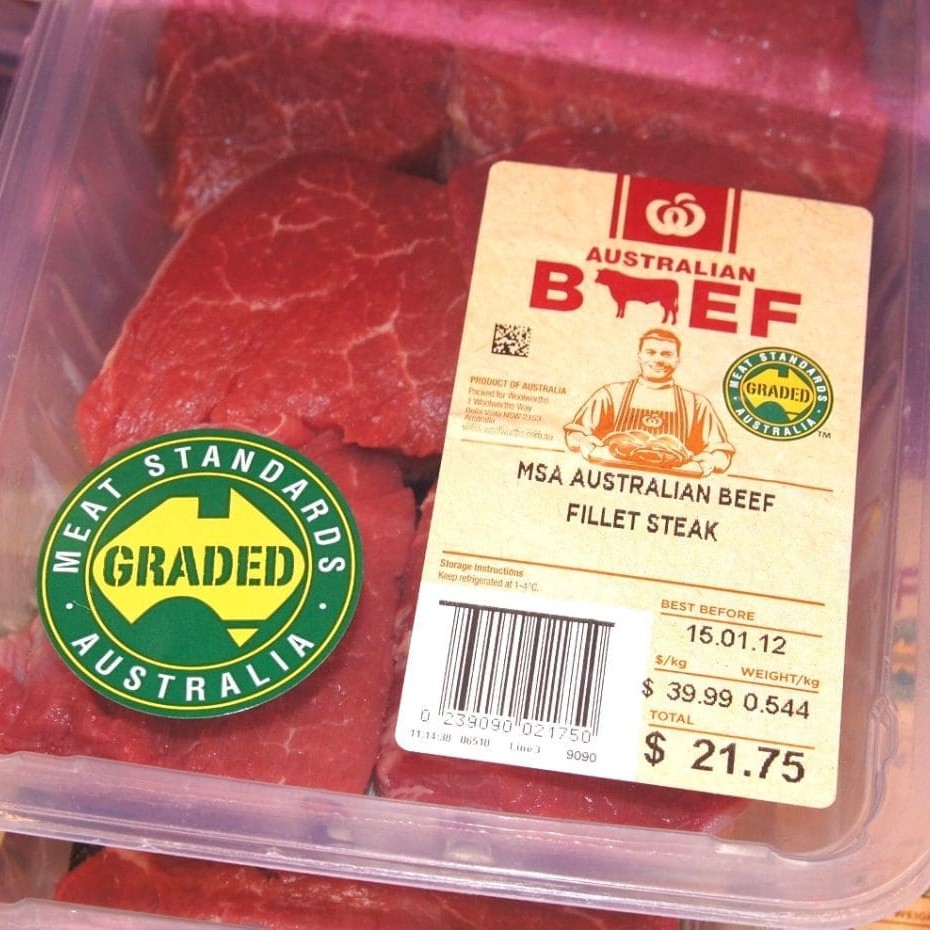 Woolworths has continued to pull away from major rivals, Coles and independent butchers, according to latest monthly retail survey data released yesterday.
The nation's largest supermarket group has widened its beef market share* gap by a further 0.4pc over Coles in the latest Nielsen Homescan survey conducted on behalf of Meat & Livestock Australia.
The other stakeholder group among the nation's 'big three' retailers – independent butchers – have stabilised their recent 0.8pc slide in beef market share, and will now be looking for a strong run in trading in the run into Christmas.
Nielsen's latest monthly retail survey data for the period ended November 3 shows Woolworths is claiming back some of the beef market share it had lost to Coles over the previous four or five monthly cycles, during periods of heavy promotion by both companies.
Both Coles and Woolworths have run a series of sharply-priced beef 'specials' over the past few months, typified by this MSA T-bone campaign from Woolworths that was advertised nationally during November.
Woolworths fresh foods division chief, Pat McEntee told a recent industry gathering that his company had invested more than $2 million in MSA beef promotion and customer awareness since adopting the MSA program through to consumer level in January (click here to read Pat McEntee's earlier comments on the impact MSA has had on Woolworths' turnover, including claimed incremental sales growth of 10.5pc).
For fresh beef sales during the latest survey term ended November 3, Woolworths' rolling average quarter figure increased from 31pc of market share to 31.3pc.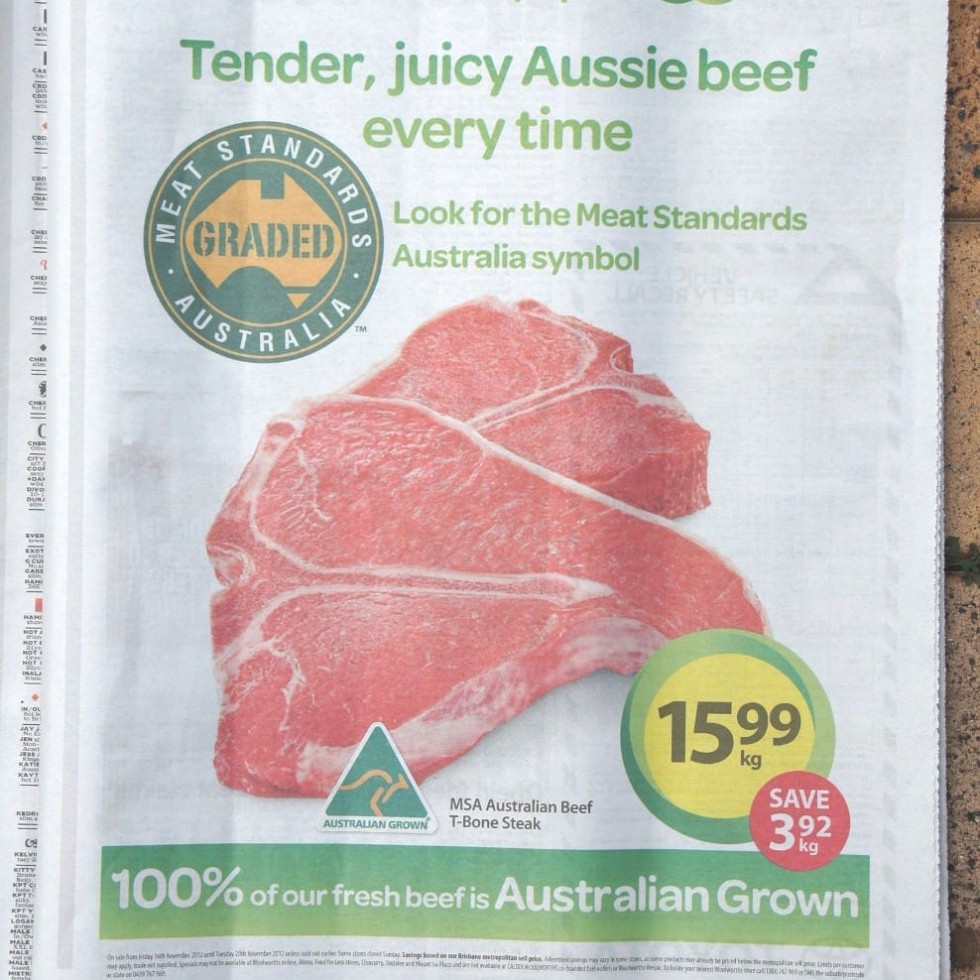 That continues a sequence of four consecutive monthly terms of growth, delivering a total of 1pc market share gain. While 1pc might sound quite modest in size, in the context of the deadly struggle for the consumer dollar at the domestic retail coalface, it represents a significant outcome.
The recent trend since August follows five months of declines, where Woolworths was losing ground to Coles.
Coles' retail beef value share in the latest reporting period has softened a little, falling by 0.2pc to 25.9pc. Its recent trend is a mirror reverse-image of Woolworths' results, falling for four consecutive months for a total decline of 0.8pc.
Three months ago was the narrowest gap in retail share seen between the 'big two' in recent memory, being just 3.5pc, whereas for much of the past two years, it has been 6pc or more. The gap was as wide as 8.5pc as recently as May this year, and is now again out to 5.4pc.
Looking at both company's longer-term trends, however, tells a somewhat different story. Woolworths' latest Moving Annual Total (MAT) figure for beef market share is 30.75pc, (-1.13pc on a year ago), while Coles latest MAT is 26.13pc, still +1.56pc better than where the company sat this time in 2011.
Independent butchers have had a rough run through the second half of 2012, judging by the Nielsen survey figures, caught in the marketing crossfire between the big two.
Retail butchers have at least stemmed the bleeding in the latest survey to November 3, retaining a 24.4pc value share of beef sales nationally – the same as a month earlier.
That figure, however, is easily the lowest share held by butchers in at least two years, and reflects the current strong price competitiveness being seen among major supermarkets through discounting, reward programs, promotion and other retailing strategies.
Among the smaller retail beef participants, the independently-owned IGA supermarket group has had a good year through most of 2012, lifting from 6.8pc share to 7.4pc in November, although that is down a fraction from the September high-point.
The German-owned ALDI supermarket group has followed a similar trend, easing a little to 6.6pc share in November, from its best-ever results in September/October of 6.8pc share.
Other supermarkets and farmers markets have stayed basically unchanged for most of this year, finishing September on 4.5pc share, down from a recent high-point of 4.7pc in May.
Beef strong performer in protein pricing
Focussing on price per volume signals for different meat proteins conducted as part of the Neilsen Homescan survey, beef finished the rolling quarter ended November 3 at $10.40/kg, a solid 50c/kg rise since October.
Note that the prices reported by Neilsen are measured as the average $/kg value of the items in the surveyed consumer shopping baskets, and do not represent the overall value of beef being sold in the retail marketplace.
Other competing proteins also rose sharply in price in the month to November 3, the Nielsen report suggested. Chicken prices lifted from $7.50 to $8.30/kg, while pork rose from $10 to $10.80, possibly reflecting higher feedgrain costs.
Lamb prices, which have been in dramatic decline, losing almost $1/kg since early stages this year, have lifted sharply again, rising from $11.10/kg to $11.60/kg in the latest survey.
Beef's share of protein sales grows
The overall fresh meat category (all red and white meat proteins, not just beef) recorded value growth of 0.6pc for the quarter ending November 3, compared with the same quarter last year. This was mainly driven by an increase in the price of fresh meat.
Beef's share of overall protein sales value declined by 0.4pc to 38.2pc in the latest rolling quarter, while chicken improved slightly to 26pc, and pork and lamb were steady at 10pc and 14.1pc respectively (although both were up on year-earlier figures).
* Note: Unless otherwise stated, rolling quarterly figures are quoted, instead of monthly figures, because they are regarded by analysts as being a more accurate reflection of longer-term trends.