DOMINANT national supermarket retailers Woolworths and Coles continue to grow their fresh meat market share, mostly at the expense independent retail butchers, recent surveys conducted by Roy Morgan show.
The company's Fresh Food and Grocery Report shows that Woolworths last year held the largest share of the fresh meat market in 2019, taking 27.5pc of the more than $13 billion spent on fresh meat in Australia. That figure was up from 26.5pc in the equivalent Roy Morgan survey conducted in 2017, and marginally higher on results seen over a longer eight-year cycle.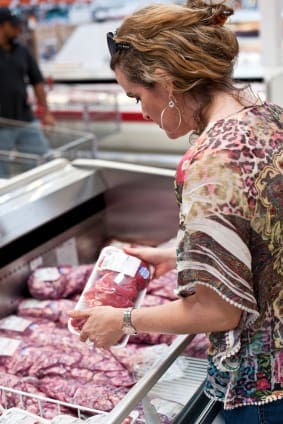 Woolworths also enjoys the highest number of customers, with 42.7pc of meat buyers having recently purchased from its stores.
The Roy Morgan report showed Coles is in second place with 22.6pc of the fresh meat market (picking up 3.8 percentage points from 18.8pc back in 2011), followed by specialist butchers (20.9pc, versus 29.5pc in the same survey eight years ago).
Up to about 2010, independents held a one third share of fresh meat sales, slipping to around one-fifth today.
Among other fresh meat retailers, Aldi recorded a fresh meat market share of 10.6pc last year – up from 3.7pc eight years ago; other non-supermarkets (6.6pc), IGA (5.1pc), other supermarkets (4.3pc), and produce and farmers' markets taking the remaining 2.3pc (see graphs below).
The findings are taken from the Roy Morgan Single Source survey, compiled by in-depth face-to-face interviews with more than 1000 Australians each week in their homes. For the purposes of the analysis, 'fresh meat' includes beef, chicken, lamb and pork, but not value-added items.
Changing purchasing patterns
Chief executive Michele Levine said long-term market-share trends showed that while meat remained a staple, with 70pc of Australians making purchase each week, the changing way they purchased fresh meat was having a big impact.
"Supermarkets now account for 70.2pc of the fresh meat market, and while Woolworths' market share has remained steady over the past eight years (see graph), there have been other notable changes," she said.
"Butchers have declined in market share by 8.6 percentage points, with the big winners in scooping up their customers being Aldi (up by 6.9 percentage points), and Coles Group (up by 3.8 percentage points over the past eight years).
The major supermarket brands continued to increase their share of the fresh meat market, while small retail butchers were in long-term decline, Ms. Levine said.
Regional variations
Significant regional variations were evident within the fresh meat market, with Woolworths dominant in Tasmania (41pc of the market) and Queensland (32pc), while Coles has a leading position in Western Australia (30pc) and the Northern Territory (41pc).
In South Australia, Foodland is just behind Woolworths as the leading fresh meat supermarket while butchers retain their highest market shares in New South Wales (22pc) and Tasmania (23pc).
Market share of fresh meat retailers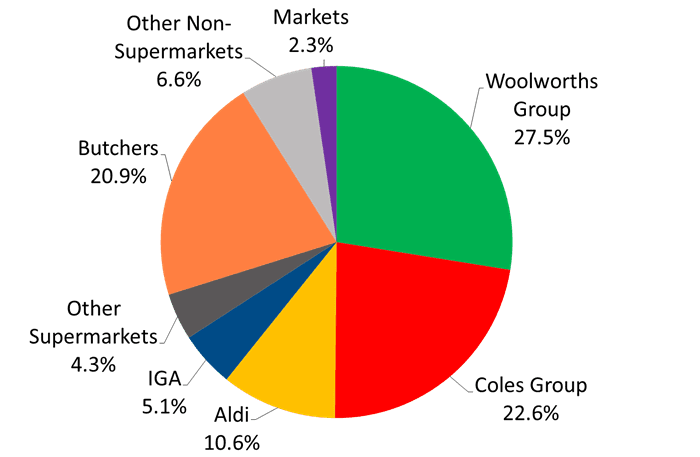 Source: Roy Morgan Single Source Australia, October 2018 – September 2019, n = 7,891 Base: Australians 14+ who purchased fresh meat in the past seven days (weighted to Australian households).
Comparison of market share of fresh meat retailers 2019 vs 2011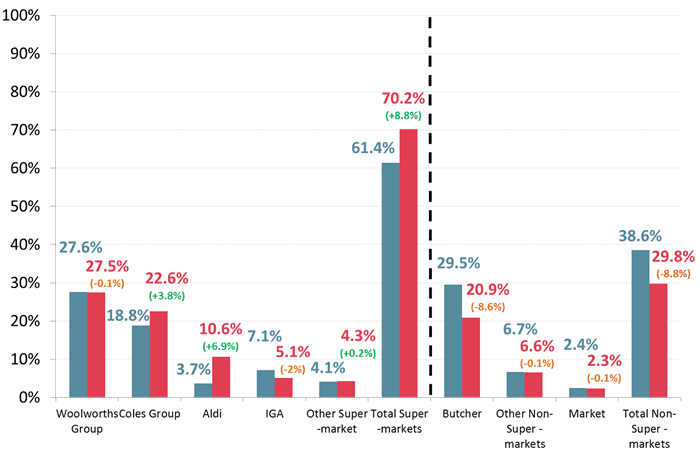 Source: Roy Morgan Single Source Australia, Oct. 2010 – Sep. 2011, n=10,601, Oct. 2018 – Sep. 2019, n = 7,891. Base: Australians 14+ who purchased fresh meat in the past seven days (weighted to Australian households).
Australia's supermarket duopoly has been disrupted in recent years by the arrival of Aldi, which has captured a significant market share across categories. In addition to Aldi, new players like bulk discounter Costco are also impacting trade patterns, and other foreign entrants are on the lookout for supermarket locations including giant European supermarket chains Kaufland and Lidl.
The arrival of new 'cashed-up' competitors keen to make a sizeable dent in Australia's supermarket retailing landscape means the pressure on smaller specialist retailers including butchers and markets is only likely to increase in coming years.
Woolworths continues to roll-out new stores across metropolitan and regional areas, as populations grow. According to its 2019 annual report, Woolworths now operates 1024 supermarkets across Australia.