IMPORTED manufacturing beef prices in the US continued to improve in the last few days, but overall volume traded remains light.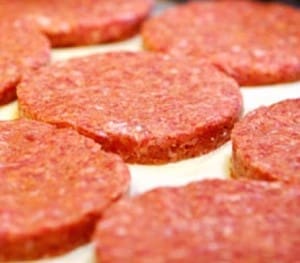 This week the imported 90CL cow beef indicator moved another 2.5US¢ higher, to 199US¢/lb CIF (up A11.1¢, to 570.6¢/kg).
It represents a steady A40c rise since the low point a month ago, but still sits well short of the market in 2015 when 90CL lean beef traded for long periods between A630-700c/kg.
Of greater concern are forecasts that US-produced domestic beef is likely to get cheaper in the back half of this year, with more slaughter-ready cattle coming out of feedlots in the next three months.
In fact imported beef from suppliers like Australia could trade at a premium to domestic US beef in the second half of 2016, Steiner Consulting suggests in its regular imported beef report this week.
Regarding this week's imported price movements, Steiner said it appeared that some end-users had been caught-short in their positions, and had had to raise asking prices in order to cover their needs.
"However, there is also a realisation on the part of end-users that US domestic beef prices could be notably lower by summer," Steiner said.
In the short-term this meant that end-users would continue to focus on immediate needs while limiting their forward coverage.
Demand continued to be strongest for lean and extra lean grinding beef, Steiner said.
"We suspect that demand will get a boost by the recent sharp drop in the value of US domestic fat beef trimmings. US fed cattle slaughter has seasonally increased and should remain large through June.
The big unknown, at this point, was how good US consumer demand would be during the northern hemisphere spring and early summer.
"Market participants we contacted this week have varying opinions on business conditions. The general consensus is that business should be better at least for the next two months, and then seasonally slow down in July and August.
Spread between domestic and imported
One of the issues before US end-users at this point was the possible spread between domestic and imported lean beef in the second half of the year, Steiner suggested.
If beef imports decline, this should narrow the spread between domestic and imported product, while larger imports implies a larger discount of imported beef. A 10pc decline in imports generally implied imported beef trading at a 2pc premium to domestic product.
"The main factor to consider, however, is seasonality. The chances for imports trading at a premium are more likely in the second half of the year. We expect this to be the case this year, particularly."
"Domestic US beef prices are expected to be notably weaker in the summer and fall while imports should be particularly lower than last year. New Zealand supplies decline after July and Uruguay currently is only shipping its regular quota. By August, we suspect Australia will largely be the only game in town, and offerings from Australian packers continue to run well above what US end-users appear willing to pay," Steiner said.
"We would not be surprised if Q3 lean imported beef trades around US4c above domestic, and in Q4, possibly US5-10c."
US Fed Beef Supplies
US packer margins are excellent at this time and this has encouraged packers to quickly ramp up the pace of slaughter, Steiner's report this week said. Steer and heifer slaughter for the week ending April 22 was 8pc larger than last year.
"But packers will be careful not to increase slaughter so fast that the market is not able to absorb the additional supply. The sharp drop in the price of 50CL beef is a case in point. Prices for 50CL beef were hovering around US70c/lb and then today they collapsed by about 20c on very large volume."
"This tells us that packers were struggling to sell to regular users and had no choice but dump more than a million pounds at a big discount, which was likely bought by traders. The fear currently in the futures complex is that feedlots will look to accelerate marketings so as to avoid what happened last year."
Higher corn prices have added fuel to the fire, pressuring cattle prices in the short term.
Current fed cattle prices are around $1.25 per pound on a live basis but June futures are as low as $1.17 and for the fall futures are pricing fed cattle at $1.13.
Cull cow prices in the US are down as much as 35pc compared to a year ago.
"Beef and cattle prices are correcting in a hurry following the tremendous price spike in 2014 and early 2015," Steiner said.
"The adjustment may have caught some importers by surprise but it does make sense when viewed in the broader context of other meat protein prices."
Source: Steiner Consulting