The US beef cattle industry is undergoing a major transition, with contraction of its domestic herd diminishing available beef supply for domestic and export use, presenting opportunities for Australian producers, according to a visiting US industry analyst.
Rabobank's Texas-based vice president for animal proteins, Don Close says the reduction in the US herd was unprecedented, with current on-feed numbers at six percent lower than 12 months ago, and set to continue to decrease into the 2013 Northern Hemisphere summer period.
"Right now, with a significant period of drought, the ongoing tightening of our cattle herd is really becoming increasingly evident," Mr Close said in a Rabo press release issued this morning.
"We need rain to recharge our subsoil levels to ensure we have a good grass season. If this happens, producers will hold onto their cattle, particularly heifers, but if it doesn't happen, those numbers will hit the slaughter market because it will be too dry to keep them on-farm," he said.
"We're damned if we do, damned if we don't – no matter what happens with the US season this year, there will be a shortage in beef supply going into 2014. We've painted ourselves into a tight corner."
Mr Close will speak at the NT Cattlemen's Association meeting in Alice Springs on Thursday, and other functions across Queensland, South Australia and Sydney this week.
He said that while there had been a huge contraction in US corn exports (down 25pc year-on-year), there was also a sharp reduction in ethanol production, leaving grainfed cattle production above 2012 levels.
"These levels are going to drop in 2013 through to 2014, as the rationing in the domestic beef industry has not yet fully occurred," he said.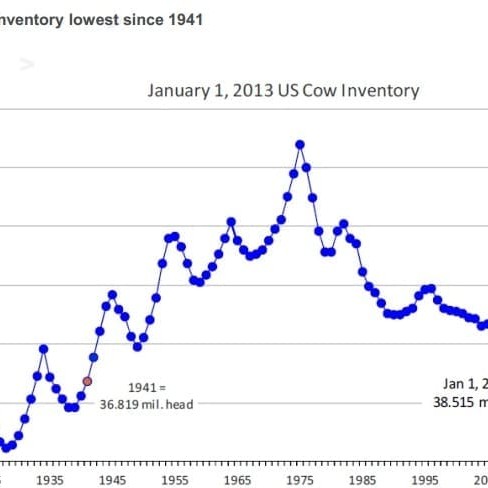 The US had also overdrawn on its Mexican feeder cattle, adding to the decline in available beef supplies entering into the US market.
"The total Mexican cattle industry has declined, especially their heifers, eating into the breeding herd, when shipments increased into the US last year. And as the conditions in Mexico recover, we will see a similar story unfold with what's happening with the US herd, with Mexican cattle numbers looking extremely tight," he said.
As far as North American supplies are concerned, Mr Close said Canada had also been trying to stabilise its cattle numbers after the challenges surrounding the BSE detections that took place in 2003.
"Canada is a non-viable source of cattle or beef at present," he said.
Adding to this, the recent difficulties around food security in the UK and Europe in the wake of the horsemeat scandal could potentially open doors for Australian boxed beef exports to be sent to this region, replacing former meat suppliers facing increased scrutiny across their supply chains, he suggested.
"While we are yet to see the full impact of the horsemeat scenario to know who the winners and losers are in this equation, it certainly raises the question about increased Australian/NZ exports into Europe to take advantage of the drama there."
"What is worth noting is the US-Europe Free Trade Agreement – which has not yet been ratified – but if this is eventuate it would probably open of the door for greater volumes of US beef entering into Europe taking more market share from other international suppliers."
"The thing we have to realise is that nowadays, we're playing in an international market – the years of single-country protein supply no longer exist," Mr Close said.
The biggest shortage of beef will be in lean manufacturing beef, which is likely to open up market opportunities for Australian producers.
"As soon as we see any signs of recovery, our lean beef market will tighten up like we've never seen before," he said.
With a reduction in exports to Indonesia from Northern Australia, ground beef exports could enter into US markets more easily, taking some of that northern supply out of the Australian producers' hands.
This is a scenario that Mr Close said would likely play out in 2014, as well as this year.