Consumers dining out are choosing cheaper meal options like pasta, risotto or sausages more often over steak, while swapping three courses for two, as the 2011-12 year again proved to be a difficult one for the foodservice industry.
These were some of the trends identified in BIS Shrapnel's 2012 Australian Food Service Market Report, released yesterday.
While it may come as no surprise to stakeholders in the red meat industry, the report notes that consumers are not dining out as much as they did previously, and when they do, are spending less.
It says cautious consumers continued a trend to trade-down in their choice of outlet, and while they are still dining out for lunch and dinner, they are not doing so as often, and are tending to push for cheaper menu options.
But while the shorter-term outlook for food service remained gloomy, BIS predicts the Australian market will start to grow again after five years in decline.
"Many foodservice operators are finding that their customer base has shrunk significantly, with meal services as a whole much quieter," said the head of BIS's Foodservice division, Sissel Rosengren.
"Consumers are continuing to watch their expenditure, and are much more frugal in their attitude and spending," she said.
In the 12 months prior to June 2012:
The number of food service outlets in Australia declined by one percent overall, driven largely by a 1.1pc reduction in commercial outlets. Café chain outlets grew by 5.2pc, while independent cafés and bakeries with cafés declined.
Fast food chains grew by 3.8pc in 2011-12, but a further decline in independent fast food outlets – combined with a significant decline in snack food chain outlets – led to an overall fall in the Quick Service Restaurant (QSR) channel of 1.7pc.
Restaurant numbers declined by 2.6pc last year, and function/catering numbers declined 7.3pc.
Overall, these numbers reflected the current economic times and fluctuating consumer confidence, the BIS report said.
"In short, pasta and risotto is up, while items like steak are down," Ms Rosengren said.
Customers might still buy an entrée, but it was now more likely to be a cheaper item such as a soup or a salad.
"There hasn't been a noticeable change in portion sizes, but people are generally eating two courses where they used to have three. There has also been a return to 'comfort foods', with demand for fish and chips and bangers and mash on the rise," she said.
Overall, food service operators experienced a growth in demand in terms of food and non-alcoholic beverages served in their outlets in seven different product categories in 2011.
Consumers are demanding red meat more often with 21pc of outlets reporting an increase in demand for the product. Many of these items, however, are likely to be ground beef-based or cheaper cuts, rather than grilling cuts, evidence shows. Coffee demand continues to rise, and poultry also was in high demand among consumers – again, price related.
Operator trends and business confidence
Many restaurant operators surveyed by BIS believed 2012 will be another 'lean and trim' year, in which it will be vital to watch costs in order to stay in business. As such, operators are minimising costs where possible.
Operators are now preparing more food from scratch, rather than using pre-prepared items in order to reduce food costs. This trend is also influenced by an increased preference for fresh produce among consumers, as well as locally sourced products.
"Flavours in fast food restaurants are back to basics and we are seeing a return to more traditional foods," she said. "However, the channel will continue to experience pressure to change its menu offerings due to Australia's high level of obesity, particularly among children," Ms Rosengren said.
There was also an expectation that demands for vegetarian offerings would increase in this channel over the coming years.
Confidence among foodservice operators continues to fluctuate. Although the BIS Foodservice Confidence Index (measuring general business confidence among various foodservice operators) showed that confidence among operators had improved prior to Christmas, BIS expects that this confidence will continue to fluctuate in coming months.
"It is important to remember that current economic conditions are uncertain and as such consumer and business confidence will reflect economic sentiment," she said.
Foodservice market since the GFC has been volatile
Retail turnover of restaurants, cafes and takeaway services proved to be extremely volatile in 2011-12, as it was the previous year. Turnover fell by 1.3pc in January 2011, during the only peak season on the Australian foodservice market. It rose 1pc in February and flat-lined in March, before an unexpected decline of 2pc in December 2011 was offset by a 4.2pc spike in January this year.
Profit margins among outlets have been hit hard, with some operators reporting profits down by up to 50pc as consumers continue to be cautious in discretionary spending.
"The volatile nature of the market at present makes it incredibly hard for operators to predict what will happen next year, let alone two or three years down the track," Ms Rosengren said.
"These operators can't pull out a diary from two years ago and plan what is going to happen. The market conditions they are facing are unprecedented."
Cafés also experienced a difficult 2011-12. Lunch trade eased, with many affected by an increase in people bringing a packed lunch to work.
Independent quick service (fast food) restaurants have been in steady decline for the past three years, but QSR chains on the other hand continue to benefit from a strong trade-down effect in consumer spending habits. Strong global performance of chains like McDonald's is evidence of this.
BIS Foodservice forecasts that this channel will continue to grow over the next five years.
Medium-term outlook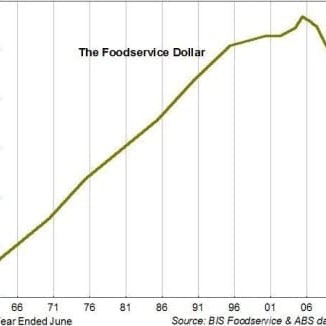 According to BIS, the food service market is expected to grow gently, year-on-year for the next five years. The report found that confidence among foodservice business operators was up despite the total number of outlets – as well as overall turnover – declining last year.
"The market as a whole is forecast to grow steadily over the next half-decade following declines over the previous five years," Ms Rosengren said.
"Businesses are now adapting to evolving consumer demand and understand the need to offer the full service to customers in order to retain regulars," she said.
The 'food service dollar' – determined by the percentage of Australian households' food and non-alcoholic beverage budgets spent eating out – is showing signs of rising after years of decline since the Global Financial Crisis set in.
This decline was driven by the trade-down effect in consumer eating and spending habits, falling from a peak of 36pc prior to the GFC (following a steady year-on-year rise since the early 1960s), to just over 30pc in 2010.
The 'food service dollar' is expected to remain steady this year before rising in the coming years. This rise, although slow, will depend on overall economic, consumer and business confidence which continues to be impacted by developments overseas.
"Driving this rise is an expected improvement in consumer sentiment, which will come largely from continued employment and disposable income growth as well as the likelihood of lower interest rates persisting for some time," Ms Rosengren said.
"Sentiment and confidence dipped markedly following the GFC, but recent good news regarding the GDP combined with continued economic growth should see that sentiment return, albeit slowly."
Overall, after having fallen 0.7pc/year in the previous five-year period, retail expenditure on food service is expected to grow by 1.7pc/year over the next five years.