Japan may sacrifice tariff barriers protecting its beef farmers to join the Trans-Pacific Partnership free-trade accord, a former Japanese government adviser on farm policy has suggested.
Japanese Prime Minister Shinzo Abe's administration would fight to maintain tariffs on rice, sugar and dairy products, but beef could be sacrificed, said Shinichi Shogenji, an agricultural science professor at Nagoya University.
Dr Shogenji chaired the Japanese Cabinet's food security advisory panel in 2007 during Prime Minister Abe's first term as leader.
"Japan may be able to protect about 5 percent of its total goods in the TPP negotiations," he told Bloomberg in an article published in Japan Times on Friday.
"Rice is the national staple, sugar is vital to Okinawa and milk is what our kids drink. But while we must maintain domestic production of rice and milk to ensure food security, beef may be an easier sector to concede," Dr Shogenji said.
"Tariffs on beef are not so high compared with other items, and our Wagyu beef is a high-quality product that does not compete directly with imports."
Eliminating the existing 38.5pc tariff on imported beef could see a jump of up to 40 percent in beef imports and help exporters in the US and Australia, among other TPP member states, said Tetsuro Shimizu, a general manager of the Norinchukin Research Institute. This would displace half of Japan's domestically-produced beef, Japan Times reported.
Elimination of the tariff on imported beef would severely stress Japan's heavily protected domestic beef industry. Currently 42pc of all beef consumed in Japan is domestically produced. About two thirds of that is dairy steer derived from the nation's large dairy industry, with the remainder higher quality Wagyu or Wagyu x dairy.
Japan commits to TPP talks
On Friday, Prime Minister Abe confirmed that Japan would seek to join TPP negotiations for a free-trade pact with the US, Australia and other Pacific nations.
In a televised address, he portrayed the TPP as Japan's 'last chance' of remaining an economic power in Asia and shaping the region's future.
"Japan must remain at the centre of the Asian-Pacific century," he said. "If Japan alone continues to look inward, we will have no hope for growth. This is our last chance. If we don't seize it, we will be left out."
Prime Minister Abe is taking a political risk in embracing the trade talks, with strong opposition from Japan's farming lobby and other powerful groups.
Japan's largest agricultural cooperative has campaigned against trade liberalisation, saying such a change would devastate the nation's farms. A majority of the lawmakers in Mr Abe's own Liberal Democratic Party depend on the rural vote and also object to joining the TPP deal.
Currently, Japan imposes tariffs of 778pc on rice imports, 328pc on sugar and 218pc on powdered milk. Beef is relatively lightly protected, at 38.5pc.
Japan's biggest business lobby group, Keidanren, whose members include Toyota, Nippon Steel, Sony and Sumitomo, has urged the government to join the TPP to increase the competitiveness of Japan's exporters.
Equally vocal as opponents, however, is JA Group, Japan's largest farmers' organisation, which has called for special treatment for agricultural produce, including beef.
While agriculture, forestry and fisheries make up less than 2pc of Japan's economic output, JA Group's ten million members account for 8pc of the population, partly thanks to a large number of part-time farmers.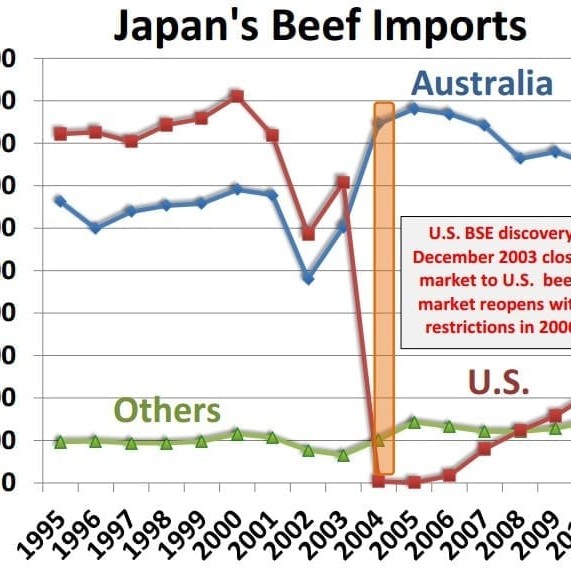 In previous bi-lateral FTA negotiations with countries including India, Thailand and Chile, Japan was successful in excluding beef, along with rice, wheat, sugar and dairy products.
The TPP started in 2005 with Brunei, Chile, Singapore and New Zealand as a pact to open trade in goods, services and government procurement. Negotiations have since extended to Australia, the US, Canada, Malaysia, Mexico, Peru and Vietnam.
The US has a stated aim of completing the talks by the end of this year, although Japan's inclusion may slow that process, based on its protectionist mood.
Japan is Asia's biggest beef importer, buying 515,000t of beef worth ¥221 billion last year, data from the Japanese farm ministry shows. Australia accounted for 62pc of shipments, followed by the US with 26pc and NZ, 6pc.