GLOBAL burger giant McDonald's has continued its disappointing recent financial performance, recording consolidated revenue down 11 percent year-on-year and 'negative guest traffic' in all regions in its first quarter announced overnight.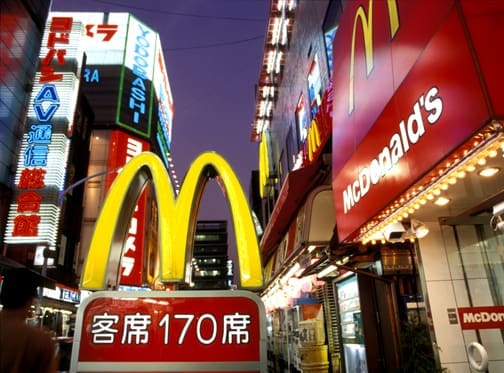 Global revenue for the quarter was US$5.6 billion, down from $6.7 billion for the same quarter a year ago. Net income was $811 million, down significantly from $1.2 billion in 2013.
Part of the company's struggles was $195 million in 'strategic charges' related to restaurant closures, with 220 underperforming restaurants shuttered in the US and Canada, plus another 130 closures in Japan. Another 350 restaurants closures are planned worldwide, the company said in a statement.
First quarter results included:
The company's largest division in the US saw first quarter comparable sales decrease 2.6pc reflecting negative sales and guest traffic, amid high competitive activity. US operating income for the quarter declined 11pc, reflecting weak sales results and the impact of restructuring and restaurant closing charges.
The Europe division's first quarter comparable sales declined 0.6pc as positive performance in the UK was more than offset by weak results in France and Russia. First quarter operating income decreased 20pc reflecting soft consumer sentiment and currency and inflation pressures in Russia, as well as ongoing macro-economic headwinds across much of Europe.
The company's Asia, Pacific, Middle East and Africa division (includes Australia) saw first quarter comparable sales decrease 8.3pc primarily due to the impact of prolonged, broad-based consumer perception issues in Japan (earlier bad publicity over food safety breaches) along with negative but improving performance in China. For the quarter, APMEA's operating income declined 80pc due to strategic restaurant closings and other charges and negative operating performance in Japan and China.
McDonald's response to recent poor performance has been to attempt to simplify its menu and focus on local menu initiatives to be more responsive to consumer preferences.
"As the world's leading restaurant company, we are evolving to be more responsive to today's customer," said McDonald's chief executive officer Steve Easterbrook.
"McDonald's management team is keenly focused on acting more quickly to better address today's consumer needs, expectations and the competitive marketplace," he said.
Chief financial officer Kevin Ozan said McDonald's was committed to positioning itself for long-term growth.
"We took a meaningful step in the first quarter with the decision to close under-performing restaurants that are not contributing to our profitability. While we continue our efforts to regain our business momentum and improve sales at our 36,000 restaurants around the world, our current performance reflects the ongoing pressures on the business."
April global comparable sales are also expected to be negative, he said.
Mr Easterbrook said McDonald's founder, Ray Kroc, had made a statement 60 years ago about the business that was as relevant today as it was then: 'Take calculated risks. Act boldly and thoughtfully. Be an agile company.'
"McDonald's is employing these timeless business philosophies as we embark on a turnaround to drive momentum in our business. We are committed to making McDonald's a modern, progressive burger company delivering a contemporary customer experience."
The company is developing a 'turnaround plan' designed to improve its performance. Details will be shared with investors and other stakeholders on May 4.
McDonald's is Australia's single largest beef customer, taking about 80,000 tonnes of Australian beef into markets across Asia, the Pacific and the Middle East.