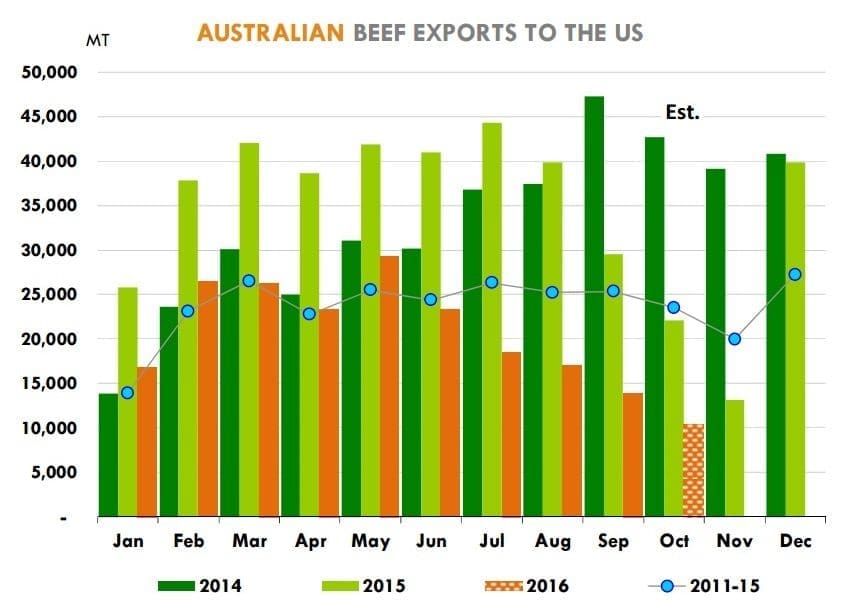 AUSTRALIAN exporters continue to encounter tough trading conditions in the US grinding beef market.
The graph published here, prepared this week by Steiner Consulting, graphically illustrates the changing fortunes for Australian manufacturing beef exports to the United States over the past three years.
Tonnage has continued to decline dramatically as the 2016 years has worn on, and are now only a fraction of the huge monthly volumes of trade experienced during large parts of 2014-15.
Part of that can be explained by reduced supply out of Australia, but increasingly, Australian exporters are also having to divert lean manufacturing product into alternate export markets, often at cheaper prices, due to lack of competitiveness in the US market, traders told Beef Central on Friday.
Meat & Livestock Australia this week reported 90CL cow beef at 542.7c/kg, compared with 614c/kg below where it sat this time last year, as scarce Australian product battles to remain competitive against an abundance of US domestic product. For much of last year prices were well above 700c/kg, representing a 20-25pc decline in value since that period.
Imported grinding beef prices were modestly higher this week, Steiner reported in its weekly imported beef summary prepared for MLA, but that largely reflected lack of product available rather than stronger demand.
Both lean and fat trim prices in the US were down sharply compared to year-ago levels and the five year average.
In sharp contrast with Australia, beef prices in the US currently are quite weak, with the fed cattle price now at its lowest level since 2010.
"Imported beef trading remains especially difficult in light of weak domestic beef prices and reduced offerings from overseas suppliers. This dynamic has been in place for the last few months but it has become even more prominent recently," Steiner's report said yesterday.
Some US traders were likely selling product short, which explained some of the lower FOB values seen in recent weeks, Steiner said.
"However, that business remains somewhat spotty as traders also recognize the risk, especially as spot supplies have become tighter. Finding available spot product has become increasingly difficult and this makes covering short positions difficult and risky."
JBS Brazil making inroads
Availability of South American beef (recently re-admitted to the US after a long absence) was still limited, but supplies were expected to increase in 2017.
One of the largest Brazilian exporters, JBS SA, said this week it expects to export 100 containers of Brazilian fresh beef to the US per month beginning in the first half of 2017, equivalent to about 2500t.
JBS's first container of Brazilian fresh beef sent to the US landed in Philadelphia on 14 October – a consignment of 25t of product produced in the company's Campo Grande unit, in Brazil's Mato Grosso do Sul state.
For the rest of 2016, JBS Brazil plans to send 10 containers to the US per week, representing 250t.
"The participation of JBS in this new market is strategic, because it opens a new frontier for fresh beef exports, not just for the US but also to other markets that follow the same standards in terms of sanitary requirements," JBS Brazil spokesman Miguel Gularde said in a statement.
JBS currently has four Brazilian plants authorised to export fresh beef to the US in Mato Grosso do Sul and São Paulo.
Divergence in US retail prices negative for grinding beef
The US Bureau of Labor Statistics issued today its latest update on consumer price inflation, which have been interpreted as negative for grinding beef values.
US food service sales, particularly foodservice traffic, has been particularly weak in recent months and in August it was at the lowest level since 2009.
"While there are likely a number of factors that have negatively impacted food-service foot traffic, we think part of the reason is the widening gap between food prices at grocery stores relative to menu prices at foodservice," Steiner's report said. "The widening gap will likely continue to pressure demand for grinding beef, especially imported grinding beef, given that the bulk of imported beef goes into foodservice in the US."
Domestic US lean and fat trim values remain weak
Both the price of domestically produced US lean beef and fat trimmings is lower than a year ago.
The decline in the value of fat trim has been particularly dramatic, especially compared to levels achieved earlier this year and the five year average. USDA quoted the price of 50CL beef, weighted average basis, at around US32c/lb, against a five-year average price for this time of the year is around US95-100c.
"The situation has been particularly difficult for fat trim, because US packers continue to run slaughter near annual highs," Steiner said.
Overall beef production in the US is currently above summer levels even though beef demand at this time of year is not particularly strong. At this point fat trim prices are trading close to rendering values.
Lean beef prices (more relevant to Australia's exports) also have moved lower, largely because of lower prices for domestic lean fed beef cuts.
"We think lean beef has been supported to a certain extent by the reduction in imported beef volume," Steiner said.
"Still, higher US cow slaughter rates and particularly higher fed beef slaughter has put some downward seasonal pressure."
Current prices for fresh domestic beef trimmings are near US$190/cwt, and this is expected to slide further in November as US cull cow slaughter increases.
Competing meats and impact on demand
Steiner is currently projecting Australia's October exports to the US to be just a little over 10,000t, down 53pc compared to a year ago.
New Zealand slaughter has been tracking under year-ago levels, further reducing availability in the US market. Brazil beef shipments to the US are expected to remain limited for the remainder of the year. However, as discussed above, it appears that Brazilian packers are confident they will be able to hammer-out a test lotting protocol that is acceptable both to US trade and USDA, growing volume next year.
"We have yet to hear from other packers in Brazil but suspect they have similar plans. In addition, Argentina is getting ready to resume shipments of grinding beef to the US, setting up the stage for a notable increase of fresh grinding beef from South America in 2017," Steiner said.
Includes content sourced from Steiner Consulting