SOME of the nation's best-known commercial beef brand programs shared the major honours in the 2022 Sydney Show branded beef awards decided yesterday.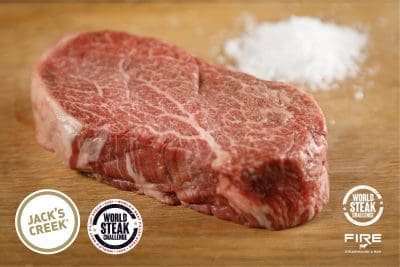 Tamworth's Jack's Creek Wagyu secured the show's 2022 branded beef grand championship with a crossbred Wagyu steer entry from the event's open class, which scored 91.33 points.
In total this year's awards distributed eight gold medals, 20 silver and eight bronze among entries drawn from most Australian states.
In the grainfed branded beef class, Queensland's Stockyard Beef toped the division, and took the first of three gold medals it received across the competition.
Gold medals were awarded to outstanding exhibits gaining 90.00 points more, judged by a panel of professional chefs and culinary educators.
The vertically integrated beef producer's winning entry, scoring 94.67 points, was drawn from the company's Stockyard Black Wagyu brand program.
Stockyard Gold, reserved for the company's Angus beef genetics, also received a gold medal in the same class, and the second highest points in the competition at 94.5 points, beating 17 other entries in the grainfed class.
Competing in the Open Beef category, Stockyard's Kiwami Wagyu brand achieved a score of 90.5 points, also receiving a gold medal.
Stockyard has been a competitor in the Sydney Royal Branded Beef competition since their inception in 2003, and since then, has been awarded 34 medals across Wagyu and Angus grainfed entries.
Stockyard's general manager of sales and marketing, David Clark, said awards like these were an objective validation that his company continues to meet the high standards it set itself.
"But these wins wouldn't happen without our entire team. From producer to plate, everyone along our supply chain channels their expertise and energy into crafting an outstanding product, and so these medals are for all of them and is a testament to their hard work."
Two of Stockyard's gold medal winning Wagyu entries came from cattle bred and raised by Darren and Melanie Hamblin's Strathdale Wagyu beef grazing operation in Central Queensland, before finishing at Stockyard's Kerwee Feedlot, Jondaryan.
The Hamblins have spent the last 20 years refining their breeding operations to custom-produce carcases that satisfy market specifications and have a longstanding reputation as having some of the best genetics in the industry.
Partnerships in their supply chain and innovation in production means the business continues to go from strength to strength. Part of the success of Stockyard's long sequence of award wins and consistent quality lies in the Hamblins' genetics, whether that's investing in their own breeding herd, or partnering with key producers upstream who offer consistently high-performing genetics and those who share Stockyard's mission for sustainable beef production.
Stockyard's suite of Angus and Wagyu beef brands can be found in top restaurants and heading hotels in Australia and in 16 international markets.
Runner-up to Jack's Creek overall grand champion in the Sydney competition's Open class was another Wagyu entry – this time a Cararra Wagyu F1-F2 entry fed 350-400 days from Queensland's Kilcoy Global Foods, scoring 90.67 points for a gold medal.
Little Joe tops grassfed entries
In the competition's grassfed class, JBS Australia's elite Little Joe branded yearling product, marbling score 4 and better, was a clear winner, earning 88.67 points.
As this article outlines, Little Joe is harvested from the very best marbling performers going through the company's immense Great Southern program, drawing cattle from as far north as the New England region in NSW all the way to western Victoria, Tasmania and eastern parts of SA.
It ends up in high end food service outlets, both in Australia and overseas.
Runner-up was an entry from Teys Australia's Grasslands certified grassfed program, produced out of Naracoorte and Wagga.