TWENTY of Japan's up-and-coming chefs are visiting Australia this week to sample the best of the country's premium food and beverages.
Organised by Austrade and the Victorian, South Australian and Tasmanian state governments, the chefs' mission will visit the farming and production facilities of key products in the respective states including beef, seafood, fruit and vegetables, cheese, oil and wine.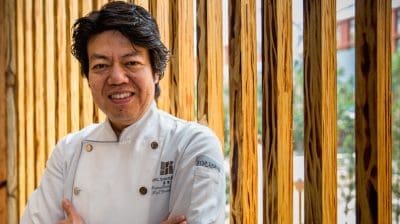 The group's mentor is Haruyuki (Hal) Yamashita, one of Japan's most renowned fusion chefs and owner/operator of the high-end HAL restaurant chain. Chef Yamashita (pictured) was one of the VIP chefs who judged Austrade's inaugural Taste of Australia Menu Competition, launched by Prime Minister Malcolm Turnbull in December 2015.
He is a passionate admirer and user of a wide variety of premium Australian products.
'The knowledge and popularity of Australian premium produce in the Japanese food service industry has increased significantly in the past few years,' said Julianne Merriman, Trade Commissioner, Austrade Tokyo.
'This visit will allow some of Japan's best chefs – many of them working at five-star hotels and top-end restaurants – to experience first-hand where our premium produce comes from and how it is made, and to speak directly with our farmers, fishermen, winemakers and producers.
'The Japan-Australia Economic Partnership Agreement (JAEPA) has improved the affordability of our premium produce for food service businesses and consumers,' Ms Merriman said. "The visit comes at an opportune time, with the next round of tariff reductions under JAEPA to take effect on 1 April 2017."
Arriving in Melbourne on today, the chefs will divide into three groups, with one group staying in Victoria, one going to Tasmania and one to South Australia. The chefs' restaurants have different produce focus areas, and each state offered a compelling reason to visit for each chef. The chefs had the opportunity to nominate the state they wanted to visit during the mission selection process.
They will experience Australian food culture with producers at their farms; enjoy dining experiences at modern Australian restaurants and have opportunities to engage with local chefs; and explore famous sightseeing locations.
The chefs' visit is a key component of the wider Taste of Australia initiative, which promotes the premium quality, taste, safety and counter-seasonal advantages of Australian food and beverages, and positions Australia as a reliable, long-term supplier of choice to meet Japanese demand for premium produce.
Austrade will run the highly successful Taste of Australia menu competition for a second time in October 2017, with the chefs on this visit signed up as participants. The competition will be run across major cities in Japan and requires entrants to use premium Australian produce to create their menus.
All participating restaurants must offer a specialty Australian menu for four to six weeks, to drive demand and consumer interest in Australian food and beverages.
Source: Austrade