Supplies of imported beef available in the US have been drifting lower recently, and there appears to be recognition on the part of US end-users that supplies will only become tighter in the second half of the year, analysts say.
There is no great surprise in that, as normally the reduction in New Zealand shipments tends to reduce imported beef availability, Steiner Consulting said in its imported beef market report.
The difference this year, however, is that in the first six months of the year New Zealand was by far the biggest supplier of imported grinding beef into the US.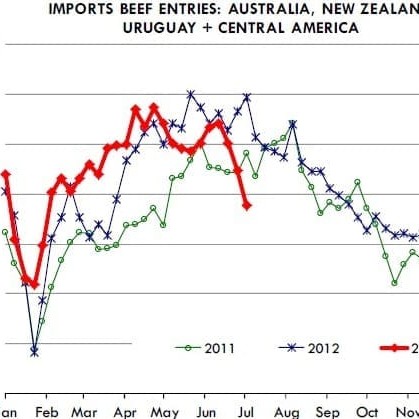 Weekly entries of imported grinding beef have declined sharply compared to both 2012 and 2011 levels, Steiner reported (see chart).
Combined entries of beef from Australia, NZ, Uruguay and Central America in the past four weeks has averaged just 7550 tonnes/week, compared to 10,300t during the same period last year.
That represents a 26pc decline in the supply of imported grinding beef that has cleared customs in recent weeks.
Judging by the trend in Australian shipments to the US in June (as well as the lower slaughter in NZ) entries of imported grinding beef will be lower than a year ago for much of July, the Steiner report suggested.
A key wildcard for imported grinding beef supplies (and prices) going forward will be the pace of Australian beef shipments to the US this month, and in August and September.
Export data for the first nine days of July suggested there could be an increase in July exports verses this time last year.
Lower rates of kill in Australia, reported on Beef Central on Tuesday, could also have an impact.
Demand from China and other Asian markets remains quite strong as well, which would limit availability for exports to the US.
But even as China demand remains strong, Australia has seen a slowdown in exports to its largest market, Japan, being displaced as the US ships more product there.
The weak Australian dollar has been supportive of higher exports, even to the US, despite notably lower lean beef prices than a year ago.
Lean beef prices below year-ago levels
Lean beef prices in the US remain well below year-ago levels but this does not necessarily imply lower raw material prices for US hamburger patty manufacturers, the Steiner report said.
The calculated 76CL meat block value as of July 10 were $158.48/cwt, 3.5pc higher than a year ago. Domestic 90CL beef prices at $189/cwt (weighted average) are 13.6pc lower than a year ago while imported beef at $189/cwt is down 5.1pc compared to last year.
The big difference is the sharp increase in the price of 50CL beef trimmings compared to last year. 50CL beef prices closed on Wednesday at $102.75/cwt, 110pc higher than the same time a year ago.
A number of reasons have been given for the surge in the price of fat beef trim: from increased availability of lean beef to mix with 50CL to increased use of 50CL in packer's own internal production.
"While we think this is part of the reason for the surge in 50CL trim prices, it is also likely that retailers are slowly increasing their use of LFTB and similar products, which they removed from formulations last year," Steiner said.
"Lower US slaughter rates also have reduced the amount of beef trim available. Finally there is the issue of negotiated prices setting the market for formula trades. Packers have a significant interest in reducing/limiting the supply of 50CL beef that is made available in the negotiated market since this is used to set prices for formula trades."
Regardless of the reasons, the high price of 50CL remains a concern for lean beef prices going forward.
US May beef exports
While there was an expectation earlier in the year that a change in the market access arrangements with Japan (through relaxation of the age limit from 20 to 30 months on US beef), would result in increased shipments there, the recent surge in US exports has taken some by surprise.
US beef exports to Japan in May were 24,692t, 69pc higher than the same period a year ago, and Japan is now firmly, once again, the top market for US beef.
In May, Japan accounted for 34pc of total US beef exports. May exports to Japan were about the same as the monthly average in 2003, the last year prior to the discovery of BSE.
In that year, monthly export volume did not peak until November. While exports to Japan have recovered to pre-BSE levels, US exports to South Korea, which also used to be a major market for US beef, remain more limited.
In May, US beef packers and exporters shipped 6571t to Korea, 33pc less than a year ago and only half of what was going to that market in 2003. Exports to other markets have been mixed. By far the biggest loss has been the Russian market, where exports to that market have dwindled to almost zero compared to 6849t that was shipped in May 2012.
US exports to Vietnam (a proxy for China) have almost ground to a halt, with May exports at just 272t, 88pc lower than a year ago.
Exports to Taiwan have recovered as authorities there changed the rules on the level of ractopamine allowed in beef last September.
90CL market steady to higher
Imported beef prices were for the most part steady to higher in the US market last week, Steiner reported.
Fat trimmings held a firm undertone as high prices for domestic fat trim implied better premiums for fatter imported values as well. Supplies of fat imported trim remain extremely light, however, as other markets continue to command premiums that domestic end users have so far been unwilling to match.
Lean and extra lean grinding beef prices were for the most part steady. Asking prices from Australia and NZ were modestly higher. Market participants indicated that end user demand, especially for spot product, was generally better.