DRAWING the livestock producer, processor and red meat customer closer together has been one of the key ingredients behind the spectacular success of JBS Australia's Great Southern brand program, which celebrated its achievements with a gala awards dinner in Melbourne on Friday night.
More than 520 lamb and beef suppliers to the program from across Victoria, Tasmania, eastern parts of South Australia and as far north as the NSW New England region gathered for the triannual awards, held at the Crown Casino complex (see earlier report).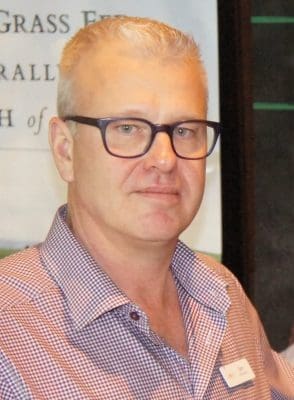 JBS Southern chief operating officer Sam McConnell emphasised the deep connection and sense of engagement among all supply chain stakeholders as a key factor in Great Southern's growth in lamb and beef.
He said it was difficult to believe how far the Great Southern programs had come since their launch seven or eight years ago.
Currently there are about 3800 cattle and lamb suppliers across the four southeastern states aligned with the farm assured brand programs each year, including 2700 beef and 1100 lamb producers.
"When we started out on this brand journey, an underlying objective was bringing the producer and the consumer closer together – not just talking about it, but actually doing it," Mr McConnell said.
The secret had been in keeping customers and livestock suppliers engaged, by sharing feedback and information. Comprehensive performance feedback on cattle and lambs entering the Great Southern programs had fostered benchmarking and even 'healthy competition' among suppliers, Mr Connell said.
That had clearly been reflected in gradual, but consistent improvement in performance over time, as measured by both livestock compliance rates and MSA index results.
"That healthy rivalry was evident during last week's awards – even within some families," he said.
As part of that quest for greater understanding about how slaughter cattle and lambs entering the program are performing, there's been a big jump in numbers of suppliers visiting the Brooklyn, Longford and Scone plants to see their livestock processed.
Producers speaking at Friday's awards dinner also raised the importance, in a motivational sense, of being part of a 'premium' brand program, rather than simply settling on producing a 'generic, commodity product.'
"All the stakeholders have a sense of pride and ownership invested in Great Southern," Mr McConnell said.
Testament to that, as described in today's accompanying story, 2018 Great Southern beef suppliers of the year, Jock Richmond and family from Rosegrange Pastoral, near Geelong have dramatically changed their business model to better align with the Great Southern program. The Richmonds have shifted their operations from feeder cattle supply to grassfed finished yearling turnoff, delivered over an extended period across the year, through intensive pasture management and genetic improvement.
"The program's growth has been about identifying those producers who want to be part of a premium program, within the challenge of a supply chain that requires cattle 50 weeks a year, and working together to achieve a long-term performance outcome," Mr McConnell said.
"It's a long way from the old 'adversarial' relationship between producers and processors. Dedicated Great Southern livestock suppliers are in many cases planning now, for their turnoff programs next year."
Price premiums big driver
While in most cases that's much more challenging that simply turning cattle of lambs off each year 'when they are ready,' the sustained price premiums available under Great Southern have in fact motivated suppliers to invest in their business – either through scale (buying more or better country), productivity (better feed or genetics management), or both.
Mr McConnell said price premiums for eligible livestock had obviously been an important driver of supplier support for Great Southern. On cattle, since the program had started, those premiums had varied between 20-60c/kg, carcase weight, depending on seasons, time of year and a host of other variables – and were regularly around 40c/kg, as they are currently.
Several stakeholders attending Friday's awards night in Melbourne remarked on just how far better quality grassfed beef had come in terms of price recognition, since the advent of programs like Great Southern.
"Who would have thought five or six years ago that a farm-assured grassfed beef product could attract price premiums well above better quality grainfed beef," one supplier told Beef Central.
Mr McConnell said when the Great Southern beef and lamb programs were first discussed as concepts around 2009-10, he had not anticipated that they would grow as rapidly, or as successfully as they had today.
"It's certainly exceeded our expectations, both from the producer and customer point of view."
Carcase utilisation is critical
Mr McConnell said one of the keys in any high-value brand program was optimum carcase utilisation, to allow the company to "pay what it has to pay for premium livestock, year-round."
"Anybody can sell the rumps and loin cuts, or racks in the case of lamb, but we have to expand the brand impact through the carcase to justify the livestock premiums," he said.
During Friday's seminar program, opportunities to extend the Great Southern identity further into value-added items was discussed. Surprisingly, even premium grassfed branded petfood was seen as a prospect for future scrutiny.
"We're doing a lot more value-adding of Great Southern product for retail and food service use now, including retail-ready items and internet-based retail in Asia," Mr McConnell said.
A growing percentage of JBS's certified farm-assured grassfed beef going into the US was also presented in retail-ready form, further-processed by JBS itself in-market, using different value-adding facilities on the US east and west coasts.
Warning over over-pricing
Mr McConnell said while there was a strong and well-connected international market for premium certified grassfed beef in North America and elsewhere, the Great Southern program needed to be careful it did not 'out-price itself' in the international market.
"When you are heading into markets like North America, their beef generally is still very good quality, and this year especially, very competitively priced. We are trading in a global marketplace, with strong competition from other large beef suppliers, as well as incredibly strong price competition from chicken and pork," he said.
"As a premium product, the meat we sell through the Great Southern programs is expensive, and we have to be aware of that. Alternate suppliers like Uruguay and other South American countries are now producing some very good product themselves, including grassfed. We can either ignore that or acknowledge that there are other sources of supply emerging that are competitive with Australian beef.
"We just need to make sure that the platform we are playing in remains competitive, and having a strong customer base, for all parts of the Great Southern carcase, is a part of that."
The same applied to lamb, where prices, generally had hit record levels, but lamb was now running the risk of being pulled off food service menus because of the raw material cost, relative to other protein options.
Differentiation being seen in certified grassfed in US
Both Great Southern's lamb and beef programs had 'taken off' in recent years in North America, Mr McConnell said.
In markets like the US and Canada, there were two distinct grassfed beef streams emerging, he suggested. The first was for a farm-assured certified grassfed type product from quality cattle, and the second much less quality focused, but just bearing a 'grassfed' tag.
"Increasingly, there's an expectation that better quality grassfed end is going to include some marbling – despite the fact it is finished on grass, rather than in a feedlot," he said.
Through superior genetics, nutrition and management, some Great Southern beef producers were already hitting higher marbling scores with considerable consistency. In one case this year, 50pc of all cattle consigned by a supplier had reached marbling score 4s or better, off grass, within 18-24 months. It provided an indicator of just what might be possible in the future.
Mr McConnell said a milestone had been reached where some 'very high-end' steak and white tablecloth restaurants in markets like North America and China were now specifically seeking out a Great Southern premium product for their menu.
"Especially in North America, they've historically tended to go for a USDA Prime grade long grainfed product, but are now looking for a Great Southern Pinnacle or Little Joe grassfed steak, as a point of difference. We're seeing more and more of that happening through the food service sector, as customers look behind the brand story."
Mr McConnell said as a consequence of the success of the Great Southern programs, chilled exports of both beef and lamb were now making up a growing proportion of JBS Southern's production, more than doubling in volume over time.
Another big driver of grassfed trade in the North American market was grassfed burgers, using grinding beef sourced from certified grassfed programs.
"A few years ago, nobody would have thought the big US quick-service restaurant burger chains would be looking for a grassfed burger item on their menu. Well they are today, and that's helping in that carcase utilisation challenge," he said.
Big learning curve
All stakeholders in the Great Southern program were still learning from each other, as the program continues to develop, Mr McConnell said.
"Producer suppliers continue to lift their performance as they continue to invest in genetics and management, and understand the feedback better – and we (as processors) continue to find ways to better utilise the product. There was really no 'guiding principle' template to refer to before the Great Southern program came along. There's been a huge investment both by JBS as well as its suppliers in getting the program to where it is today," he said.
"But it's critical within this program that we (producers, JBS as the processor, and end-customers) continue to learn from each other. The customer, at the end of the day is the one that is going to determine what we all do, and where the program goes in future."
Mr McConnell said the plan was to continue to grow the Great Southern beef and lamb programs over time.
"At its peak before the drought, we were doing a combined 4000 head a week through the Longford, Brooklyn and Scone plants, which we believe makes Great Southern easily the largest certified farm assured grassfed beef program in the world," he said.
Volume has dropped back to just under 3000 a week during tighter times, but the spread of plants involved offers the opportunity for further growth, once seasonal circumstances again improved and herd recovery took place.
Another substantial change to the Great Southern program since the JBS supplier awards were last held three years ago was brand segmentation, with the launch of additional brand programs within the Great Southern spectrum, distinguished by marbling score and/or MSA index performance. Included among these were the super-premium 'Little Joe' brand exclusive to marble score four and up; Great Southern Pinnacle brand (marble score 2+);; and Hereford Boss. King Island Beef is also underpinned by the JBS Farm Assurance Program.
Mr McConnell said despite the seasonal challenges this year, the Great Southern program did not 'cut corners' on compromising the quality integrity of the product.
"We're very rigid on how we process and grade each carcase, and the people we are buying from and selling to. But at the end of the day we are dealing with a grassfed product, so if a tough season like this one sees grading numbers drop off a little, we have to work with our customers."
"This year has certainly presented some challenges. We got into March and grading results on cattle started to slip, due to the long, dry summer and autumn. But equally, we're seeing great results in some of our premium segments, with Pinnacle (marbling score 2 or better) accounting for 30pc or more of carcases in some weeks," he said.