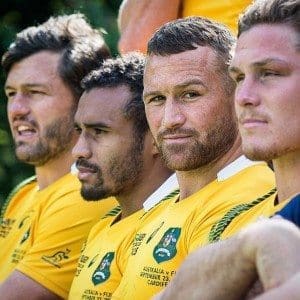 The six week long Rugby World Cup, one of the world's biggest sporting events, has now kicked off in the United Kingdom, and the 2015 version already appears to have a distinct beef flavour.
Many of the world's proudest beef producing nations are among the 20 countries that have qualified, including New Zealand, Argentina, Uruguay, South Africa, the USA, Canada, England, Ireland, Scotland, Japan and Australia.
With an estimated 466,000 foreigners expected to visit England during the tournament, Deloittes predicts that the event will inject £2.1 billion into the British economy, and a huge chunk of that will be spent in the hospitality sector.
With competition for beef and beer sales just as intense as what happens out on the field, enterprising food serving pubs and restaurants have been dreaming up clever ways to capitalise on the enormous short-term marketing opportunities the event offers.
World Cup of Steak
The "M Restaurant" in London for example has created its very own tournament to coincide with the Rugby World Cup: the "M World Cup of Steak".
The promotion officially kicked off on the opening weekend of the RWC where M Restuarant diners taste-tested 100 grams of beef from eight countries.
Beef from Australia, USA, Ireland and Japan made it to the semi-finals before the Wagyu from Japan was eventually crowned the World Cup winner. The restaurant will offer the world cup of steak menu through until the end of the RWC on October 31.
Eight legends, eight burgers
Another food service outlet putting in the hard yards in the RWC marketing 'steaks' is the Marriott Hotel at Sunderland in northern England, which has invited eight rugby icons from eight rugby nations to design eight burgers to celebrate the World Cup.
Former players David Flatman, Matt Burke, John Smit, Gavin Hastings, Jonathan Davies, Serge Betsen, Brad Thorn and David Wallace designed dishes based on traditional ingredients from their home countries of England, Australia, South Africa, Scotland, Wales, France, New Zealand, and Ireland.
Scottish international Gavin Hastings explained to the Sunderland Echo that sportsmen, even retired ones, are notoriously competitive, so the challenge of going up against some of his international rugby peers again was impossible to turn down.
"With rugby in the spotlight, Marriott customers will have the chance to pick from a range of tasty (and wacky) burgers. If the other lads are anything like me, they'll be eager to hear which are the most popular. I'm shamelessly going to be plugging mine in the coming months – go on, give it a try!"
Their creations are highlighted in the graphic below, with more details on each available here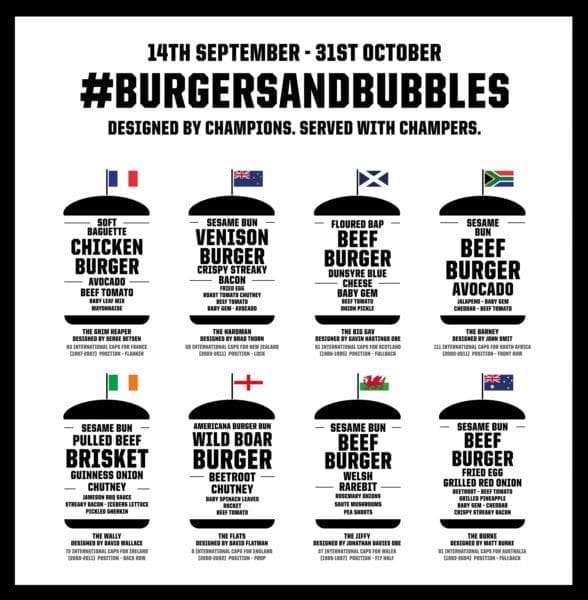 British trade publication the Publicans Morning Advertiser notes that many pub chefs are simplifying their menus to enable them to serve as much food as possible in a short space of time while matches are on.
During matches, most customers prefer a hand-held snack so they can keep their eyes on the sporting action at all times, Paul Eastwood, manager of Famous Three Kings pub in Fulham, London, explains in this article, which also covers how other UK pubs are changing their approach to food service for the duration of the tournament.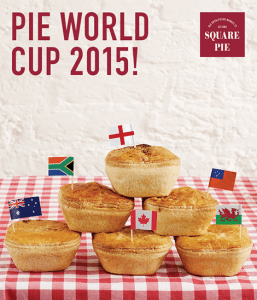 Pie World Cup
British food retail chain Square Pie, which specialises in handmade pies, has also embraced the tournament concept by launching the 2015 Pie World Cup. The chain is offering 20 pies representing each country in the RWC, each with its own authentic combination of ingredients, such steak and ale for England, braised curried goat for Fiji, corned beef hash in red wine for Argentina, lamb stew for Ireland, French Canadian Moose for Canada, with Australia represented by slow cooked kangaroo with mushrooms and Aussie Shiraz.
The competition follows the same format at the RWC with pies on sale the day their teams compete in the tournament. Pie sales, not rugby results, dictate the winners.
'Scrum Downers' to feed the masses
England's beef and lamb board AHDB Beef & Lamb is also in on the action, promoting what it terms the Scrum Downer as the 'ultimate Rugby World Cup beef snack' to help eateries feed the masses during the tournament.
Just as Wimbledon has its strawberries and cream and American Baseball has its hot dogs, AHDB Beef & Lamb hopes the Scrum Downer – a hot beef sandwich made from tender, succulent 'Thin Cut' beef steak – will become the half-time snack of choice for fans watching the Rugby World Cup.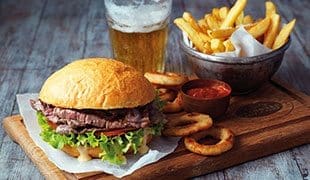 AHDB Beef & Lamb's foodservice project manager Hugh Judd says international sporting competitions are now full blown social occasions, with food and drink right at the heart of them.
"Getting the right half-time snack is key to pleasing customers and staff alike. Chefs need something tasty that is easy to prepare but can still offer good profits. This is why we have created the Scrum Downer," he explained.
"The Thin Cut range has been developed by our New Product Development (NPD) team to maximise the use of the carcase, increase profitability throughout the supply chain and yield a more consistent end product. Produced from cuts which are traditionally only used for stewing or other slow-cook methods, thin cut beef steaks provide operators with a fantastic opportunity to profit."
Another big fan of beef at the world cup is Italian prop and wild man Martin Castrogiovanni', who told the Daily Mail in a pre-World Cup interview about his penchant for 24 ounce steaks (600 grams) "cooked blue".
Home grown beef fuels Los Teros
But even that pales in comparison to the role beef will play for Uruguay's rugby team "Los Teros" at this year's world cup.
The team will be fed on prime home-produced grassfed Uruguayan beef throughout the six week tournament.
The National Meat Institute of Uruguay, INAC, has a long established policy of supporting Uruguay's national football teams with prime beef, and this year has extended that support to Los Teros, which is one of the few amateur teams participating at the 2015 Rugby World Cup.
The Uruguayan traditional dish is a rib plate cut called, 'Asado', which is barbecued, using firewood.
Embers are placed around the meat and vegetables, such as foil wrapped potatoes, glazed sweet potatoes, onions and peppers are barbecued with simultaneously. Uruguayan people keep their seasoning simple, just adding a little salt while cooking. Read more on the MercoPress website here
The Badge promotes beef
Rugby has also featured prominently in Australian beef marketing in recent times, with popular Australian rugby union winger Nick "the Honey Badger" Cummins brought in by Meat & Livestock Australia earlier this year to help sell the nutritional benefits of beef.
In his role as Beef Ambassador, "The Badge" showcases the health benefits of beef and reminds Australians that they can be better at whatever they want – as long as they have the right fuel in the tank.
In explaining the new partnership, MLA marketing manager consumer programs Andrew Howie said the campaign was targeted at time-poor families with nutrition high on their agenda, and is backed with a strong nutritional message that emphasises the health credentials of lean beef. "You are what you eat, and beef contains nutrients that support both physical and mental wellbeing to help you perform at your peak. Australia has the best-tasting beef in the world, and the 'You're Better on Beef' platform is designed to inspire the nation to power up and be proud of their meal choices. We're delighted that Nick's on board – as a high-performing, health-conscious Aussie who loves his beef, he's the perfect advocate for beef."
Nick Cummins says: "As an athlete, nourishing the rig is crucial and beef is the answer. The word is it contains 13 critical nutrients – and besides protein, it has iron, which fuels the tank when I'm on the burst, and zinc, which helps me talk some sense after a big game."
A test of two of the big beef nations at this year's Rugby World Cup will come at 9pm this Sunday night (Australian time) when the Wallabies meet Uruguay's Los Teros in a pool match in Birmingham.