INTEGRATING lamb eating quality genetics with consistent feeding and high-end retailing has enabled cutlets to successfully sell for almost $100/kilogram in Australia's oldest continually run butcher shop in Sydney.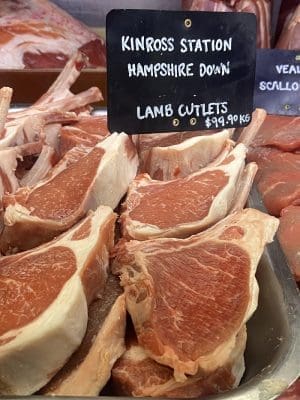 This month the Victor Churchill Fine Family Butcher shop in Queen Street, Woollahra, has been marketing LambPro general manager Tom Bull's high marbling Kinross Station Hampshire Down lamb as cutlets for $99.90 a kilogram.
Mr Bull said the product had previously been priced at $79/kg, but sales didn't change as the magic $100/kg level was approached.
"From speaking to butchers in the shop, it (the price) certainly hasn't slowed it up at all.
"It has probably done the opposite," he said.
"We've been very adamant, if you are going to go through all this genetics work and give it these nutritional inputs, you can't be getting the same as lamb straight off lucerne."
On his LinkedIn page Mr Bull said it was a big step moving high marbled lamb into high-end beef price points.
"Lamb has never cracked the magic three figures unlike beef," he said.
Mr Bull said the Kinross Station lamb has been selling at $79/kg for a few years.
"But now we've got a good following and we keep selling out. This is a premium product, so I think it is about extracting more value.
"There is a fair bit of mucking around to do this."
Mr Bull said he had put a lot of time, effort and expense into selection for intramuscular fat or marbling.
"And the same shop has seven different lines of beef at over $200/kg – all the high-end Wagyu stuff.
"So it (the $99.90/kg lamb price) is not too 'out there'."
He said lamb has never had a point of difference before selection and marketing was based on marbling, consistent feeding and eating quality.
"All lamb is lamb."
Mr Bull said lamb normally sold at retail or through food service comes from a multitude of genetic backgrounds and feeding regimens.
"All we've done is standardised that."
He said the lambs are out of Primeline ewes by Kinross Station Hampshire Down rams, fed under a controlled ration in his Holbrook feedlot or on selected producer farms.
Mr Bull said consumer testing led him to the Hampshire Down breed and he had collected more data "than all the commercial industry put together", inputting this into Lambplan to improve the Primeline ewe base and Kinross Station genetics for eating quality and carcase traits. High marbling rams are mass-produced for use by clients
The Hampshire Down/Primeline cross lambs are generally processed as 32-33kg carcases, with the top lambs having an IMF of 7-8 percent, but mainly 6-7pc. An eight-cutlet rack would weight about one kilogram, Mr Bull said.
Mr Bull said Kinross Station buys lambs off LambPro clients and some also sell lambs directly into his export program. About 1000 carcases a month are coming out of the program, with about 70pc going export and 30pc to the domestic retail and food service market.
"The lambs are all the same genetics and they are all the same feed, and that's what lamb has never done.
"You look at all these Wagyu programs, they are all the same cattle and on the same feed, and that's gives you a consistent product," he said.
"What we are finding is that if you control the genetics and control the feed we are getting pretty good consistency."
$100/kg lamb is possible
Mr Bull believes high quality lamb will be sold at more than $100/kg.
"I think so, but you've got to have the genetics to enable it.
"If you invite the Queen to dinner, you want to buy her something that is off-the-charts good and it's not something most of us would eat every day," Mr Bull said.
"If you've got a special occasion or you earn a lot of money, people are willing to pay more for a better eating experience and all the Meat & Livestock Australia says that," he said.
"So it's not rocket science that all of a sudden we can get that sort of money for a product that is consistently good."
Mr Bull said the clients of the high-end butcher shops looked at price.
"Really, that's the sort of market we are in, that's the demographic we are in."