Supplier and customer relationships are a key part of Coles' five-year roadmap to re-assert itself as a serious competitor to Woolworths in Australia's supermarket retail ranks.
So says Coles' head of quality, policy and governance, Jackie Healing, who spoke at a Queensland Rural Press Club gathering during Brisbane Ekka last week.
Like a number of senior managers within the Coles corporate ranks, Ms Healing came to Australia from the UK/Western European retailing ranks in 2006.
She has since helped establish the company's core brand standards for environment, safety health and farming welfare, and has led Coles' development of retail animal welfare differentiating programs, including the removal of sow stalls from pork production and a move away from caged eggs.
Today's articles follows her introductory remarks published on Beef Central yesterday, "Beef plays key role in Coles' retail revival."
How customers make choices about what they buy starts at a very fundamental level, she told the Ekka audience last week.
"Ultimately, we want consumers when they hear the word, 'Coles' to have an emotional attachment to that name, and to make it their brand of choice when it comes to supermarkets," she said.
"As part of that, we absolutely have to make sure they can trust that brand, and for customers, our proposition is to deliver quality, trust and value."
Trust was absolutely key to that, and if a retailer did not deliver a safe product, that trust could be destroyed overnight.
"We've all seen examples where big brands have had an issue in that space, and destroyed customer trust, prompting customers to take their shopping experience somewhere else – even though the product may actually be the same in the other supermarket," Ms Healing said.
"Their mindset is, not only am I not going to buy that biscuit any more, I can no longer trust that company, full stop. Get one product wrong, and it can affect the whole of the Coles brand proposition. If we were to have a problem with Coles tuna, for example, customers would walk away from Coles beef."
That made it 'really important' to protect the whole range of products marketed under the Coles banner.
"But if we satisfy customers with that, we can start to talk to them about what the most important attributes are to them. In most cases, the answer is: What does it mean for me? What's good for me? Why would I buy this product?"
Human beings were wired that way, Ms Healing said.
"That's where we have to focus on aspects like 'quality', 'provenance', 'local', 'Australian', and the 'health' of the product. Satisfy all that, and you can start to talk about where the product came from, how it was produced, whether or not the environment was cared-for in its production, and issues like the conditions the workers work under."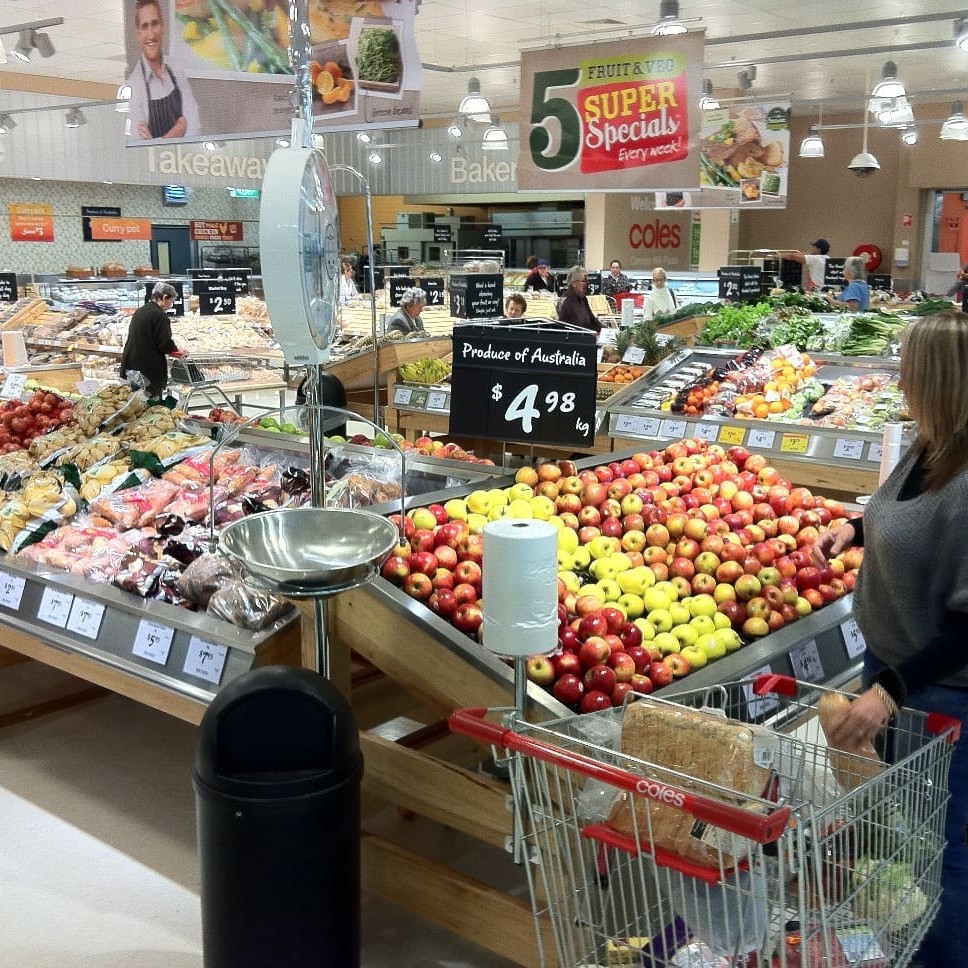 In this context, Coles was trying to hit the 'sweet spot' in delivering something that was absolutely great for the customer, but also great for the wider community and the environment.
In the area of quality, Ms Healing said Coles had mechanisms in place to track the quality of its offer extremely closely. The most important of these was customer complaints, measured per million units sold, and backed by sophisticated IT including early warning systems to trigger responses if necessary.
While the statistics showed a huge improvement a couple of years ago in this measure, the problem today was that it had now stabilised, and was not continuing to improve. The current figure was around 17 complaints per million units sold, across 40,000 food items, and Coles wanted to reduce that to below 10.
"We do a lot of inspection of product on arrival at distribution centres. Something can leave a factory in good condition, but after four days on the road something can happen to it," she said.
"We use that data to inform our supplies of the good and bad outcomes, to reduce the number of rejections we experience on fresh food as it comes into our business."
At the more extreme end, Coles had four recalls of food products last year, including alerting customers through social media, and every time that happened, there was some erosion of that trusted relationship with the customer.
Coles employed more than 100 technical specialists in this field, including meat scientists, food technologists, packaging specialists and agronomists working up the food chain with manufacturing sites, and increasingly with farmers and growers. The performance data is shared to develop quality improvement in the supply base. This covers a vast spectrum of projects from what animals are fed and how they are raised, to pesticides and herbicides used, and integrated pest management – all designed for quality improvement which can be communicated to customers.
Some 500 of Coles fresh food suppliers have also done a voluntary course through the Coles Quality Academy, designed to up-skill the supply base in good quality management and practises to improve the delivery to the customer.
"Australian customers really think hard about where their food comes from," Ms Healing told the Ekka audience.
"The word 'Australian' is the most motivating packaging information we can give a customer," she said. "More than 97pc of our fresh produce is Australian, including all our meat, and where we can't do that, we have to apply the same guarantees, standards and protocols as applied to domestically-produced product."
Within the broader 'Australian' context, consumers in certain states like Queensland, WA, Tasmania and SA particularly, responded to home state-based identity. Where it could, Coles pulled that product out and packed and identified it that way.