AFTER sustained criticism over supermarket red meat retail pricing trends this year in contrast with livestock price movements, Woolworths this week announced 20 percent price discounts on 26 lamb products until Christmas.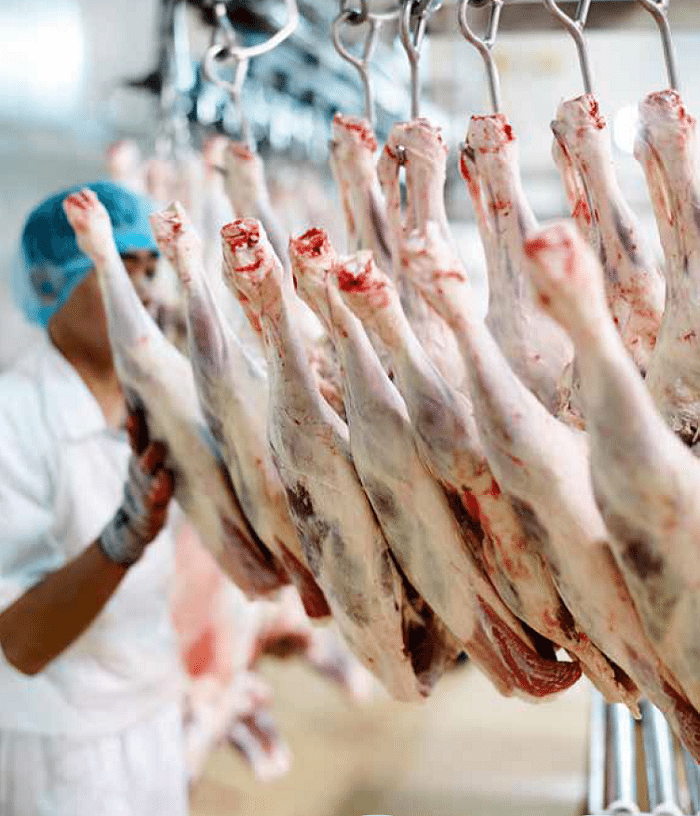 The new prices, effective today, are part of the supermarket's Prices Dropped for Christmas program.
Woolworths  committed to the price adjustment for seven weeks only, until 27 December. Beef Central this morning asked the company whether similar price adjustments would be seen on beef. Any response will be added here.
Twenty six staple lamb products are include in the 20pc reduction list which runs until 27 December. They include items like:
Leg roast – was $10/kg, now $8/kg
Forequarter chops – were $16/kg, now $12.50/kg
Lamb mince 500g – was $7 ea ($14/kg), now $5.50 ea ($11/kg)
Cutlets – were $43kg, now $34/kg
Mid-loin chops – was $28/kg, now $22/kg
Of the products included in the offer, four (leg roast, leg steak, shanks and mince), were already reduced as part of Woolworths' Prices Dropped for Spring program, meaning the new prices represented a further reduction on already dropped prices, the company said.
In a statement, Woolworths supermarkets managing director Natalie Davis said Woolworths understood the budget challenges many of its customers were experiencing and the company was "looking for every opportunity to pass on savings to help our customers."
"Lamb leg roasts have come down from $15/kg in June, representing a $7/kg reduction or drop of more than 45pc since then," she said.
The lamb leg roast at $8/kg was the lowest promotional price on the item since February 2017 and the lowest regular price on lamb since June 2013.
The company said it expects to sell 1.7 million kilograms of lamb leg roast this Christmas season.
Ag minister encourages engagement with inquiry
Federal agriculture minister Murray Watt discussed domestic retail pricing while speaking at last week's Australian Meat Industry Council Exporter and Processor Conference.
"While we are starting to see meat prices fall at the supermarket, consumers are understandably asking why there is still such a discrepancy between the prices they are paying for their meat, and those farmers are receiving for their livestock," Minister Watt said.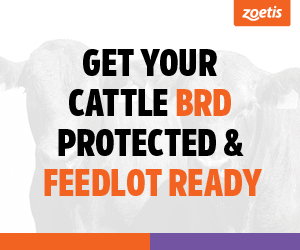 "Issues like that are exactly what will be considered in the government's recently-announced review into the food and grocery code of conduct," he said.
"That review will examine the level of transparency in the dealings between retailers, wholesalers and suppliers. It's something that we all have an interest in, and I encourage stakeholders to get involved."
"But importantly, supermarkets don't have to wait until that review is finalised, to do the right thing. Farmers, consumers, processors and retailers all have an interest in fair prices and fair commercial dealings."
AMIC chief executive Patrick Hutchinson asked the minister about a forthcoming Commonwealth competition review (separate from the food and grocery code of conduct review), held every ten years.
"At a recent meeting of all federal and state ag ministers, they discussed the consideration in the upcoming review about a review of ag commodities, and most importantly livestock prices," Mr Hutchinson said.
"In the past, everyone in this room (processors) have been hammered when they are making money, whereas in the last three years many processors have been losing $300 a head on cattle (or $30 a head on sheep, depending on what they are processing).
"Now that they are back, making money again, this has arisen. The rhetoric has now changed, how do you think this is going to progress?" Mr Hutchinson asked the minister.
"There are rumours of another senate inquiry into livestock pricing. Where do we go from here?"
Minister Watt said while livestock prices are down at the moment – and producers were 'really hurting' – it was important to recognise that it had not always been that way.
"We've just come out of a period of record livestock prices, and from everything I've heard, that was putting real pressure on processors' profitability. That is the market, isn't it – there are ups and downs. There are times when producers do really well, and times when processors do really well.
"We (the government) aren't going to make any rash decisions here – changing laws or anything like that. We have announced a broader review of competition, and there are a range of sectors that will be looked at in the course of that. Agriculture ministers did seek to get ag included as a sector of the economy to ensure there is strong competition at all points in the supply chain.
"There is a separate process under the Food and Grocery Code review, which happens from time to time, which will look at the level of transparency in the system, so that no matter what point you are on along the value chain, you do get to understands the conditions of trade – the terms of commercial dealings – and I've heard reports from all parts of the value chain that say there are improvements to be made there," Minister Watt said.
"But as much as there is pressure on us to do something about livestock and meat prices, we recognise that there is a market operating here. If the market is operating correctly, actions like opening up new export markets should improve prices that people are receiving for their livestock – but we have no plans for a major government intervention into what is fundamentally a market dynamic," Minister Watt said.
Australian beef cheaper in Japanese supermarkets than at home
Meanwhile red meat retail price scrutineer Andrew Dunlop has put forward evidence suggesting prices for Australian beef are cheaper in Japanese supermarkets than they are at home.
Following a visit to Japan in October, Mr Dunlop told Beef Central he took the opportunity to visit some urban supermarkets while there.
"US product was almost absent, which stands to reason, as US beef and cattle prices are currently the highest on record and Japanese buyers are very price sensitive," Mr Dunlop said.
"There was a quantity of Australian product on display under the brand Gippsland Fresh. The first tray I looked at was offering beautifully presented centre cut rump, trimmed of all fat at 298 yen per 100g or just over A$30/kg.
"The level of preparation and presentation of the product were just superb. This product has been killed and processed in Australia, shipped to Japan as boxed beef in refrigerated containers, cleared customs after paying a 27pc import tax (chilled tariff), distributed to the retailer and prepared by trimming slicing and placed on overwrapped poly trays for display."
Having lived and worked in Japan for 15 years, Mr Dunlop was able to read the label. It identified the product as Australian beef, steak item, beef rump steak, 298 yen per 100g, weight 520g, price 1549 yen and 1673 yen for the tray including 8pc consumption tax (see first image below – click on image for a larger view).
"The next tray I looked at was casserole diced beef (they call it curry suitable product) again beautifully presented and trimmed (see image below). Price on this was 189 yen per 100g (A$19.50 per kg). Weight 514g, total price 971 yen and 1049 yen including 8pc consumption tax.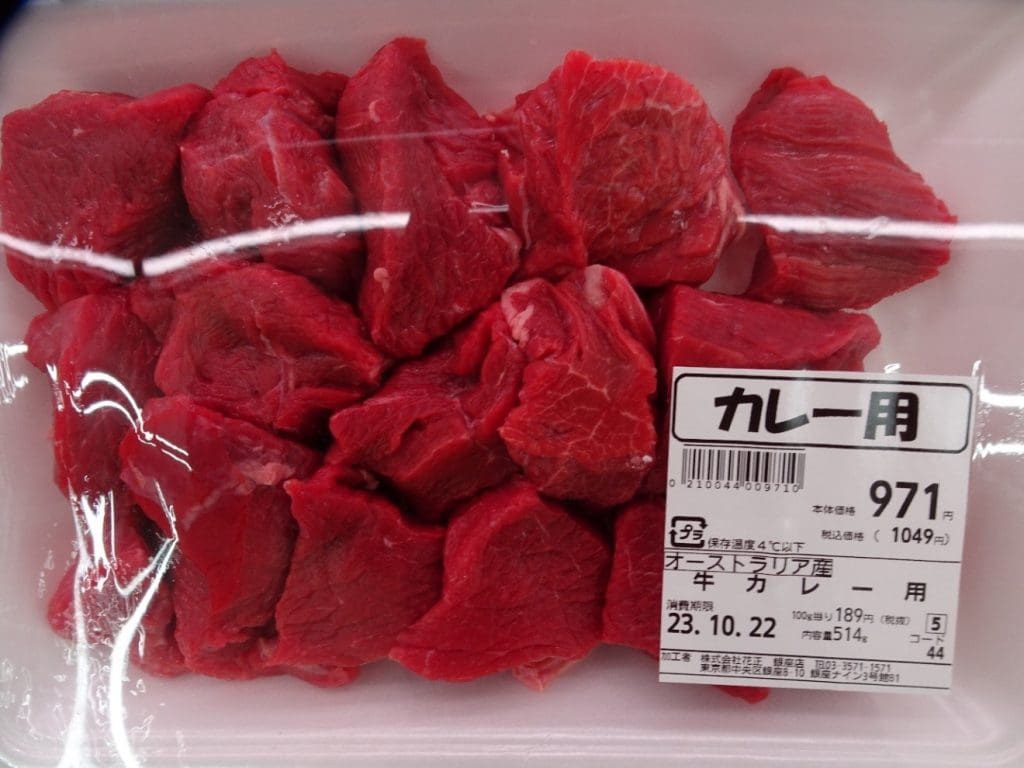 "Given the superior preparation of the product, the cost of transport to Japan by refrigerated sea containers, and the impost of 27pc import tax, it is cheaper to buy Australian beef in a competitive Japanese supermarket than it is to buy Australian beef in the uncompetitive Australian supermarket retail system," Mr Dunlop said.
"It seems that Japanese retailers have passed on lower livestock prices to their consumers whereas evidence to date suggests Australian supermarkets are yet to do so. Failure to pass on reduced costs to consumers is harming all Australians, as food prices – including red meat – feeds into the Australian Bureau of Statistics consumer price index, which is a key indicator the Reserve Bank uses when setting interest rate policy."
Japanese supermarkets put a lot of effort into presentation of product that leaves Australian supermarkets for dead, Mr Dunlop said.
National retailers earn Choice's Shonky award
Meanwhile national supermarket retailers Woolworths and Coles this month earned a 2023 'Shonky' award from consumer watchdog, Choice.
The two supermarket heavyweights were singled-out over their retail pricing practices in a period of high cost of living.
In a nationally representative survey Choice conducted in September, more than 60pc of shoppers believed the big two were making a lot of money from the price hikes, and less than 20pc thought Coles and Woolworths were doing enough to keep prices low.
"Coles and Woolies have been promoting how they're supposedly helping with the cost of living, all while recording huge profits," Choice CEO Alan Kirkland said.
"With some of their 'specials' it may be hard to tell if you're even getting a genuine discount. They are well and truly deserving of a Shonky Award."
"Coles and Woolworths have both recorded profits of more than a billion dollars this year, and most people feel like they're being fleeced," Mr Kirkland said.
Woolies arguably was the worst of the pair, Choice suggested, with the group announcing a $1.62 billion profit in August, in a year when Australians are "truly doing it tough."
Over at Coles, the group posted a slightly more modest $1.1 billion profit.
"Anecdotally, many shoppers feel as though they're paying more for less," Choice said.
"Rising rents, increased interest rates and a soaring cost of living has us all feeling the pinch. Which makes it all the more frustrating to see both Woolworths and Coles posting massive profits."